We're rolling along on our journey to bring ZBD to every aspect of the gaming world, and beyond. Today, we're excited to launch our first product created specifically for content creators. Introducing – ZBD Streamer!
ZBD Streamer is a completely free tool that enables live content creators to collect interactive Bitcoin tips on their live streams on any platform. What the hell does that mean, you ask?
When people send you tips during your stream, it'll triger a customizable animation on the stream, which includes a GIF, the tip amount, who sent it and a message from the person tipping you (if they added one). In that way, the audience isn't just paying you for cool content, they're actually using their tips to interact with the show for all to see!
Now streamers can open the door to another level of interaction with their audience and build an engaged community while getting paid at the same time!
tl;dr

Collect Bitcoin tips instantly
Customize animations triggered by tips
Receive tips with no processing fees
Works on all streaming platforms
What is ZBD Streamer?
ZBD Streamer is a simple but powerful streaming tool that allows the audience to interact with your stream by sending you tips on the Bitcoin Lightning Network.
It works like this: first you set up ZBD Streamer at streamer.zebedee.io. This is incredibly easy, just sign in by scanning a QR code with your ZBD app, then follow the instructions on the page.
Second, you overlay your static QR code on your stream, allowing your viewers to simply scan it with a Lightning wallet and tip you directly.
Thirdly, you add the tip animation widget to your stream setup, which determines where the animations and messages from your audience get displayed. Then you just start the show!

When a viewer tips you, an animated overlay is triggered for all to see. You can set up GIFs, custom colors, fonts and messages and more… This way, you can build a closer bond with your audience by including them in the show, while you get paid with money you can instantly use worldwide!
ZBD Streamer is also completely free and is designed to work with any streaming software that can take a browser input (like OBS, vMix or basically any other modern solution), so you can easily use it if you're a big-time streamer or if you're just starting to stream.
Because it integrates directly into streaming software, that also means ZBD Streamer works on all streaming platforms - Twitch, YouTube, Facebook Live or even broadcast TV, it literally doesn't matter where your audience is watching. If it's live, it works.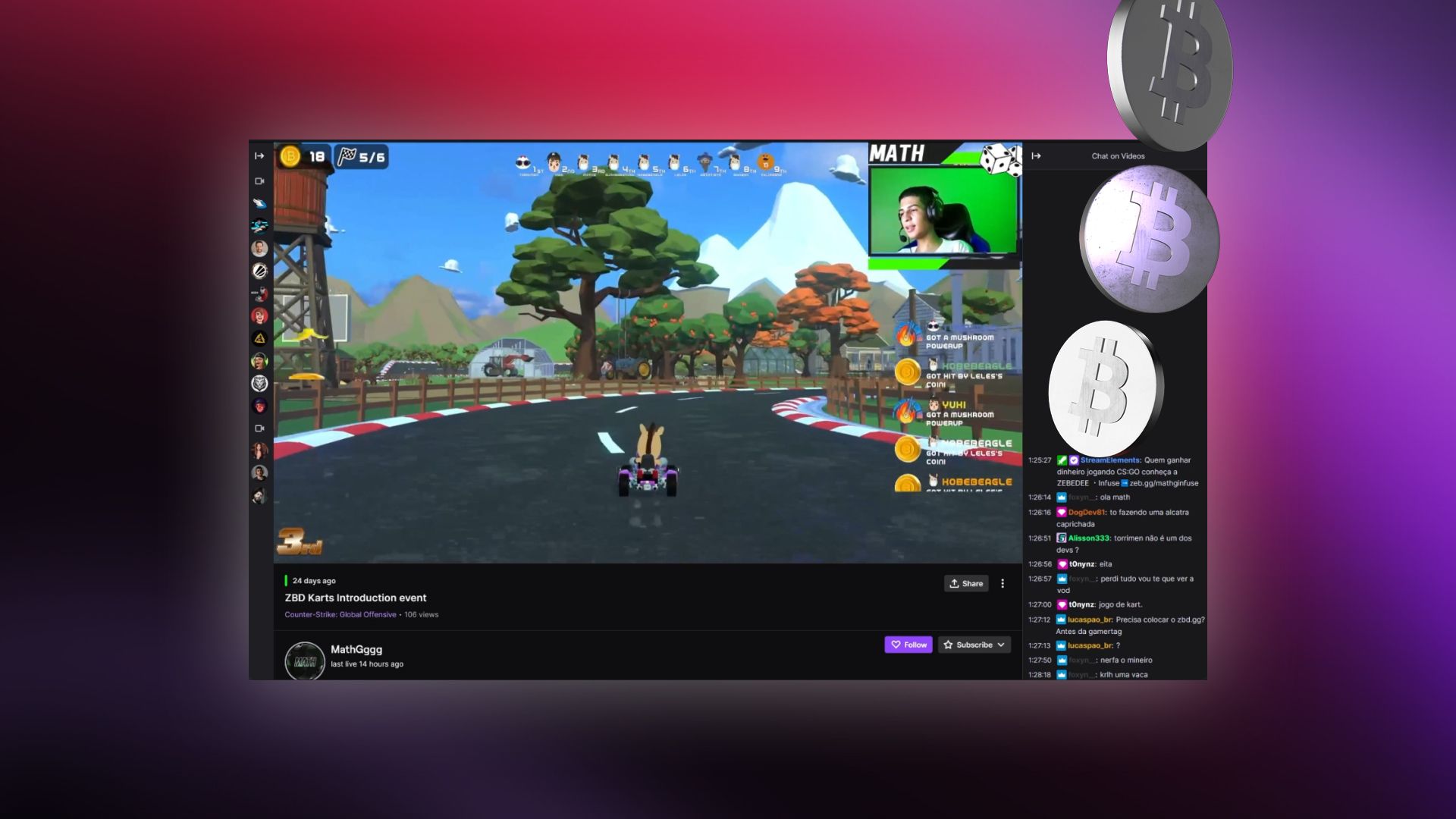 Start collecting real money when streaming
The tips you collect with ZBD Streamer are actual money that you don't need to trade or exchange when you want to spend it. Bitcoin is used worldwide, with more and more online and IRL marketplaces and vendors accepting Bitcoin on the Lightning Network (click here for some of our top picks).
But if you want money you can touch, you can always exchange your Bitcoin for good old fiat money like USD or Brazilian reals – we've recently integrated with Bipa, allowing our Brazilian community to go from scoring in games to cashing out in Brazilian reals in just a couple of clicks – and we're working on similar solutions around the world!
Keep in mind that since fees on the Lightning Network are absolutely tiny, your viewers can send you tips of any size, big or small (you can adjust the minimum and maximum amount). The minimum tip is 1 sat, which is about $0.0005. This can help motivate everyone in your audience to participate in the tipping fun, regardless of how much money they can afford to send you.
❔ Did you know: Your viewers can tip you using any Bitcoin Lightning wallet that supports LNURL, but if they use the ZBD app, the transaction is completely fee-free!
No platform cuts – you keep the whole tip
With ZBD Streamer, you can make sure that when your fans appreciate your work, all of their tips land directly in your wallet. ZBD takes no cut or charges you fees. If someone donates from a Lightning wallet outside ZBD, they'll only have to pay the Lightning Network fee, which is usually less than a tenth of a cent.
Platforms are also getting increasingly ridiculous when it gets to demonetizing content, so much so that if you just happen to mention a word that the advertisers don't want to be connected with, you risk losing your income. With ZBD Streamer, you  don't need to resort to relying on YouTube or Twitch payouts or using a third-party service like Patreon to fund your streams – you can start gathering donations from your followers without a middleman!
How to get started with ZBD Streamer
Setting up ZBD Streamer is super easy. All you need is ZBD. When you have our app, head to streamer.zebedee.io to sign in to ZBD Streamer. There, you can tweak all kinds of settings, like the minimum accepted donation and the thank you message. Most importantly, you get access to the QR code and the thank you message widgets, which you can add as a Browser source to your streaming software.
We'll soon be adding even more cool features to the Streamer, like audio bytes to go with donation GIFs. But you can already give it a go and raise your streaming to the next level!
This post was updated in June 2023.