We're super excited to announce that you can now buy thousands of different gift cards right in the ZBD app and put the Bitcoin you earn in games to good use! This feature comes thanks to our partnership with Bitrefill, the world's largest vendor for gift cards that can be bought with crypto, and will make it incredibly easy to spend your winnings however you want and wherever you are.
💸 Buy gift cards in the ZBD app thanks to Bitrefill

New integration in the ZBD app that lets you buy gift cards with Bitcoin
Earn Bitcoin by playing games and spend it on gift cards
Choose gift cards from 5000+ merchants worldwide
Buying stuff with Bitcoin becomes a piece of cake!
The easiest way to spend your sats
While you can earn sats in plenty of ZBD games quite easily, spending them can sometimes be a little tricky. But we're hard at work making it extremely simple! That's why the newest feature of the ZBD app brings thousands of options for using your sats to buy exactly what you want right within your reach. How's that possible? Through gift cards.
Gift cards are virtual vouchers that can be used instead of regular money to buy stuff with many online vendors. Whereas most vendors accept fiat money like USD or EUR, not everyone accepts Bitcoin (yet!) – but they will gladly take a gift card.
The best part is that you don't need to transfer your sats to a separate service or use a different app to buy gift cards. The integration with Bitrefill brings offers of over 5000 vendors straight to the ZBD app, so you can use your sats easily and freely.
Let's say that you've been earning sats in ZBD for a while. You've gathered enough to actually but something meaningful, but you can't find a vendor that accepts Bitcoin. No worries! Simply buy a gift card in ZBD and use that instead. There's tons of options!
How to spend sats to buy gift cards in ZBD
Getting your hands on the right gift card for you should be as easy as possible, and that's what this integration is all about. When you're ready to shop, simply open your ZBD app and head to the Cash Out menu. If you're not sure how to get a gift card, here are detailed instructions:
In the main menu of the ZBD app, tap Cash Out
Select Buy Gift Cards to open the gift card shop
Browse the shop for the vendor you're looking for
Select the amount and tap Add to Cart or Purchase as Gift
You can Keep Shopping or go to Checkout to complete the purchase
Confirm all the details and tap Pay to buy the gift card!
If that's your first time entering the gift card shop, you may need to accept the use of cookies for the best browsing experience. Depending on the vendor, you can buy gift cards of any value, starting from as little as 1 USD. You'll have 30 minutes for the final confirmation of your payment. If you don't confirm it within that time, the payment will expire and you'll have to start over.
When you've purchased your desired gift card, you'll get it delivered to your email. From there, it should be pretty simple to use your gift card on the store you bought it for.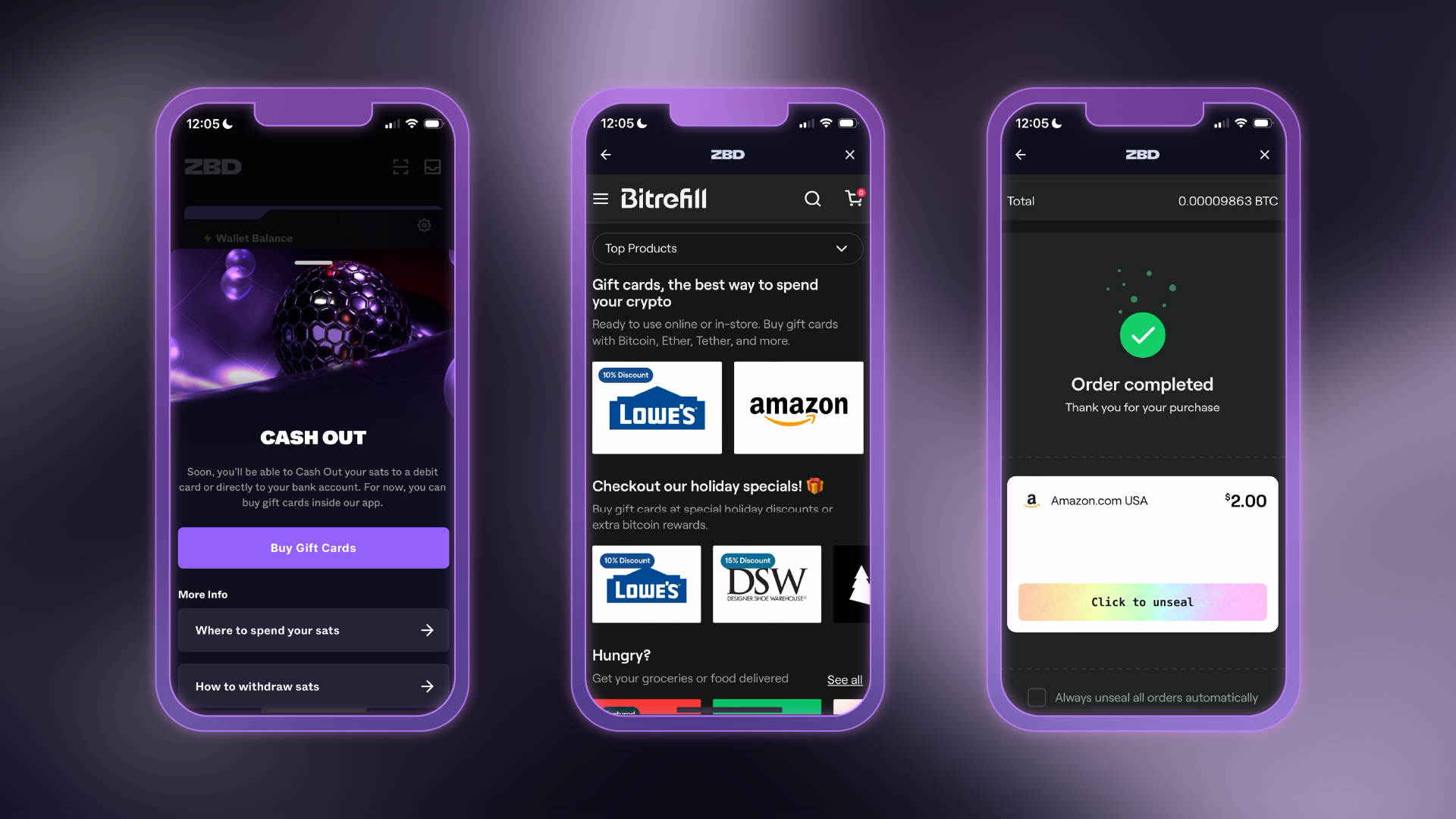 Play, earn, shop – rinse and repeat
Now with Bitrefill's global offer of gift cards on board, it has become easier than ever to extract value from the time you invest into playing games. And with more exciting updates for ZBD right around the corner, you don't want to miss the chance to get in ahead of the curve and start earning money that you can spend just the way you like. All you need to start is the ZBD app.
This post was updated in July 2023.