When you play games for Bitcoin, you need a place to store your rewards. That's the ZBD app. But the ZBD app is also much, much more than just a wallet. It's a super-versatile gaming companion where you can discover and play Bitcoin games and read the latest news, manage your balance by Topping Up at the press of a button, shop for gift cards from over 5000+ options and create your very own virtual identity with a sweet 3D Avatar. And that's just scraping the surface.
Read on to see what key features ZBD offers or get it right now and give it a go yourself.
🌌 ZBD – The one app you need in Rewarded Gaming

A versatile app to accompany every step of your Bitcoin gaming journey
Comes with powerful Lightning wallet features and easy Top Up and Cash Out options
Discover newest games where you can earn Bitcoin and latest news in Rewarded Gaming
Get your own virtual identity with a ZBD username and pimp it with your own, fully-customizable 3D Avatar
Powerful wallet functionality
The ZBD app has a powerful integrated wallet that allows you to store your in-game earnings, as well as pay anyone or request a payment. Since it's based on the Bitcoin Lightning Network, the transactions are near-instant and dirt-cheap – you're not even paying any fees if you're transacting with another ZBD user, that's on us!
In the main menu, tap the purple plus (+) button on the bottom right to:
Pay – Send sats to any Lightning user, in or outside ZBD
Request – Request someone pay you or settle a debt
Scan – Simply scan a QR code to make a payment
Manage your balance
When you've collected some sats from games, it's time to use them. That's what having an actual, usable currency like Bitcoin in games is all about. The good part is, you don't have to go anywhere when you want to spend your sats – you can choose from among 5000+ gift cards options in the ZBD app to buy anything your heart desires. Or, if you're running short on what you've set your eyes on, simply Top Up your balance with a debit or credit card, and you're good to go.
On the top of the main menu, you're greeted with these options:
Top Up – Boost your Bitcoin balance with a debit or credit card
Cash Out – Shop with your sats to buy from among 5000+ gift card options
See transaction history – If you want to know what you've earned and spent, scroll down to the bottom of the main menu to see your transaction history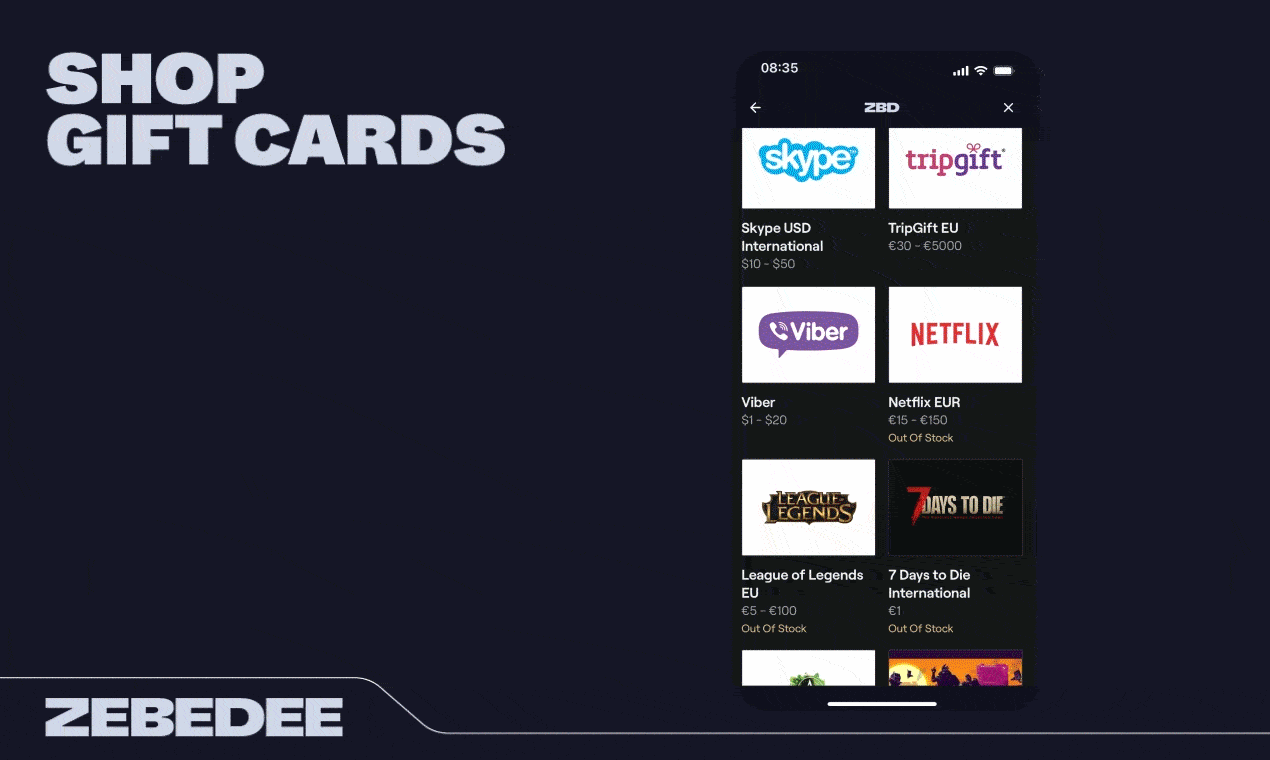 Learn more about Topping Up in ZBD with MoonPay, and Cashing Out with Bitrefill or Bipa.
Latest news & games
Find out what's new in ZBD and Rewarded Gaming in the What's Hot section. Read about app updates, company news and exciting additions to ZBD, like new games and functionalities. You can also follow us on Twitter @zbdapp to never miss an important piece of news or a lucrative event where you can earn even more Bitcoin.
In Featured Games, search among a number of ZBD-powered games where you can earn Bitcoin or discover brand new ones that keep entering the ZBD Universe. See here for a list of games you can play.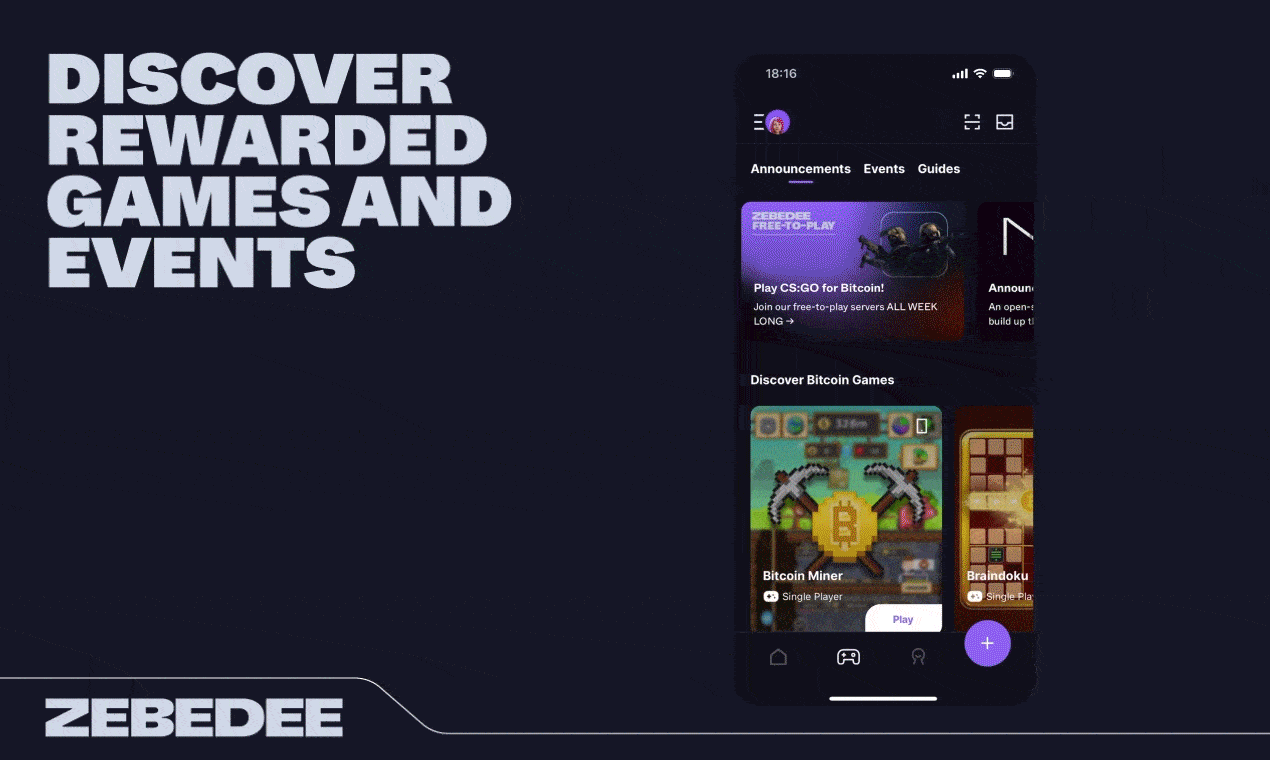 Create your virtual identity
In Rewarded Gaming, your virtual identity is even more important than elsewhere on the Internet. After all, you want people to recognize you when they want to send you some sats, tip you or give you a donation. To help you out with that, you get your own ZBD username – your ZBD ID, nickname and bank account number all in one.
Your ZBD account comes with its own ZBD username
Find your own profile page on zbd.gg by searching for your username (zbd.gg/YourUsername)
Your username corresponds to the Lightning Address with the same name (YourUsername@zbd.gg)
💡 Satoshi's Top Tip

Enter your username in Bitcoin games you play to get your rewards automatically sent to ZBD as soon as you earn them.
What's the difference between a ZBD username and a Lightning Address? Find out here.
But to make everything way more fun, you can also pimp your virtual identity by creating your own fully-custom 3D Avatar in ZBD. Create the best version of yourself and let that represent you in ZBD, in all Bitcoin games and anywhere you go on the Internet!
Create your own 3D Avatar in ZBD:
Tap the Profile icon on the top left of the main menu
Tap Create Your Avatar on the top of the menu (if you've already got one, you can edit it)
Base it off a photo or make it from the ground up and go wild with the design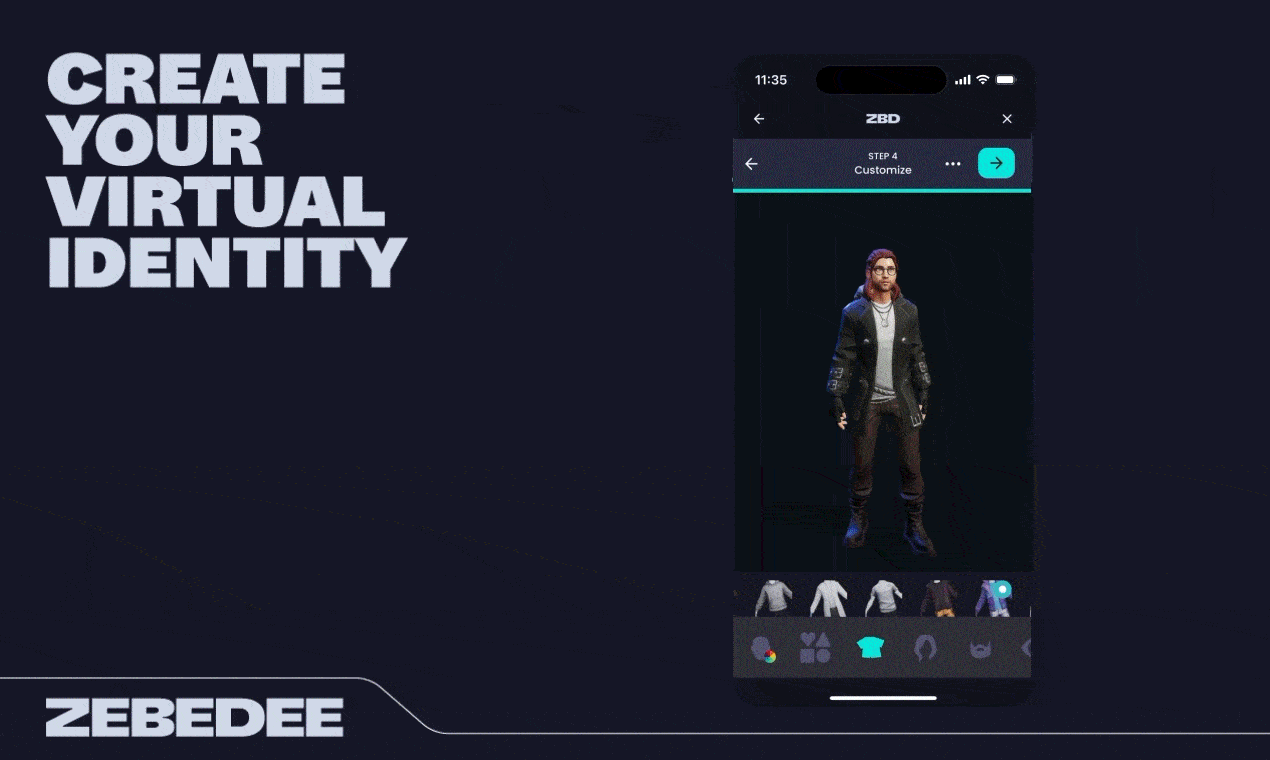 Find out more about Avatars and other crazy new features in the latest ZBD update here.
Versatile sign in and robust safety options
We want to make your Rewarded Gaming experience as smooth and simple as possible, that's why we're offering several different sign options. At the same time, we're always putting the security of your information and money front and center, so we've built ZBD according to the best safety standards out there, while also giving you access to a number of protective features.
Log in with any method – Sign in with Google, Discord, Bitstamp or another email
Powerful safety features – Protective features like two-factor authentication (2FA) help keep your account secure
But there really is no better way to introduce the ZBD app to you than to try it yourself. Download the app, give it a spin and see for yourself how simple and fun gaming life can be in the ZBD Universe. Did we mention it's completely free?
This post was updated in July 2023.