Okay, gather 'round everyone. Welcome to ZBD's Internet Magic Series — Vol. 1. You think this is a bake sale? Cute. No, this is your golden Willy Wonka ticket to collecting bitcoin across the vast and mysterious internet. From immersive apps to digital experiences and yes, even some games — we've got it all. For the entire month of September. Why? Because in the dumpster fire that is the internet, bitcoin is that fire extinguisher we've all been looking for. We know that a whole entire bitcoin is a lot of money, but did you know that bitcoin can actually be broken down into smaller pieces, called "sats"? Picture sats as the pixie dust of bitcoin; like how cents are to a dollar, fractions of a whole, yet filled with potential. From digital experiences to apps and games, we're here to add some pixie dust to every corner of the internet.
So, here's the lowdown: ZBD's Internet Magic Series isn't just a monthly event; it's your regular passport to journey through the enchanted forests and sparkling streams of the internet, stacking up those precious sats along the way. It's about the fresh collabs, new app features, and sats giveaways. We're all here to have a blast and stack some sats while we're at it.
That said — let's get into it.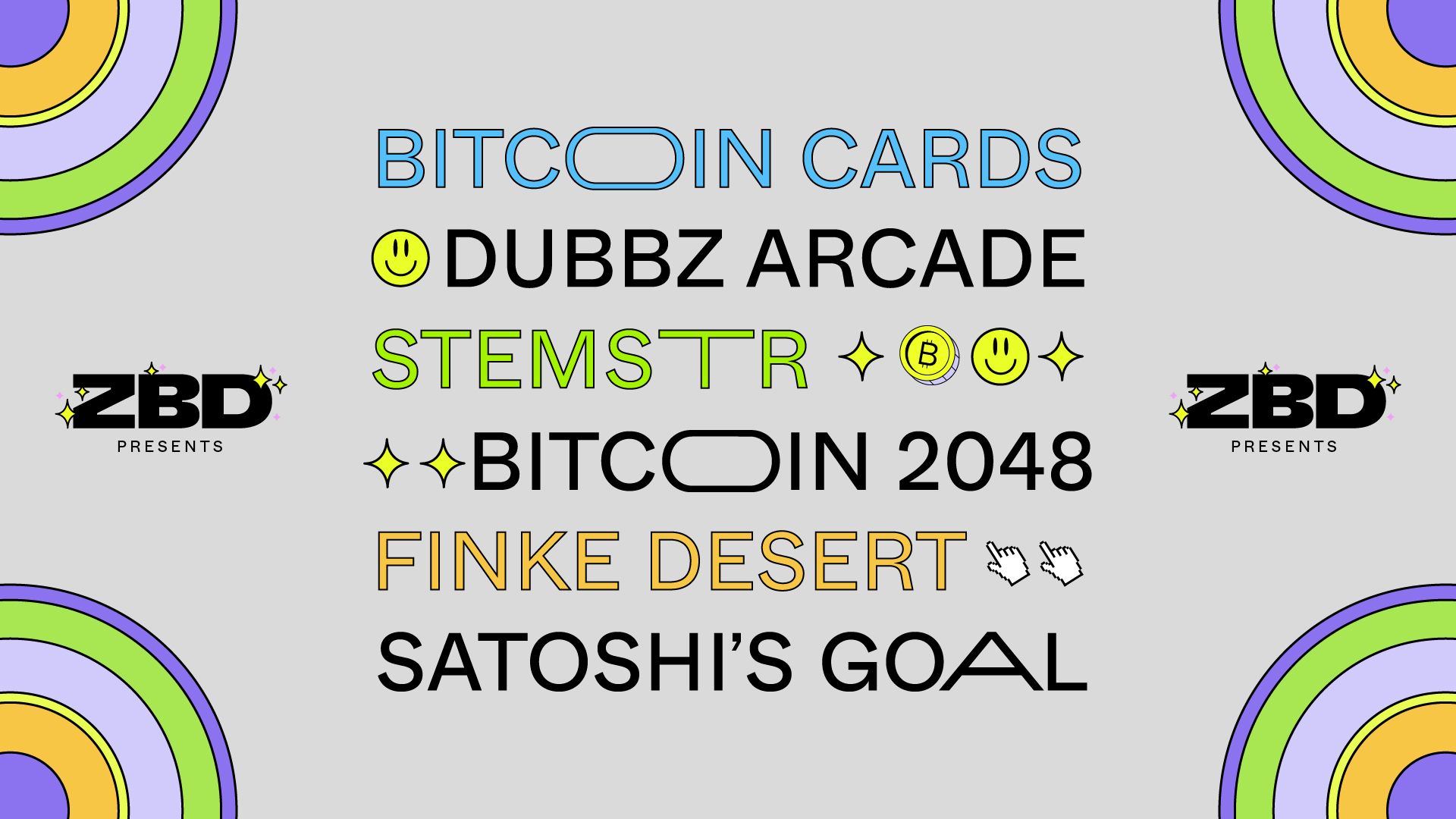 Your Next Fave Games & Apps: Not Just Another List
Ah, you thought this was just another list of time-killing apps? No, honey. This roster of ZBD collabs is where you not only level up but also watch your sats grow every day. Think of it as your VIP lounge for stunting your skills. So let's unveil the MVPs, shall we?
Collect characters, trade 'em like your favorite childhood cards, and rack up some sats along the way.
These aren't your grandma's collectibles; we're talking unique, rare cards that'll make you the Godparent of the game.
2. Dubbz Arcade
Imagine Vegas, but like, without the regret. Go play, do quests, and win sats prizes. You can brag to your mom about your "career in esports."
3. Stemstr
Forget the endless swiping and dead-end DMs. Stemstr is your go-to for finding like-minded producers and artists, all united in the quest for groundbreaking collabs and high-quality tunes.
With the tech muscle of ZBD and Nostr, we're not just making connections—we're streamlining your creative process so you can zero in on what matters: your art.
Like Mad Max but less apocalyptic. Off-road racing in the Australian outback? Heck yeah.
Buggies, trucks, dirt bikes – pick your poison, then race for some sweet, sweet sats.
Strategically collect Super Shot cards to score goals and stack sats, all while building a formidable deck in a dynamic, skill-driven world.
6. Bitcoin2048
Slide, merge, repeat. But the stakes? Sky high, with sats rewards for hitting those lofty numbers.
Weekly Plan: Your Guide to Moar Sats
Alright, step into the enchanted portal of the Internet where the lines between IRL and the digital world vanish like smoke. This isn't just about fattening your ZBD wallet; it's a chance to live your most magical life online. From zapping magical internet money to embodying whoever you want to be, the challenges ahead promise a ride through realms you never knew existed.
All of these challenges and events will be happening across all of ZBD's socials. If you want to participate, use the hashtag #ZBDinternetcitizen on Twitter/X, Instagram, Tiktok, Discord, and ZBD Social (don't have an invite, ask one of our Discord members for a magic code ✨)
Follow the #ZBDinternetcitizen to join the conversation and stay up to date on new challenges, secret sats giveaways, and maybe even some exclusive merch thrown into the mix.
Time to unlock it:
Week 1
Buckle up. Here's what's in store.
🧙‍♂️Whimsy Wizard Contest — We open the portal. First week and you think we're gonna play nice? Nah, we're diving straight into meme chaos. Unfiltered, unchained. Make it, tag it, share it.
🎵Internet Vibes Playlist Contest —  Ready to be the DJ of the digital universe? Create your ultimate playlist of 15 songs or more, each capturing the essence of "the magical internet," and make sure they're all available on Spotify. No genre restrictions, just let your musical choices resonate with the pulse of the online world. You've got 4 weeks, one shot, and zero reasons to hold back.
Week 2
You're still here? Good, because we're just getting started. This digital exploration is getting deeper — and we're leveling up. We hope you are, too.
Trivia Night 🤓 — You think you're smart? Wow, congrats, join the club. But can you outsmart us? First one to nail our trivia questions gets an ego boost big enough to need a new hat.
Mascot Madness 🐶 — Ah, so you're telling me you have a pet? You're an animal lover? Original! Transform that fur baby of yours into the playing card it was always meant to be. You don't? You're missing out. Toss it on social to get your deck started.
Week 3
The heat is on. Now's your chance to show what you're made of.
Rising Above 🔝— No, really, this isn't some random inspirational quote. You wanna be more than a pixel in a game? Rise the heck up. Crush some games and stack some sats.
I Am The Leader 👑 — We want to see who's boss. Show us your best scores and post them on social. But don't get it twisted — only the best win the crown.
Week 4
Portal closes. Head back to reality, but with sats to spend on, well, anything you want.
Pixel Poetry Slam 📝— Because "Roses are Red" is old news, get creative. Could be a haiku, could be a sonnet, just make sure it's your voice. Lay it on us.
Choices 🤔 — But like, good choices. So you've got sats, now how are you making them work for you? New kicks? Tacos every Tuesday? Spill.
What's in Store
So, what have we learned, class? ZBD's Internet Magic Series is like the coolest extracurricular you never knew you needed. We're talking a one-stop digital playground where you can game, socialize, and—let's not forget—make actual bitcoin without having to buy it! What a dream.
Quick 101: You'll be earning sats, which are just baby bitcoin but still real money, okay? And you don't have to just hoard them (although we love saving money!); you can zap them around on ZBD social or use them to buy gift cards right in the ZBD app (Apple or Amazon shopping spree, anyone?)
New stuff every month, because who wants last season's magic? Your roadmap to being the most interesting person in the room starts now.
Welcome to a more magical internet. At ZBD, we like to say, as soon as your monetize your world, you start to discover your own magic. We're here for that discovery and can't wait to embark on this journey with you 🪄