To celebrate the month of love, we're launching a week-long campaign with Fountain Podcasts, focused all around Valentine's Day that we're affectionately calling Love is in the Ear. If you're in love with podcasts, this is the perfect time to show creators how much you value their content. With the integration of ZEBEDEE, that's easy – simply send them some sats. And since love goes both ways, we'll be giving out 500 sats to everyone who listens to a special promo – if you beat our Quest by donating 14 million sats in total.
Tune into your favorite content on Fountain and tip some sats to the creators to do your part or read on to learn more about our campaign.
❤️‍🔥 Valentine's campaign on Fountain Podcasts

Take part in ZBD Quest and donate 14 million sats in total to content creators to win 500 sats next week
Give your podcast ideas in Monday Minigame
Don't miss extra Challenges to ignite love and claim bonus sats
Find all campaign activities on our Twitter @zbdapp
Love is in the Ear – A Quest to donate 14 million sats in total
A well-known saying is that the way to a person's heart is through their stomach. No denying that, but it's not the only way. To truly ignite someone's inner fire, you also need to whisper just the right words into their ear. Or, if you're dumbstruck by love, just play them some awesome shows and podcasts on Fountain!
If you love podcasts as much as we do, now is the perfect time to show that to the people who make it all happen – content creators. On Fountain, the easiest way to support them is with a small donation. Since Fountain recently integrated with ZEBEDEE, you can now send them some sats quickly and easily.
In celebration of love, we'll be running a special Valentine's Quest on @zbdapp from Valentine's Day (14 February) to the end of the week (19 February), that challenges our whole community to tip 14 million sats to any podcasters or content creators on Fountain. And to make tipping worth your while, we'll reward every listener with 500 sats next week if we reach the Quest goal – all you have to do is listen to a special promo on Fountain. You're basically donating to your favorite creators for free!
🫰 No sats to tip?
Win sats by playing ZBD games or simply Top Up with a credit or debit card in the ZBD app.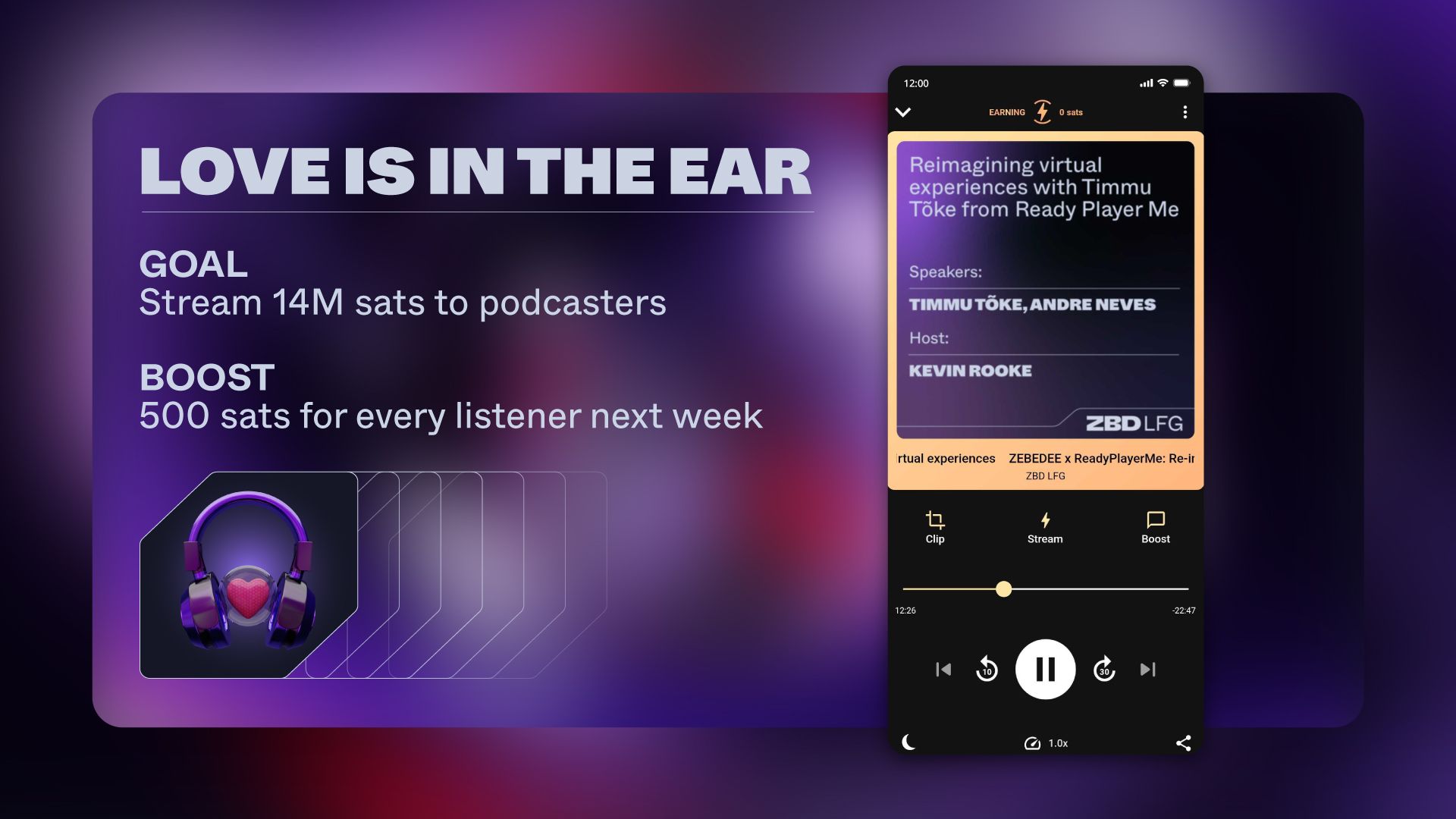 More Valentine's events on ZEBEDEE
There's no such thing as too much love, so we're giving out even more rewards in this week's bonus challenges on Twitter @zbdapp.
On Monday, take part in Monday Minigame that's all about brainstorming podcast ideas. If you had your own podcast series (or you're actually working on one), what would you name it, and what would it be about? Let us know on @zbdapp and we'll reward the best ideas with sats!
🎧 Looking for a good podcast?
If you want to listen to some cool content, here are some suggestions by the ZEBEDEE team.
We'll also be running not one, but two additional challenges that also revolve around Fountain. In the first, you'll need to connect Fountain with your ZBD app, and in the second, we'll be on the lookout for great podcasts – share a link on out Twitter and tag the podcaster to let them know they can claim their content on Fountain.
Challenges and minigames:
Monday Minigame: Give us your podcast idea on @zbdapp
Challenge #1: Connect Fountain with your ZBD app
Challenge #2: Link your favorite podcast on @zbdapp and tag the creator to claim it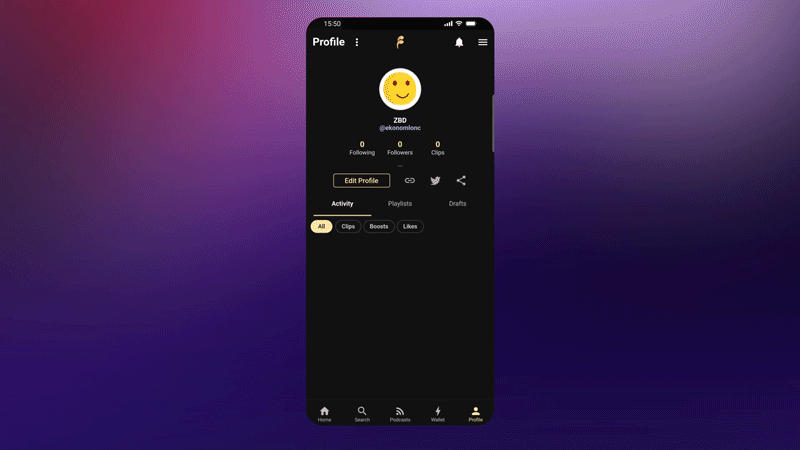 Shower creators and yourself with a Fountain of love
Last, but not least, don't forget to show some love to yourself. Whether you're with friends, family or a special someone, or you're still looking for a spark to ignite the fire in your heart, an excellent way to treat yourself is with a fun and interesting podcast from Fountain that will arouse your curiosity and inspire you to give love from the heart.
This post was updated in July 2023.