Fountain, the next-gen podcasting app, doesn't just stream audio – it streams money too. Thanks to the recent integration with ZEBEDEE, Fountain can now stream money from listeners to content creators in real time. What's even better, money streaming goes the other way too, as for the first hour of listening every day, Fountain pays you.
As fans of podcasts, we thought we'd give you a couple of suggestions for good shows, so you won't just get money when tuning into Fountain Podcasts. Give it a go, or read on to find out about our picks.
🎧 How to earn money on Fountain by listening to podcasts
What's worth listening to (according to the ZEBEDEE team)
At ZEBEDEE, we've always been huge fans of good podcasts. Whether it's tech, investment, mystery, crime, science or fiction, you'll always find us tuning into our favorite shows. And now, with the added incentive of getting paid for doing what we already like, we find it's really hard to hit the pause button.
But the selection is huge, as Fountain features all the podcasts and audio shows you'll find on other platforms like Spotify and Apple Music. To do away with choice paralysis, here are a couple of suggestions from our team to narrow down your selection – and if podcasts aren't your thing, these options may just change your mind.
Darknet Diaries
By some estimates, the Darknet, the Internet's mysterious hidden side, comprises as much as 99% of the entire web. This vast and enigmatic landscape is the perfect breeding ground for chilling stories about hacking, data breaches and cyber crime. Join host Jack Rhysider as he takes you on a journey through these stories – all of them true! It's definitely the first choice of our CTO, André Neves.
Listen to Darknet Diaries on Fountain.
We Study Billionaires
Get into the mind of the wealthiest people on the planet, and find out how they've achieved their success. Hosted by  Stig Brodersen, Trey Lockerbie and Clay Finck, We Study Billionaires is the flagship podcast of The Investor's Podcast Network, featuring guests including Warren Buffett, Howard Marks, and Bill Gates. Our favorites, perhaps predictably, are the weekly Bitcoin Fundamentals episodes.
Listen to We Study Billionaires on Fountain.
Rebel Force Radio
You say you love Star Wars? We know. We do too. Whether it's the originals, the prequels or the sequels or any of the stories in between, this expansive universe always keeps us coming back. And with veteran hosts Jason Swank and Jimmy Mac, Rebel Force Radio provides just the right mixture of information and entertainment we're looking for.
Listen to Rebel Force Radio on Fountain.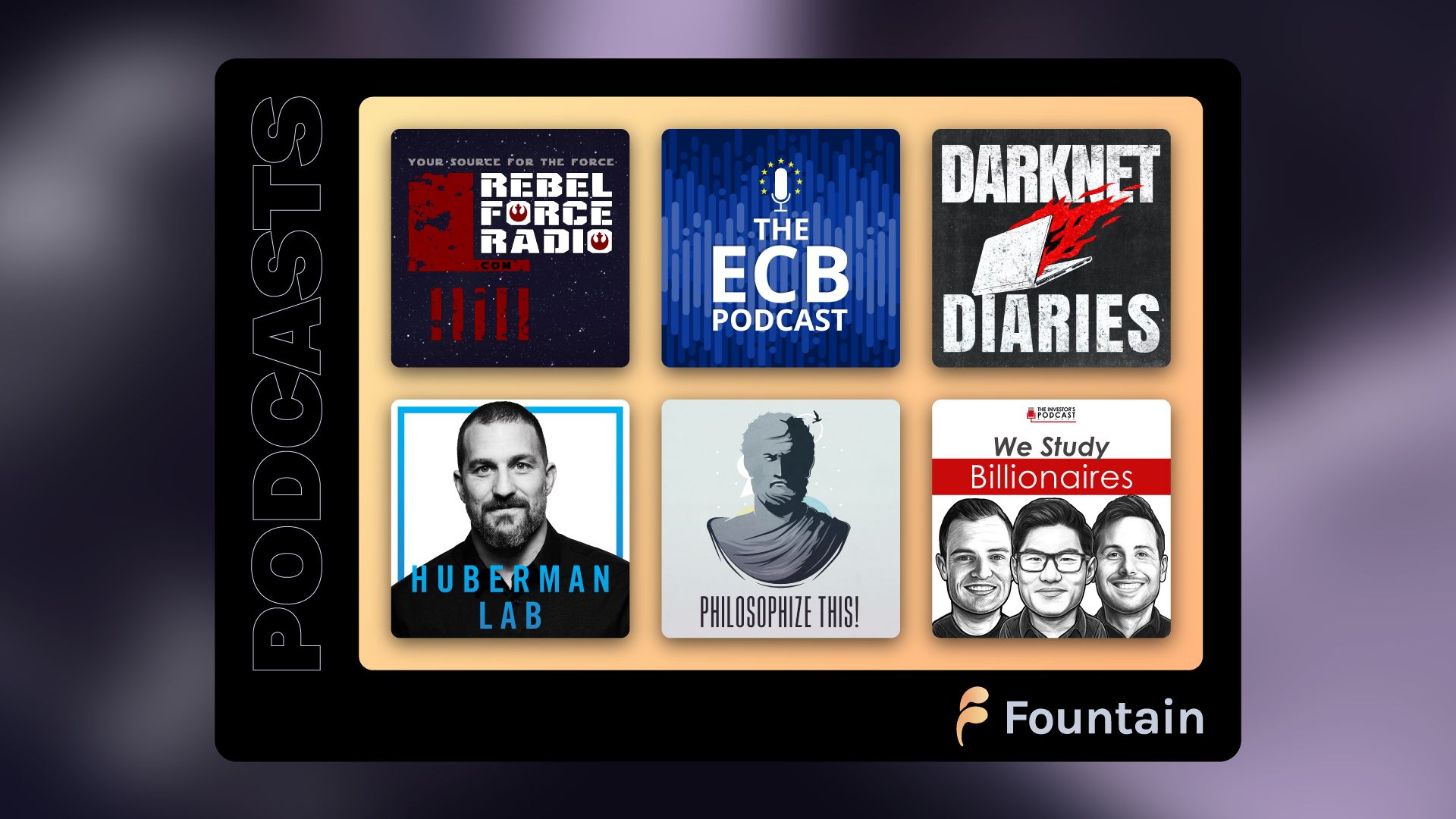 The ECB Podcast
If you're looking for a more serious topic from the world of finance, The ECB Podcast may be just the thing you're looking for. The European Central Bank brings you insights into the world of economics and central banking, as host Katie Ranger talks to experts about the topics and trends that matter to the eurozone economy today.
Listen to The ECB Podcast on Fountain.
Philosophize This!
Philosophy usually drives people away because it's a difficult subject to get into in medias res. See, we used a big phrase that we've heard from smart people (and we didn't even need to Google it at all!). If you're intrigued by the thinkers and the ideas that forged the world, Philosophize This! does a great job at breaking them down and explaining them. Santos, our Business Lead for Tech and Product and in-house expert at explaining stuff, guarantees you'll get +10 wisdom if you tune in and recommends listening in chronological order for the best experience.
Listen to Philosophize This! on Fountain.
Huberman Lab
The human brain is a truly remarkable organ. It is the operator of the body, capable of controlling our perceptions, behavior and health, and giving us a level of consciousness rarely seen elsewhere in the animal kingdom. In Huberman Lab, Dr. Andrew Huberman, a tenured Professor of Neurobiology and Ophthalmology at Stanford School of Medicine, shares his expertise in neuroscience and gives us invaluable insight into this fascinating field. Use your brain and tune in.
Listen to Huberman Lab on Fountain.
If you haven't found something you like on this list, you can always browse from among thousands upon thousands of options on Fountain Podcasts. Simply get Fountain, start listening and earn real Bitcoin every day. That's Listen-and-Earn.
This post was updated in July 2023.