Have you ever been frustrated when facing constant ad bombardment on the Internet, and you got nothing in return? We know we have. But what if we told you that the next time you open your browser and an ad pops up, you can actually get paid just for seeing it? With the integration of ZEBEDEE into Slice, a browser extension that pays you for seeing ads, your time on the Internet is now worth actual value. And you can withdraw it in the form of Bitcoin, the ZEBEDEE way!
tl;dr

Browser extension that lets you earn passive income
Collect Slices when seeing ads online
Cash out your Slices for real money – Bitcoin
Why the Internet needs Slice
Advertisers want us to see their ads, not just scroll past them. But when we stand to gain nothing of actual value from seeing an ad, we usually just ignore them. Recognizing that this form of advertisement is fundamentally flawed, the team at Slice put their heads together and came up with a simple, yet groundbreaking solution: Advertisers should pay us to see their ads.
If you know you're getting value for the time you invest into reading an ad, you're more likely to focus your attention on it, and the advertisers actually get to show you what they're trying to sell. It's a win-win for both parties.
But in order to make it possible to efficiently transfer value from advertisers to potential customers, an advanced form of programmable money is required, as well as a highly-efficient payment system. This is where ZEBEDEE comes in. Our Bitcoin-based Lightning payment rails are just the tool Slice needs to effectively reward their users without being bothered by delays or drowned in fees.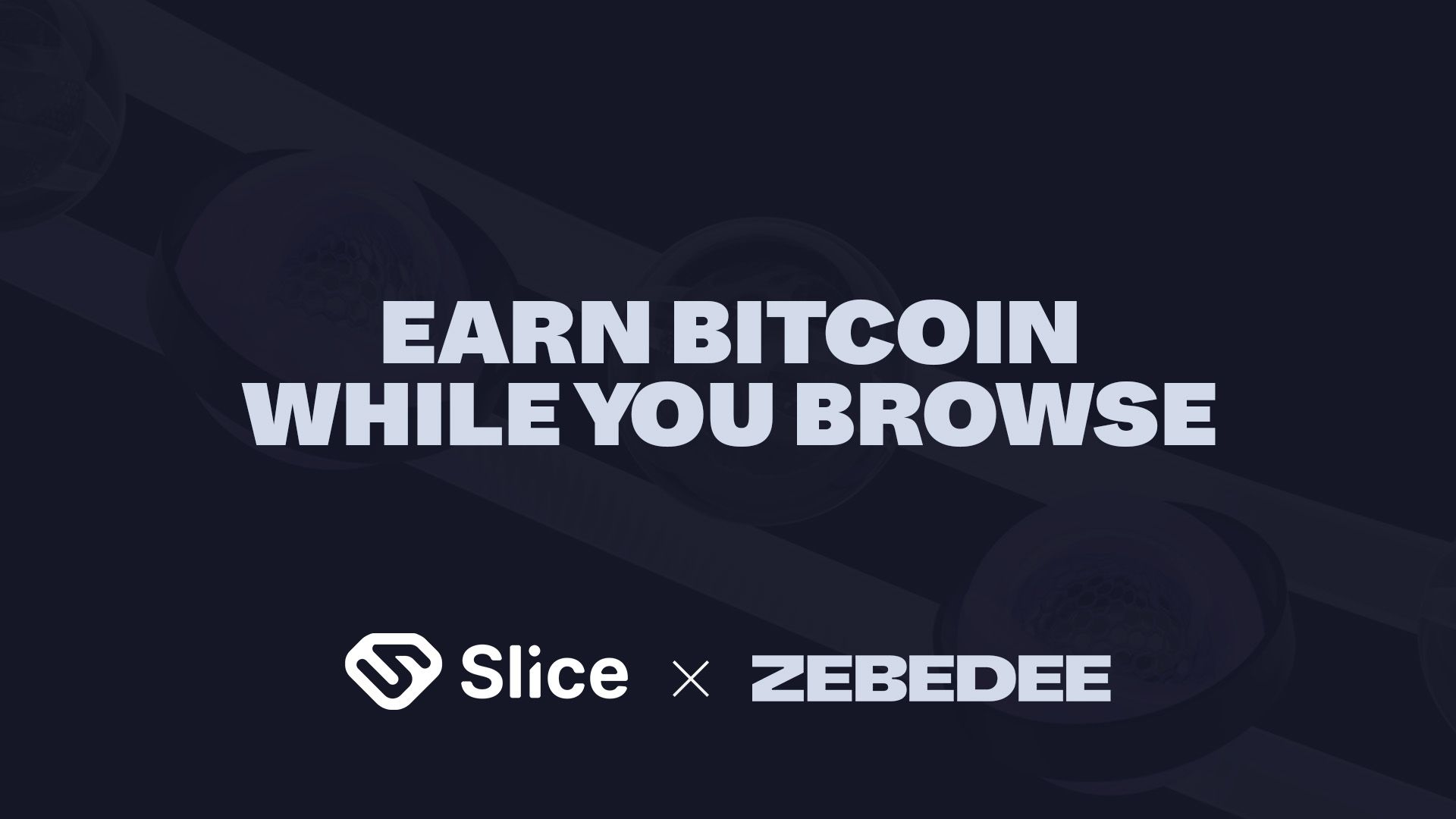 How does it work?
Slice is a browser extension available for most browsers (Google Chrome, Mozilla Firefox and Brave) that integrates with your browser in just a few clicks.
Install Slice
Head to https://addslice.com/ and add the extension to your browser
Click on the extension icon and select Connect the extension to activate it
Copy the numbers from the Slice Dashboard to the extension
When you got the extension installed and activated, it's time to start collecting Slices. Slices are the extension's native currency that you gain every time you see an ad. Give it a go – fire up your browser and scroll through the web. Once you collect a bunch of Slices, you can exchange them for Bitcoin by withdrawing them to the ZBD app.
💡 Did you know?
During the start of the Slice Beta, you get 100% of the revenue!
Convert Slices to Bitcoin
Open the Slice menu by clicking on its icon
Select Withdraw and the Slice Dashboard will open
Head to Payout and choose your method (there are several, but you can guess which one is the best)
Use your ZBD username or Lightning Address to send money your ZBD app
Note that you'll only be able to convert Slices to Bitcoin after 30 days.
Get your Slice of the pie
Now you're all set to start earning passive income while browsing the web. While you're at it, don't forget to install the ZBD app, so you can earn Bitcoin while playing games too! If you want to learn more about Slice first-hand, head over to Slice, to read what the guys have in store for you.
This post was updated in July 2023.