Hey there, party people!
Back again? Can't say we're surprised. ZBD's throwing another month-long fiesta and you're all invited. If you're new here, welcome to the party. We've been expecting you. For the return folks, it's good to see you back.
Here's what's up this month.
Bitlabs Sats Spree 🏆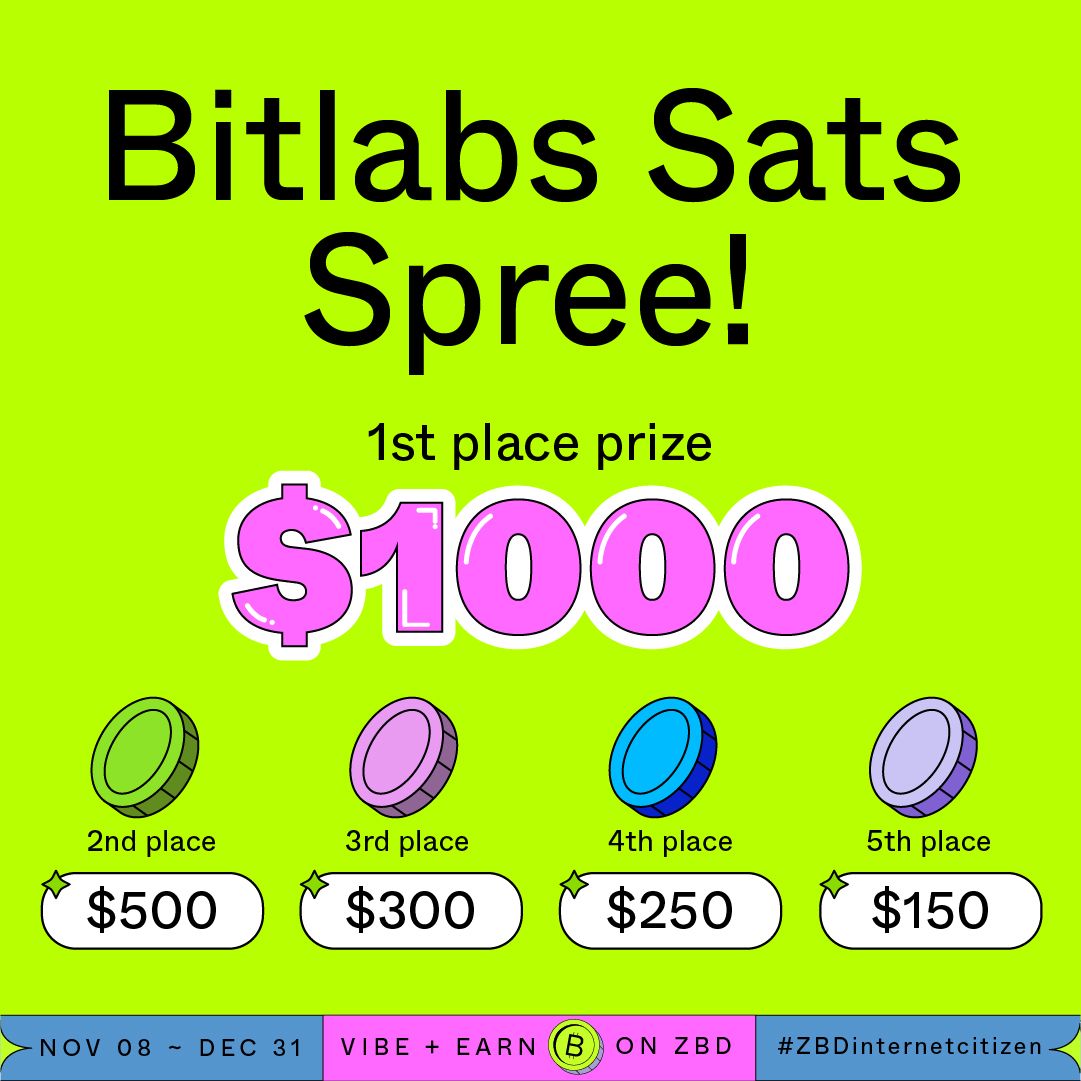 Alright, let's cut to the chase. You're here to stack sats and have a good time, and we've got just the thing.
So pop open the home screen of your ZBD App—we've got an event for the sats-savvy.
From November 8th to December 31st, 2023, the ZBD App is your portal to profit. No fluff, just stuff – the good kind. Complete surveys, tackle offers, and earn sats for every task you complete.
Here's the kicker: The more sats you earn, the higher your chances to rake in more than just pocket change. Top the leaderboards, and you could be looking at a $1000 bitcoin bounty. It's not just about earning; it's about leading the pack.
Time to get savvy with your screen time. Let the games begin.
Earn on ZBD App 🪄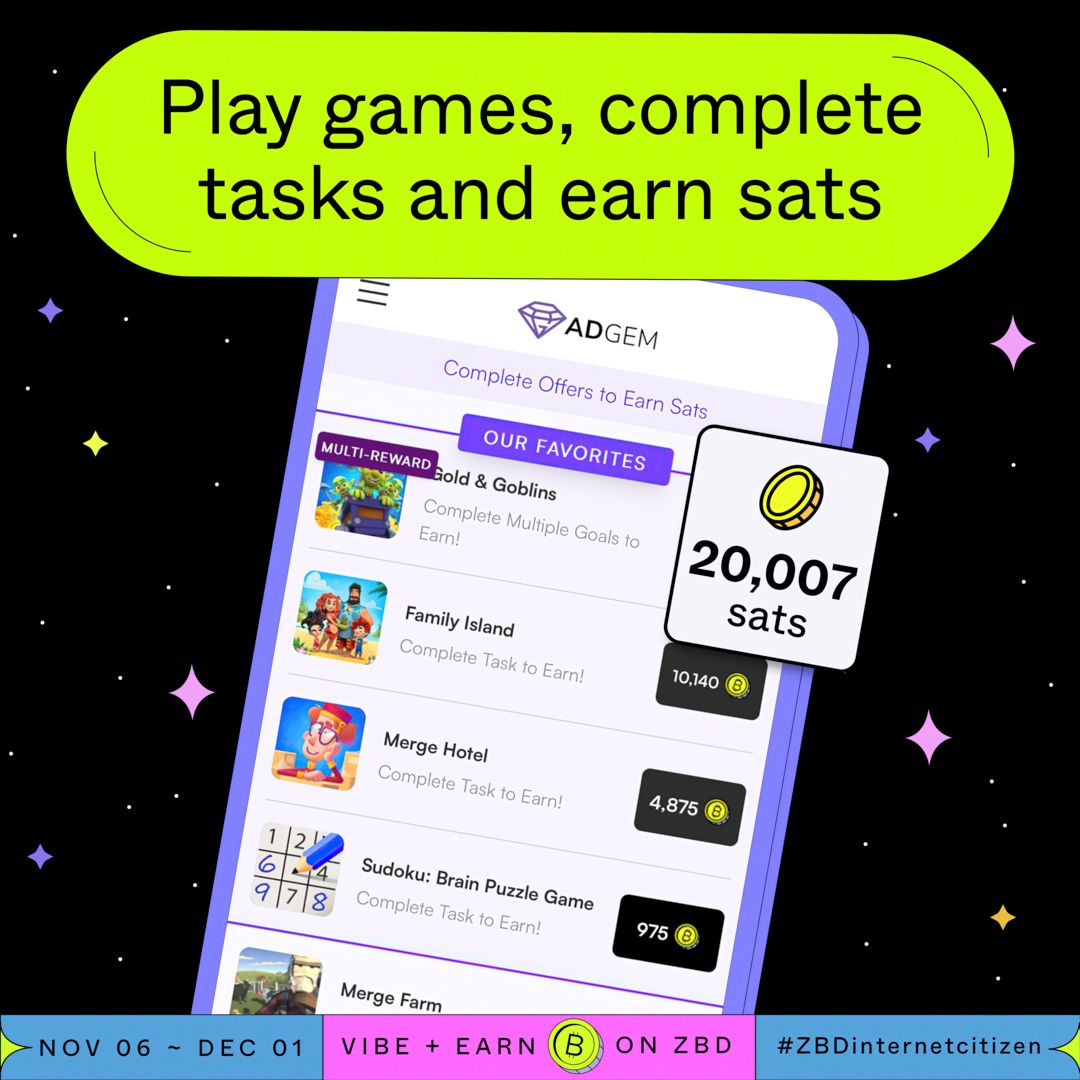 Playtime That Pays Off: Got a graveyard of apps? Let's add some with a twist. We've got a hit list of downloads that do more than hog memory – they fill your digital wallet.
AdGem: Crave a dash of conquest in your coffee break? Hit up AdGem. Slice and dice through challenges and cash out your victories. Ready, player one?
Daily Quest for the Distracted: Let's face it, your phone's a brain vacuum. Time to flip the script. ZBD App's daily questions are like those little productivity hacks, except they actually give you sats. Answer, earn, and feel better about the endless scrolling.
It's time to be rewarded for your time on screen.
SpaceY: The New Kid in Town 🚀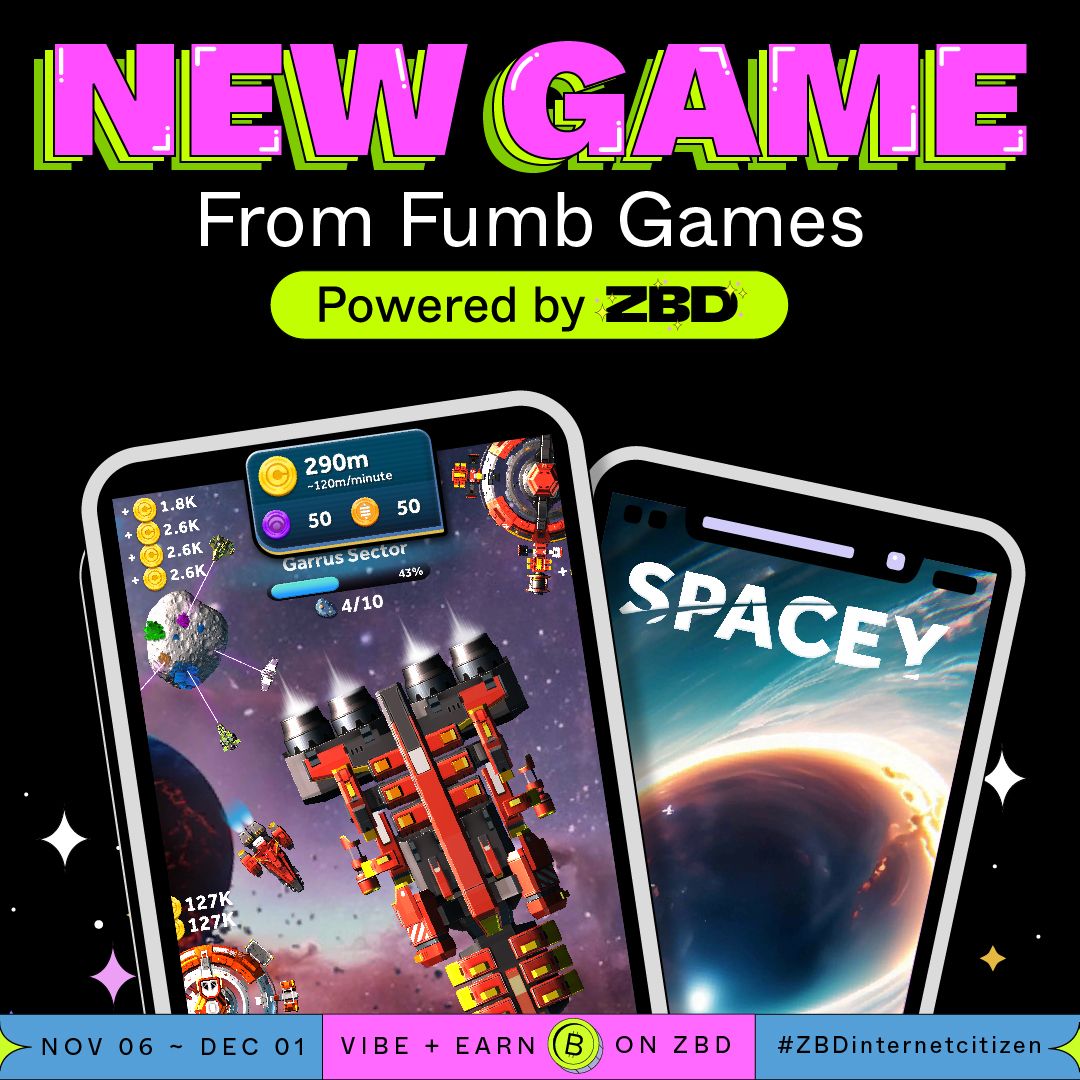 Pause reality. Sky's not the limit here – it's just the beginning. Meet SpaceY: the playground where you're not just spinning planets, but running the whole show. You + Space = An empire just waiting to be built.
Game On 🎁
You're not just here to play, you're here to win... and get a little bit of everything tossed your way. Challenges? Got 'em. Merch that's too cool to be true? Absolutely. A pile of sats that's just begging to be yours? Oh, you know it.
So yeah. Challenges, giveaways, sats, merch - the whole shebang.
ZBD TV: We're On Air 📺
And here's the kicker: ZBD TV is hitting the airwaves soon… very soon. Grab your morning brew and tune in. It won't be like your favorite Netflix drama, but we can assure you we've got some great characters here at ZBD. You'll be obsessed with us.
That's the lowdown for November. Catch you in the app and around the games. Let's keep the same energy going. The portal is open here.