We all love freebies, don't we? Free games on sales, bonus points, or skin upgrades in a game? It's all fantastic! But do you know what is even better? Free Bitcoin! And you can get it just by playing games or chatting in our Discord community. So, why don't you start earning crypto for free?
Get paid for playing games
There are dozens of crypto apps and investment platforms that promise you free crypto in exchange for signing up, recommending a friend, staking crypto, or making the first transaction. It's nice of them, but you have to invest money or give your private data before you can start earning. And the main fact is, finances can be boring. Wouldn't it be marvelous if you could earn crypto for free, and have fun while doing it?
ZEBEDEE is a platform that lets you earn crypto for free by playing games.
Yes, you read it right. For free. The money comes from some cool companies that recognize how exciting Bitcoin gaming is and believe in its future. They provided us with some Bitcoin, which you can get using the ZBD app with an integrated Lightning wallet.
The dreams of every gamer came true
Many others have included digital money and credits into gaming before, but none of it works in the real world. They never pay out and you can't buy anything with points, gems or diamonds from a mobile game, but you can buy things with crypto. Playing ZBD games will give you real Bitcoin rewards.
A popular way to get some free sats (that's a subunit of Bitcoin) is with ZBD Infuse in Counter-Strike: Global Offensive. Connect with your Steam account and participate on our servers to collect sats every time you win, shoot someone, use bonus weapons, and more. Don't worry if you're a noob. We've got you covered with special servers for beginners. We want everyone to have the chance to win free crypto and have fun while doing it.
CS:GO on ZBD Infuse is no longer supported. We've had lots of fun, but now it's time to move on to other adventures.
Get paid when you're feeling bored
Maybe you're not a hardcore PC gamer, but what about mobile games? Do you like crushing candies when you're waiting for someone? Do you often spend your daily commute improving your driving skills in a mobile game? You can still do that and earn Bitcoin in the meantime. With ZBD mobile games you'll start stacking some sats in your free time without any investment. Try these:
SaruTobi
Balls King
Wheel of Crypto
Lightning Crush
Every player gets a reward no matter the skills. Devote your free time to having fun instead of wasting it on boredom. Just make sure to join our Discord chat to get the memo.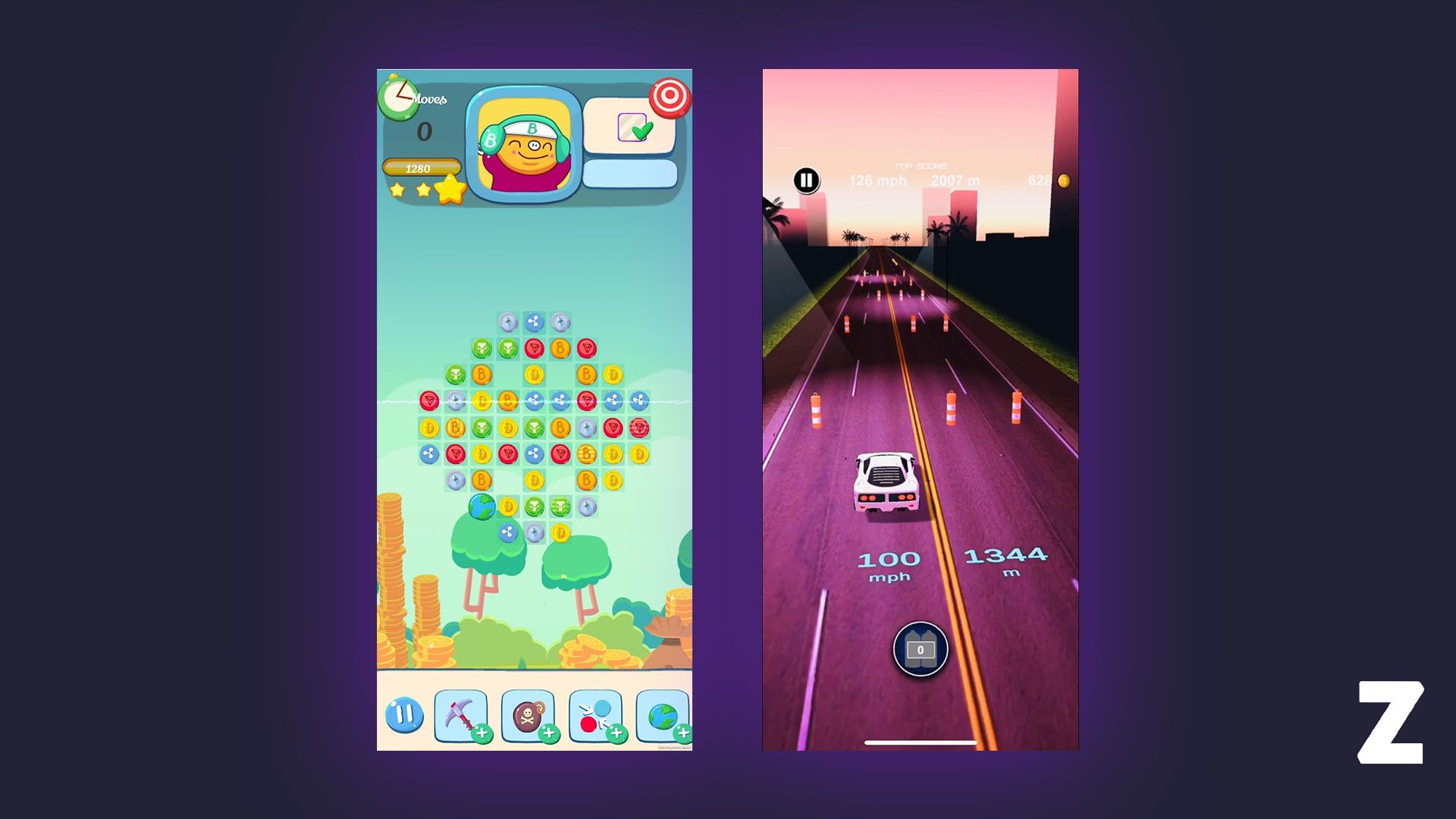 A wallet for every gamer
There is just one more important step for you to do before you start earning free cryptocurrency by playing games. You'll need to have the ZBD app with an integrated Bitcoin Lightning wallet, made for gamers. With it, you'll be able to withdraw the sats you won in games – but it does so much more than that. Instant payments, near-zero fees, and everything you need from a Bitcoin Lightning wallet, enhanced with unique gaming features. It provides you with a unique ZBD username – your nickname in the Bitcoin gaming ecosystem, so sending Bitcoin to you is effortless for anyone.
The game is on!
Enjoy the thrill of real-time transactions in the gaming world! Start by downloading the ZBD app:
This post was updated in July 2023.