When the word "payments" comes up, few people think of anything fun or exciting. But ZEBEDEE and Fountain are proving that bringing enhanced payments features to a podcast app can be a game changer for both listeners and creators. With the integration of ZEBEDEE, the Fountain app doesn't just stream audio, it streams money seamlessly alongside it, in both directions.
Through the partnership with ZEBEDEE, which now powers money streaming on Fountain, the podcasting app now allows its users to reap the benefits of seamless nano-transactions in audio streaming. Listeners can pay for podcasts and shows per-minute, and creators can advertise more efficiently by only paying for advertising content that has been consumed. And to top it all off, you don't have to pay anything for the first hour of podcast listening every day – listeners actually earn money instead.
Tune in to your favorite podcast on Fountain now or read on to find out how you too can benefit from this integration, whether you're a podcast fan, audio content creator or just curious about what instant Bitcoin nano-transactions can bring to the table.
🎧 Fountain Podcasts with pay per-minute money streaming
What is the Fountain app?
The Fountain app (Android and iOS) is the next generation of podcast apps, allowing listeners to tune into any of their favorite shows, make clips and interact with hosts, guests and other listeners. Featuring all the podcasts available on other apps like Spotify or Apple Music, Fountain offers a wide range of podcasts for any taste. But that's no news.
What sets Fountain apart from other podcast apps is that it doesn't just stream audio – it streams money too! Thanks to its integration with ZEBEDEE, which powers all transactions on Fountain, listeners can now tune into shows and pay per-minute for only what they listen to (for the first hour every day, Fountain pays you – more on this below), and creators can use the same system to advertise their content to their target audience more efficiently than elsewhere.
Advertise your content efficiently
In podcasting, traditional advertising can sometimes be awkward, inefficient and overly expensive. Despite meticulous targeting, ads won't always reach the right audience, and can fail to create awareness and engagement, while still draining creators' pockets. What Fountain offers creators is a way to circumvent paying for ads that have no effect. It all comes down to real-time streaming payments.
When advertising content, creators can pay listeners per-minute, and the money will stop streaming as soon as the listener does. This means they only pay for the users that actually want to listen to their content. This is much more efficient than running ads that cost the same even if the user doesn't end up listening to the podcast and becoming a fan. It allows creators to raise awareness of their content by interacting directly with the listeners, thus boosting engagement.
📣 Claim your show on Fountain
If you're a podcaster or other audio content creator, simply claim your show Fountain to start earning.
Earn money for listening
Users benefit from real-time streaming payments too, as paying for the consumed content is also done per-minute. But you don't always have to pay…
"Listen and earn" is Fountain's program that turns the whole pay-to-listen idea on its head. Instead of paying for the podcasts they listen to, users actually get paid for the first hour of listening every day. This way, users get paid for listening to content they enjoy, while creators get a very efficient way to get in front of an interested audience.
🪙 Listen and earn
For the first hour of podcast listening every day, you don't pay Fountain – Fountain pays you!
For even greater profits, tune into our Fountain Quest this week and get in with a chance to double the rewards you get in the first happy hour of each day. You can find more information on our Twitter @zbdapp.
The perks for payment mechanics don't end here. Not only can listeners on Fountain support their favorite podcasters by paying directly, without an intermediary, on a minute-by-minute basis, they can also utilize the integrated payment tech to instantly boost episodes or like other users' actions and activities.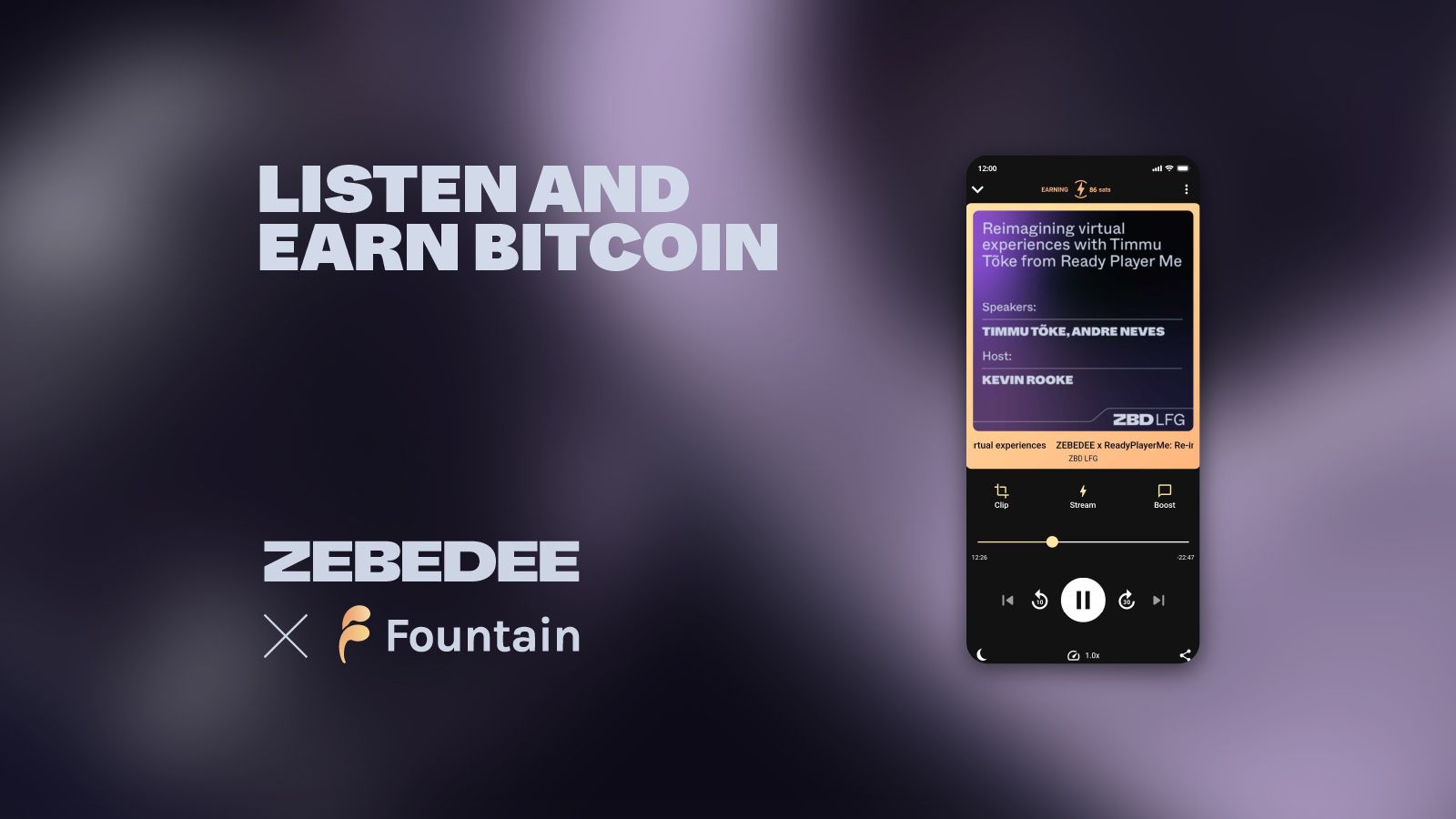 How is streaming money even possible?
Perhaps streaming money per minute for listening to shows sounds like a far-fetched idea. It's not. With ZEBEDEE's payment tech beneath the hood, Fountain can now send thousands of nano-payments in rapid succession extremely cheaply and easily from user to creator and vice versa.
To make this kind of instant money streaming in both directions work seamlessly, ZEBEDEE developed a system of payment rails based on Bitcoin's Lightning Network. This payment network is super fast and extremely efficient and enables transactions as small as a fraction of a cent – which is something that's technically impossible with traditional fiat currency.
While Bitcoin and blockchain tech is sometimes seen as confusing or enigmatic, the beauty of ZEBEDEE's integration in Fountain is that users don't need to know anything about cryptocurrencies to use the system. They can simply tune in and enjoy shows or push out content, and collect and spend Bitcoin as they see fit. And since we're talking Bitcoin, that's a currency that's not limited just to Fountain…
When they want to spend the money they've earned, users can use the ZBD app to shop for almost anything their heart desires by buying gift cards from a selection of 5000+ vendors. And if they're running short on money for their favorite podcast, or they've just recorded one and want to attract an audience, ZBD also offers an easy way to Top Up your balance with a debit or credit card.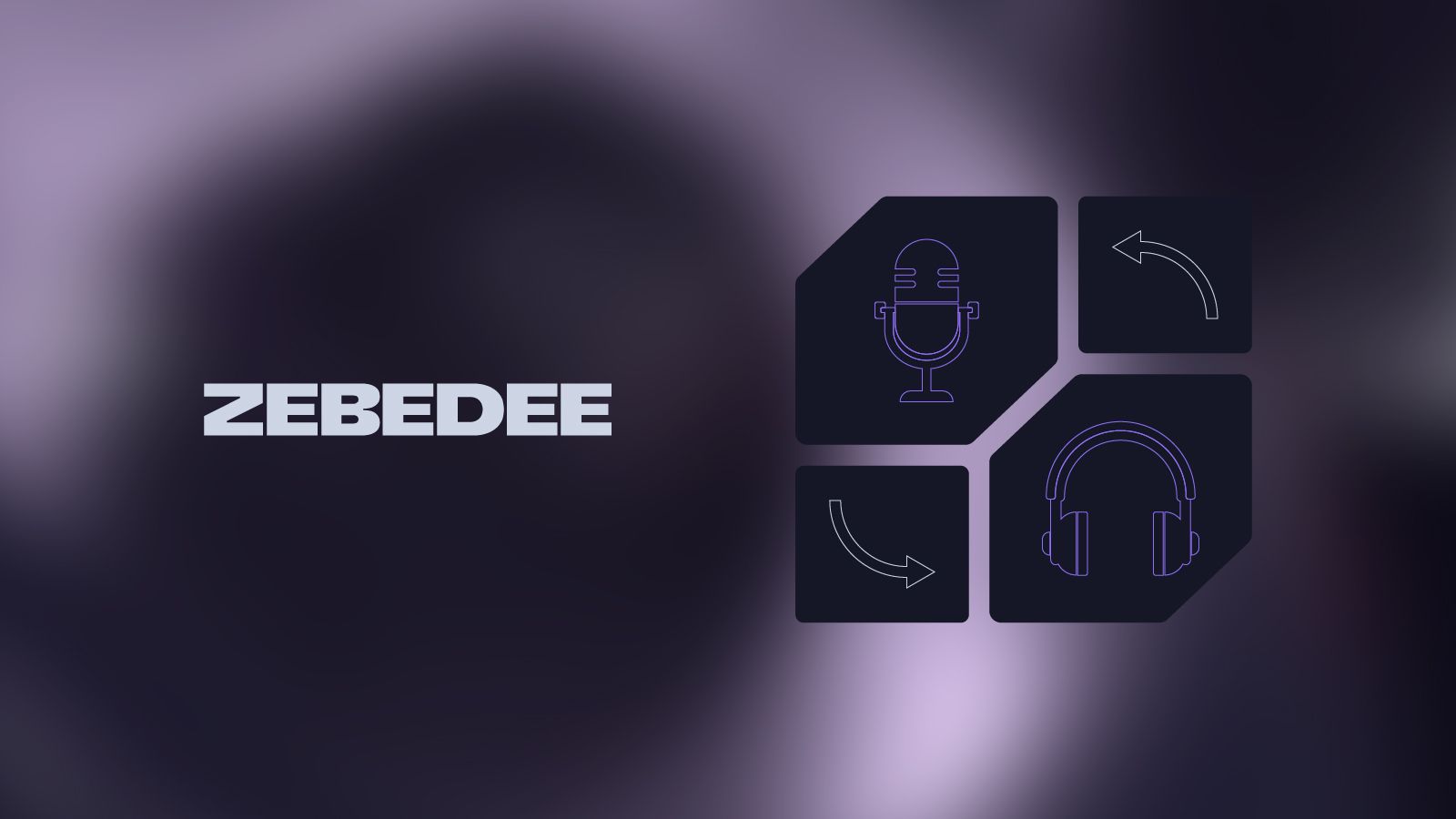 Start listening or claim your show to earn
If you're a fan of podcasts, you can start listening and earning right away. Simply head to Fountain, tune in to something that tickles your fancy and start collecting money with ZBD.
And if you're a podcaster, claim your show on Fountain and raise an audience to start earning for your content. If you're after more fans, you can do it more efficiently than ever using Fountain's new ZEBEDEE-powered promotions feature.
This post was updated in July 2023.