Christmas is just around the corner, and the pressure to get nice presents for everyone is mounting. Shops are out of stock already, delivery due dates are getting extended, and your head is just... empty! If you're thinking about blunt perfumes or holiday socks again, try to think outside the box.
We have a last-minute Christmas gift idea that's future-friendly and holds its value in the long term: How about giving away some free Bitcoin?
In this article, you'll find out why is a ZBD voucher a great Christmas gift:

It's for everybody
It's something new
Its value can grow
It's quick and simple to create
Bitcoin is for everyone
No matter the occupation, gender or age, everybody can own some Bitcoin. Whether to HODL it for years to come or to actively trade it on the crypto market. Cryptocurrencies are the future and Bitcoin is their leader. So, to get your family and friends a small token gift with the potential to be worth much more in the future, a Bitcoin voucher is a just the thing you need.
Sometimes people are afraid of getting involved with  Bitcoin out of fear of losing their investment. But if it's a gift, they don't have to invest anything. They can just accept it and see what happens. It's the perfect way to orange pill your friends and family!
Innovative and fun gift
Are you tired of getting yet another pair of socks, want-to-be-funny teacups or perfumes? Getting a free gift is always nice, but isn't it nicer when you get something actually useful? Like Bitcoin!
Getting some Bitcoin for Christmas is something new, trendy and also very thoughtful.
It's what everybody's talking about, but almost nobody had the inspiration to think about it as a gift. Owning crypto may sound confusing to newbies, but it's also very exciting. The market is dynamic and always interesting to watch. The minimum effort of instant payments makes ZBD useful for anybody.
Bitcoin's value has been growing for years
It's almost impossible to hand out a present that grows (ok, except a house plant maybe, but that's not as exciting). The value of presents usually starts falling the moment you carry them out of the store, and their price never rises again. But the story with Bitcoin is different. It has been growing for years and shows no signs of stopping.
Your gift may actually flourish from a couple of bucks to hundreds or more.
Who wouldn't want to get a gift like this? And you don't even have to invest a lot. You can spend about 50$ in total for 100,000 Sats and onboard all of your friends and family to Bitcoin from anywhere in the world.
Create a voucher in no-time
Are you looking for a Christmas gift at the last minute? No problem! Because it actually takes less than a minute to create a ZBD Voucher. You only need your ZBD app with a Bitcoin Lightning wallet, which enables you instant payments, near-zero fees, and is enhanced with unique gaming features (You can read more about it here).
The next step is to load it with some BTC. You can directly connect your account with a Bitstamp account (if you already have one) and transfer the funds from there. The other way is to send Bitcoin from any other Lightning wallet you own. Or, if you've got some time on your hands, you can try to earn your Bitcoin by playing games.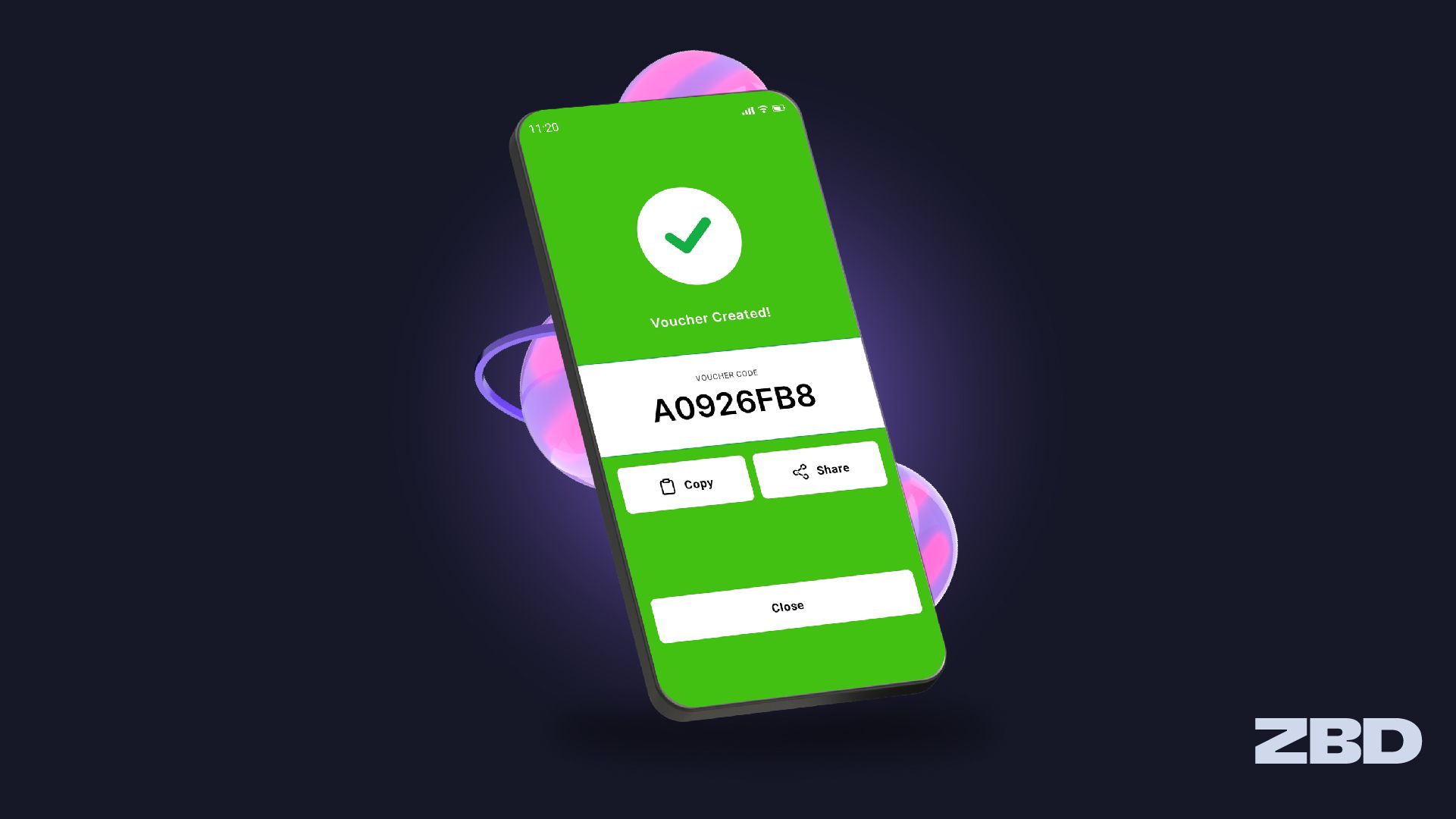 The final step is to create a ZBD Voucher. You can decide how many Sats you want to give, write a special note and voila! You've created a gift Voucher in no time, without fees. You can copy it or share it through social media with the person you're giving it to. Or you can design it as a nice coupon and even wrap it up like a traditional Christmas gift!
Give an innovative Christmas gift! Create a ZBD Voucher by downloading the ZBD app:
This post was updated in July 2023.