Picture this: a social media platform where your interactions aren't just clicks and clout, but they're making actual bank. What if your likes and reactions weren't just boosting some digital counter but were straight-up real-money transactions? And what if this was all bundled with gaming, shopping and entertainment on a single platform? Sounds like the future, right? With the new social feature in the ZBD app, the future is here!
We're dropping this game-changing update to the ZBD app, bringing a whole new social media scene to the party using the Nostr communication protocol. The platform fits into the ZBD universe as smoothly as your new playlist blends into your evening vibe, creating a global network of Lightning entertainment. Get ahead of the game by signing up for an exclusive Private Alpha waitlist and be one of the first to try out this social innovation. Keep reading to find out more about Nostr, get to know the mysterious genius behind it, and get a handle on what all this is about. 🚀
📢 The ZBD app gets upgraded with a whole social network!

The ZBD app now features a social network built on Nostr
Send zaps, tiny amounts of Bitcoin, to give your social interactions real value
Enjoy advanced security and privacy with end-to-end encrypted messages
Fuse finance, gaming, entertainment and shopping in one app
What is this new social feature (and why is it so exciting)?
We've totally leveled up the game by upgrading the ZBD app with a social media platform built the way social should be. It's all about being real and decentralized, and built super safe and completely private – because we want no "big social" to control our feeds and influence our thoughts, and we certainly don't want their prying eyes combing our private conversations. That's a very important starting point for building a social network, but in and of itself, it is not the main thing that makes this social upgrade so groundbreaking.
Where the party starts is in the way we're equipping social interactions in ZBD with actual, real value with the power of Bitcoin and ZEBEDEE tech. Now you can show love to your squad, hype up influencers, or just crack up at funny posts by zapping them – dropping them a "like" worth a tiny amount of Bitcoin.
Getting a like feels nice, but have you ever thought how great it would be if there was actual money added to it? That's zaps ⚡
Since ZEBEDEE is all about easy, instant and affordable microtransactions, sending a zap won't burn a hole in your pocket or make anyone rich. It's just a couple of cents, or even less (that's why we sometimes call our transactions nano-transactions), but it feels awesome, and, over time, it adds up – just ask our lit gaming community who've been racking up micro rewards on ZBD games for ages.
Nostr – The technological backbone
Nostr, or Nodes and Other Stuff Transmitted by Relays, is a decentralized communication protocol, open to anyone who wants to build on it. Widely recognized as a censorship-resistant and globally-decentralized standard for publishing on the Internet, including by prominent figures such as Jack Dorsey and Edward Snowden, Nostr is an ideal base for a social network. When you add complete identity ownership and global, borderless transactions to the equation, the fairytale basically writes itself (the code doesn't, though, but that's what we're here for). Learn more about Nostr here.
Nostr was created by ZEBEDEE's open-source arm, NBD, more specifically by our shadowy supercoder known only as Fiatjaf. ZEBEDEE doesn't own Nostr. That's the point, no one does. Today, there's a number of people and organizations supporting its development, we are just the ones that planted the seed. And we planted it for one very specific reason: so it could power the social network inside the ZBD app we're announcing today.
ZEBEDEE planted the seeds of Nostr years ago with a vision to shape the future of social media and Bitcoin's place in it.
The Nostr open communications protocol was actually released way back in 2020, but now, after extended polishing and a hefty donation of 14 Bitcoin by Jack Dorsey, it started gaining a lot of traction and developer interest skyrocketed. Hundreds of applications have now been built on Nostr, ranging from blogs and social media to file sharing. And since Nostr allows for complete identity ownership, that means users can carry their Nostr ID all the way across numerous mobile and web clients, now including ZBD.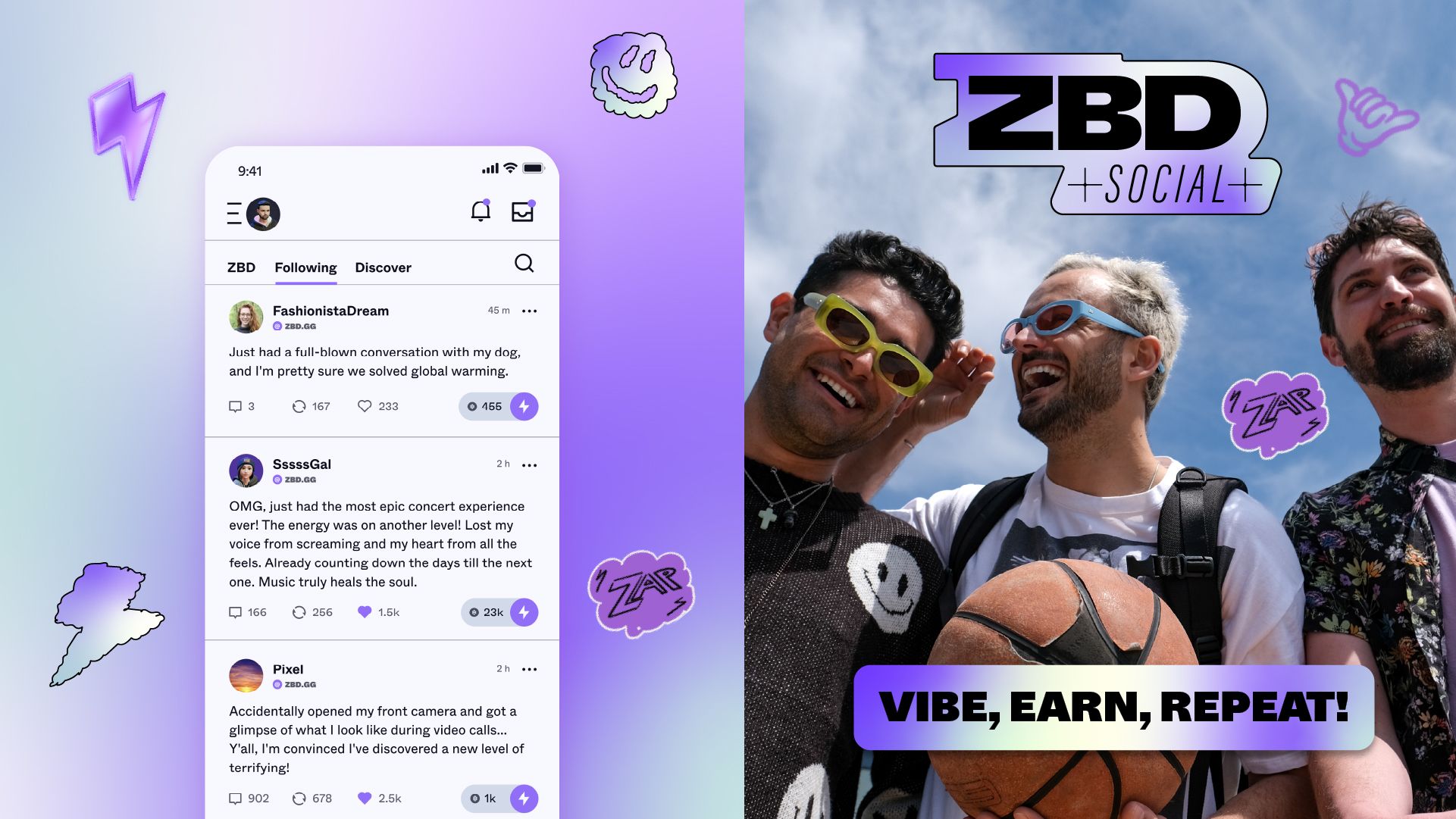 A universe of possibilities in one place
A huge part of our new social feature is where exactly we put it. Being an integral part of the ZBD app, it's within arm's reach of all things that make ZBD great: earning rewards in games and apps, shopping for whatever your heart desires, getting rewards straight to your local currency and, of course, our amazing community.
Having the ability to seamlessly go from scoring sats in games like Bitcoin Miner, Braindoku or SaruTobi, or listening to podcasts that pay you on Fountain, to using the same cash to zap a friend or a social media thought leader is exactly the kind of moves we bring to your money.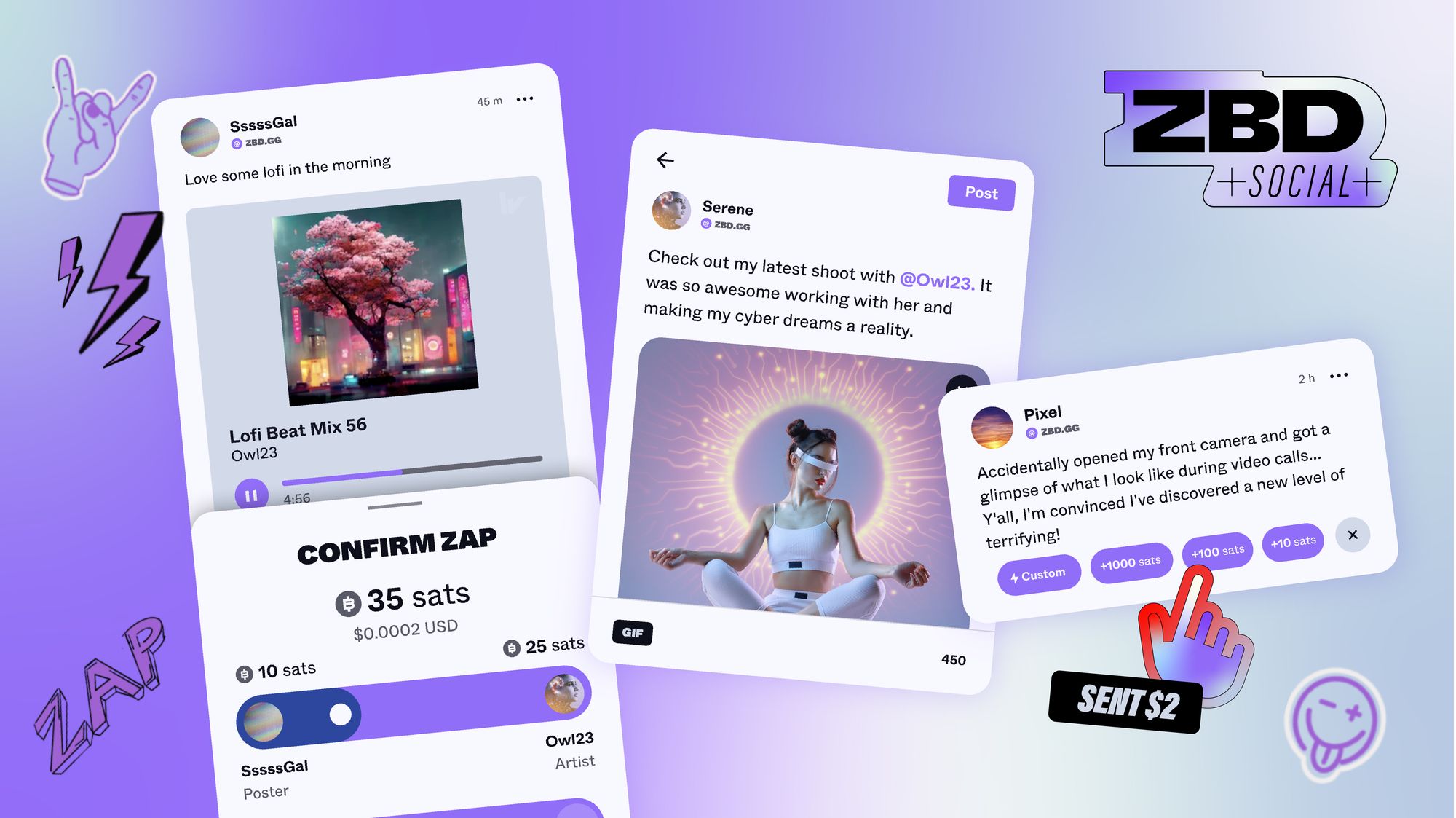 Be part of something big
This is just the first step in a long and exciting social journey, with many more chapters already being written. Right now, you can be part of it and help us shape the future of social media by joining our Private Alpha, where you get to try it all out and help us make it even better!
Plus, we're giving out Bitcoin and special prizes! If you join the waitlist, you get a ticket for our monthly prize draw. For every friend you bring, you get an additional entry!
So, what are you waiting for? Join the waitlist now and tell your friends about it. Hurry up, the spots are limited!
This post was updated in July 2023.