It's the most wonderful time of the year! ZEBEDEE's "Satoshi Claus" and his helpers have prepared a special surprise to make this time even more festive: double rewards in five popular ZBD-powered mobile games!
This was the Holiday campaign for 2021. Make sure to follow ZEBEDEE to participate in the new ones we'll soon prepare for you.
You're not seeing double
From 13 December to 31 December 2021, we're giving you a hefty boost in mobile Bitcoin gaming. 5 different ZBD-powered mobile games will automatically give you double Bitcoin rewards.
Which games can you play for double rewards?

You can play most of the mobile games in the ZEBEDEE ecosystem for double rewards. There's something for everyone – just make your pick:
What does this mean for you?
When you earn Bitcoin in the game and withdraw it to your ZBD app, our Satoshi Claus will match your earnings and send you the same amount as a gift in a second transaction. We'll basically double the Bitcoin you win. And it's all happening for almost three weeks 24/7, so you can play and withdraw all the time to get as many gifts as possible!
The only trouble for you is that you'll want to have more free time to play. And the only thing you can't buy with Bitcoin is time. For now. Just make sure you spend some time with your friends and family too. Or maybe you can organize a game night and you all play together to beat each other's scores?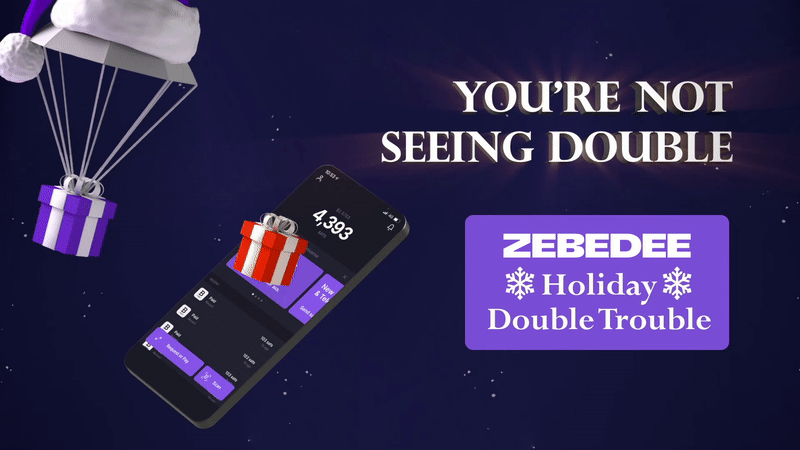 How does it work?

Let's see a practical example of our Holiday Double Trouble giveaway. Elon's favorite game is Balls King (iOS/Android), and he's earned 154 Sats in his last session. Now he wants to withdraw his winnings to his ZBD app. He simply inputs his ZBD username in-game, presses Withdraw, and the Sats are transferred immediately. When he does that, ZEBEDEE will match this amount by sending an equal amount of Sats (154) to his app. Because Satoshi Claus knows Elon has been a good boy this year.
How to withdraw the earnings?

As we mentioned before, you'll need the ZBD app to transfer your Bitcoin rewards from games into your hands. Keep in mind that the ZBD is the only wallet that will double your earnings until the end of 2021, so make sure you use it to collect your Bitcoin. You can use other wallets with some of these games, but that won't get you double rewards!
Read more about our app here or download it now to join the celebration:
This post was updated in July 2023.