It's time to take the manager seat and build your own airport empire. Introducing Crypto Idle Transport Tycoon, a new addictive mobile game where you connect airports, transfer passengers and become a global transport tycoon. Organize every aspect of your air empire and sit back as you watch the money pour in. And, best of all, thanks to the game's integration with ZEBEDEE, you can also earn Bitcoin while you're playing!
Get Crypto Idle Transport Tycoon now or read on to learn more about the game, the integration with ZEBEDEE tech and how you can win real money in the game.
An addictive new idle game with a Bitcoin twist
Crypto Idle Transport Tycoon is a brand new game by 3A Crypto Games that joins the concept of idle gaming with tycoon mechanics and wraps it in the airport management theme to achieve a winning combination of satisfying and addictive gameplay. Its sleek design and intuitive controls make every minute spent playing a lot of fun and basically guarantee that you'll keep coming back for more.
But that's not all that's so attractive about the game. Following the huge success of previous idle games that have integrated with ZEBEDEE (such as Bitcoin Miner), 3A Crypto Games decided to springle the gameplay with real-money rewards, allowing any player to walk away not only with a smile on their face, but also actual money in their pocket.
To achieve this, the 3A team reached out to us to integrate their game with our Bitcoin Lightning payments tech. The integration enables the game to pay out small amounts of real Bitcoin to its players in real time regardless of where they're playing or how much they've earned, making the experience much more engaging and rewarding.
🤔 Why do games like Crypto Idle Transport Tycoon give out rewards?

Paying Bitcoin rewards to players has been the norm of most of our partners, and the 3A team continues this trend. Finding that receiving a small amount of real money that can be withdrawn and spent immediately everywhere in the world is a huge incentive for players to keep playing, continue coming back and sit through ads, companies like 3A are happy to split with a portion of their revenue to markedly increase retention, engagement and acquisition.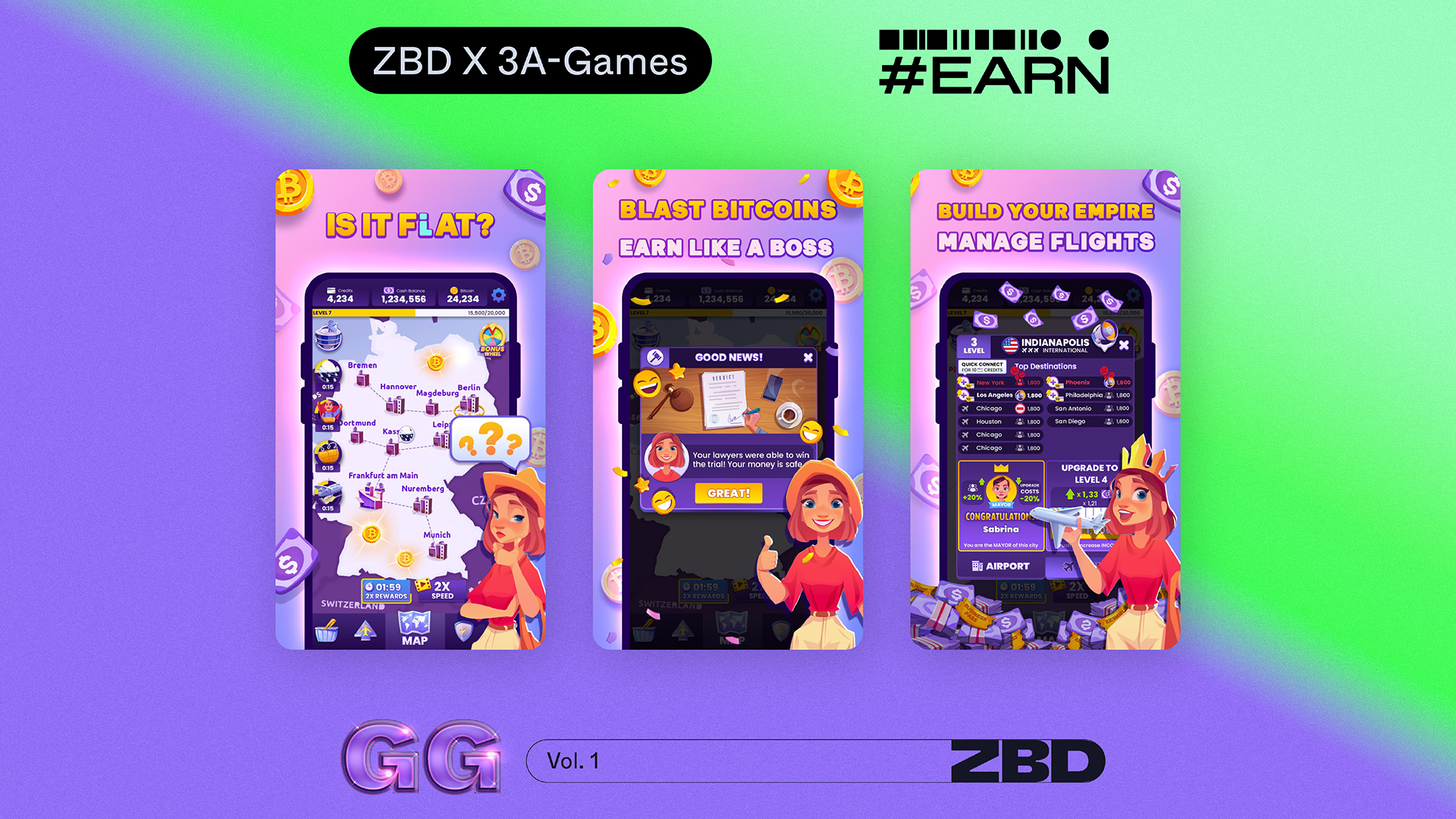 A mix of idle gameplay and tycoon mechanics
Crypto Idle Transport Tycoon really hits the nail on its head with its balance between idle elements and tycoon mechanics. On one hand, you're playing an idle game that lets you sit back and watch your air transport operations expand and your money grow. But on the other hand, you're playing a detailed and strategic tycoon game, where you have to strategize your moves, optimize routes and manage every aspect of your air empire to achieve best results.
You'll start with a single airport in a country of your choice and you'll soon be able to buy new airports, open new routes and expand into other countries. Manage your fleet, buy airplanes and upgrade old ones, renovate your airports to boost income and even dip into politics to become city mayor and make upgrading faster and cheaper. Pick popular destinations to attract more customers, entertain passengers at your airports to keep them engaged and your level up as a manager… And much more!
💡
Satoshi's top tip
Airplanes don't stop flying when you're offline. Fire up the game to collect the passive income you've earned while away.
The trick is finding the right balance between mindless expansion and strategic positioning of new airports and routes. Your operations will bring in in-game cash, and certain actions will increase credit, both of which are key to progress through the game. If you run out of cash, you can always watch an ad to double your income, airplane speed or simply get tons of free cash.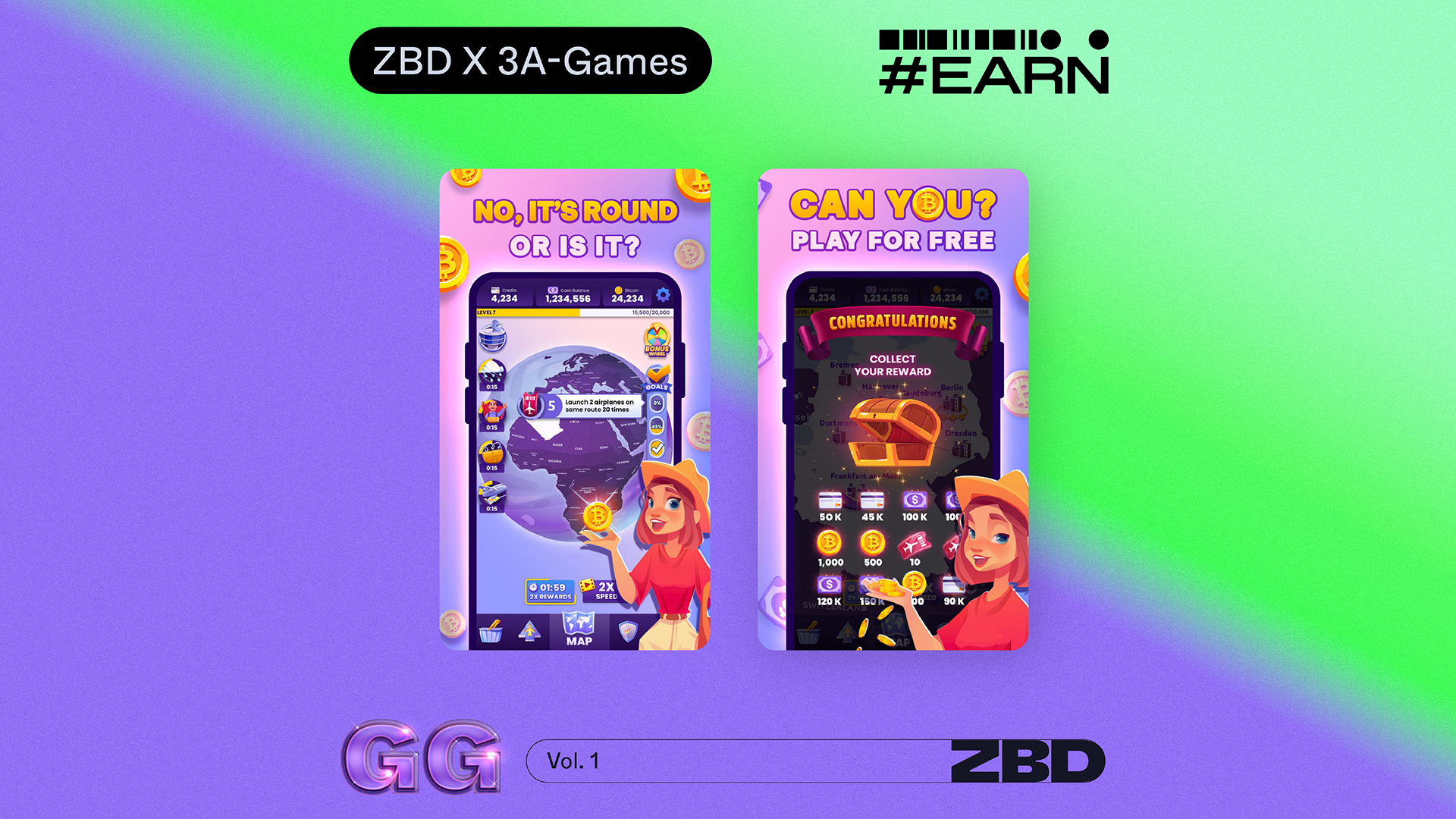 How to earn Bitcoin in Crypto Idle Transport Tycoon
Beside in-game cash and credit, there is also another, very real currency you can earn in game: Bitcoin. As you play the game, you'll notice that every now and then, a Bitcoin symbol will spawn on the map – this is a sat, a small piece of actual Bitcoin. Tap it to collect it in a special separate wallet where you can pile up your sats for as long as you like.
And then, whenever you want, you can withdraw the Bitcoin you've earned to the ZBD app and use it immediately. In ZBD, you can shop from among 5000+ gift cards by popular vendors like Amazon, Netflix and Steam, convert straight to several local currencies around the world or use your in-game earnings to support anyone in ZBD's social feature with "likes" worth real money.
Here's how you get your sats to ZBD:
Tap the Bitcoin tab on the top right of the game
Enter your ZBD username (that's the Gamertag)
Hit Connect to link your game to your ZBD app
Once connected, you can hit Redeem in the same screen to get your sats to your ZBD app any time
Don't have the ZBD app yet? Get it now for free and enjoy gaming, shopping and tons of chances to earn real Bitcoin all in one place.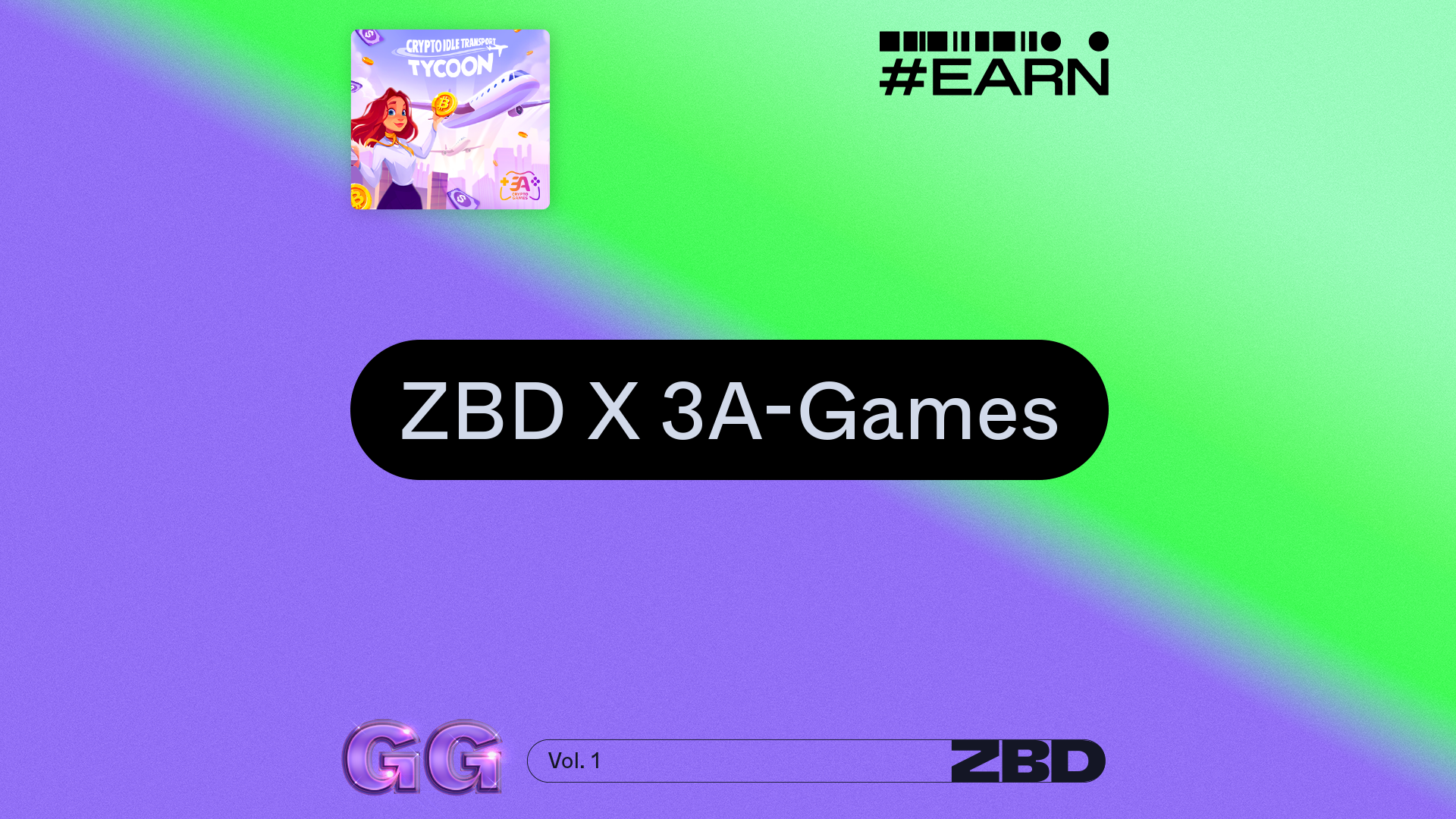 Conquer the world and win Bitcoin
It's just the first game published by 3A Crypto Games, but it's already proving that the studio knows exactly what it's doing both game-design wise (they've build a fantastic and super-engaging game) and monetization wise (crypto rewards are a real boost for fun and entertainment). We'll continue working with them and support more of their upcoming projects to empower more and more people with real Bitcoin rewards.
Until then, give Crypto Idle Transport Tycoon a go. But a word of warning: We bet you won't be shutting it off any time soon.