For almost a year since Bitcoin Miner was re-released with real Bitcoin rewards, the game's popularity has just been going up and up. Recently, it hit a new milestone: 1 million players. This makes Bitcoin Miner the biggest mobile play-and-earn game in the world!

To celebrate, we're launching a party of our own, ZBD-style. So get ready for special Bitcoin Miner events with millions of sats in the prize pool!
Jump on our @zbdapp Twitter to participate or fire up Bitcoin Miner and get tapping, but if you'd like to find out more, read on and we'll tell you everything there is to know!
🥳 Bitcoin Miner 1M players celebration details

Bitcoin Miner recently hit 1 million downloads, so we're celebrating this week! So get ready for millions of sats.
Take part in our Bitcoin Miner Quiz and enter a draw for 1 million sats
Complete the ZBD Quest to earn 1 million sat showers in both ZBD and Fumb Discord communities
Don't miss other Minigames and Challenges on @zbdapp
ZEBEDEE × Fumb Games: A year of fruitful partnership
The partnership between Fumb Games and ZEBEDEE began just about one year ago, but the story of Bitcoin Miner begins way back. It begins all the way back in 2018, when Fumb released the first version of Bitcoin Miner. While we really want to say it was a resounding success, it was not. You see, back then, Bitcoin Miner had Bitcoin only in its name. It paid out no real rewards and simply relied on its core game mechanics to keep players entertained and engaged. And for years, it stayed more or less on the sidelines.
Knowing that in its essence, the game was actually a real gem – simple to get into and a lot of fun to grind – our friends at Fumb pondered on how to bring it closer to a wider audience. They came to a realization that for a game all about mining, you can't simply reward players with virtual points, scores or, in their case, in-game representations of cryptocurrencies. To strike at just the right chords with the audience, you need to give them real Bitcoin. But surely, that was impossible. Bitcoin can't be sent around that easily, or in small enough amounts not to drain all Fumb's savings before you can say Lightning… Wait a minute!
📈 1 million players in 1 year

Since partnering with ZEBEDEE, Bitcoin Miner broke a number of huge milestones, including the 1 million players mark!
It turns out rewarding players with real money was not only possible, it was easy. When the guys from Fumb first met with us at ZEBEDEE, we both knew we were a perfect fit for each other. Fumb needed a simple and effective way to move Bitcoin really quickly and in tiny fractions, and we were really happy to oblige! After all, that's literally what ZEBEDEE was built for.
Almost overnight, Bitcoin Miner started pulling in bigger numbers, longer player sessions and boosted engagement scores. With every update, Fumb kept proving that its core concept was rock-solid, and as new features rose up in our partnership (like simplified withdrawals to the ZBD app), the game just kept growing and growing.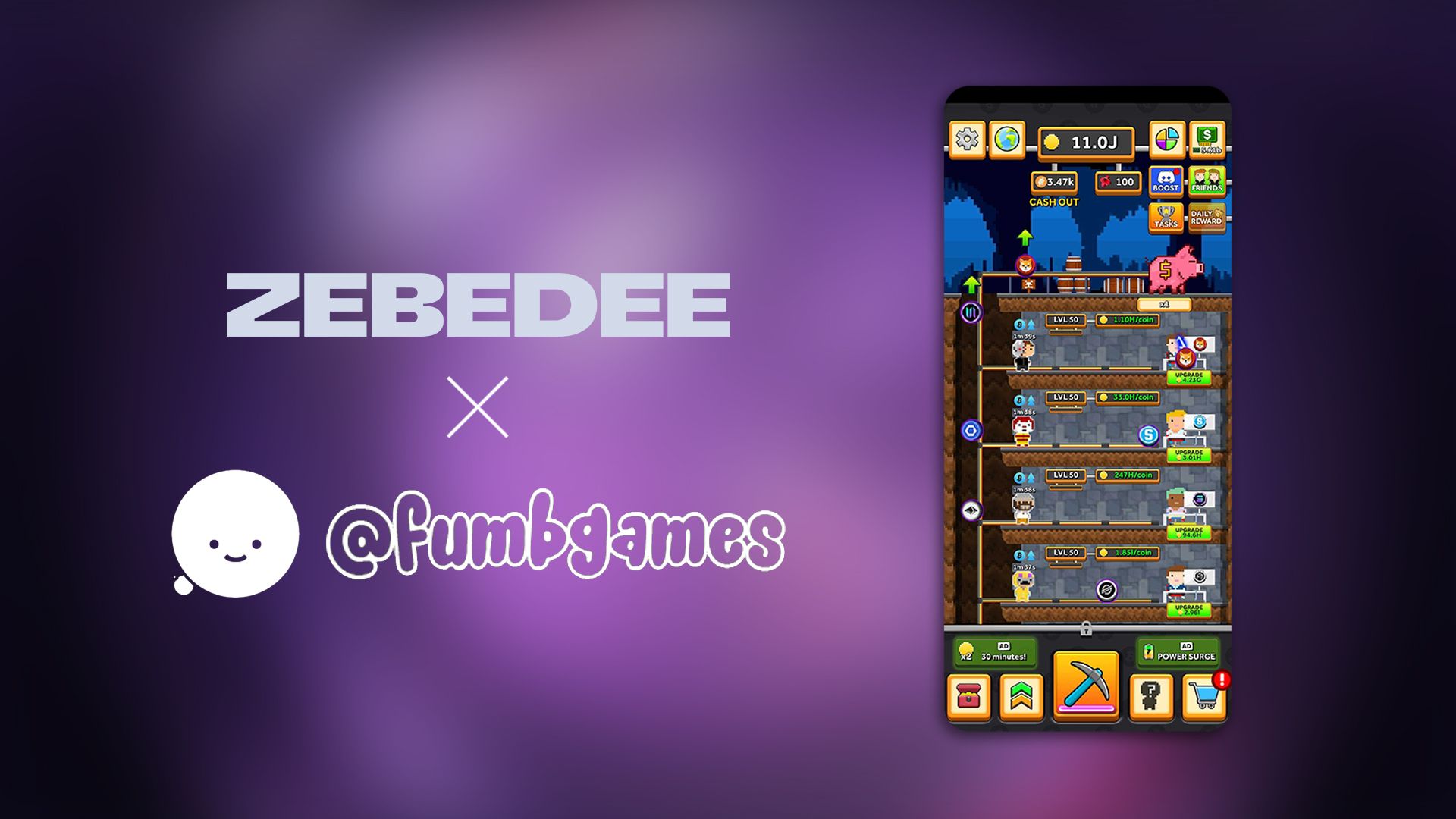 Celebrate with us and compete for 1 million sats
To celebrate 1 million Bitcoin miners, we'll be devoting this whole week to activities focused all around Bitcoin Miner and the rewards will be simply eye-watering: we're putting 1 million sats on the line in ZBD Discord, 1 million in Fumb Discord and 1 million for a special quiz! The most popular rewarded game in the world deserves nothing less.
Monday Minigame
We're starting the week with a Monday Minigame. Guess the sound we post on Twitter @zbdapp and get warmed up for more events to come.
Bitcoin Miner quiz with 1 million sats
All week long, we're hosting a quiz about Bitcoin Miner. Show us your knowledge about this game and answer correctly to enter the winner's draw where you can score prizes up to 500,000 sats. Winners earn one million sats in total!
First place: 500,000 sats
Second place: 300,000 sats
Third place: 200,000 sats
Explosive ZBD Mining Quest
Tuesday is the start of a special Bitcoin Miner ZBD Quest on @zbdapp. Join in and help reach the goal of tapping 1 million bombs. Work together with the whole community to earn 1 million sats in rain showers in both ZBD Discord and Fumb Discord.
Challenges on Wednesday and during the weekend
On Wednesday, show us your image-editing skills and make a Photoshop of your favorite Bitcoin Manager on vacation. Post it on Twitter @zbdapp and we'll pick the best three to win 10,000 sats each! And during the weekend, participate in the Bitcoin Miner live-ops event (it'll be obvious in the game once it's live), take a screenshot and post it on @zbdapp to earn 500 sats.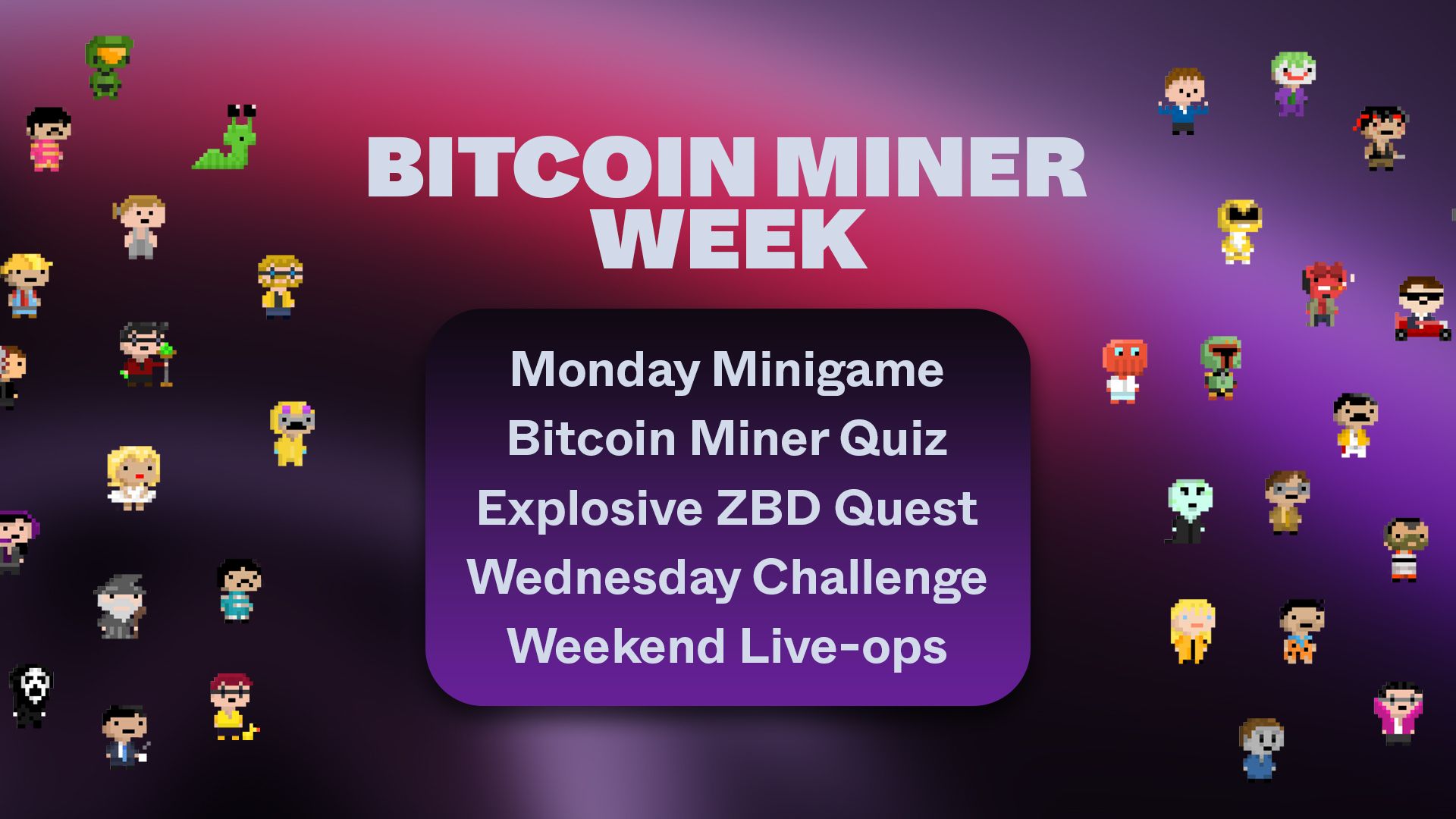 Play the world's most popular rewarded game
Whether you're a long-time player or you've never heard of Bitcoin Miner before, with millions of sats in rewards, now is the best time to get into this crypto mining simulator. Anyone can play for free and start earning real Bitcoin rewards that you can use to buy actual tons of stuff directly. Simply open up your ZBD app and use your earnings to shop from thousands of gift card options – who knows what you can buy with a couple hundred thousand sats?
This post was updated in July 2023.