Bitcoin now flows seamlessly between ZBD and Bitstamp
Transfering value between the real world and the virtual worlds of gaming should be as simple as pressing a button. And now it is!
Today, we're excited to announce we've launched our first ever exchange portal: Bitstamp, the world's longest-running crypto exchange is now seamlessly integrated with the ZBD app!
You can now log in to our app with your Bitstamp account and transfer your BTC between our platforms with the push of a button!
tl;dr

Log into ZBD with your Bitstamp account
Top up your ZBD app with your BTC from Bitstamp
Collect a bonus if you're new to Bitstamp
Compete for Bitstamp's 1 BTC in ZBD games!
How does it work?
The ZBD app, a powerful Lightning Network wallet, can now be connected with your Bitstamp account, so you can instantly top up when it's time for your favorite Bitcoin game.
It works just like "log in with Google" in the ZBD app:
Choose log in with Bitstamp
Input your Bitstamp credentials and voila, you're in!
This will introduce a new option to your ZBD app: "Top up from Bitstamp". Select that option whenever you're running out of funds and choose how much Bitcoin you'd like to transfer over to your ZBD app, so you can get back to your winning ways. Since everything runs on the Lightning Network, the transfers travel in speedrun mode (aka so fast it's basically instant).
Celebrate in style with one whole Bitcoin up for grabs
Bitstamp is by no means new to the ZBD ecosystem. They've been a frequent sponsor of our games and events and this time is no different! To celebrate this integration, Bitstamp is giving away one whole Bitcoin through ZBD games! Their stack of sats will be given out through a range of games and events we'll be running over the following weeks. Hop on to our CS:GO servers at any time and join our weekly events for a chance to earn free Bitcoin simply by gaming!
Satoshi's pro gamer tip:

If you're new to Bitstamp, create an account through ZBD and earn $5 in Bitcoin!
Merge your ZBD account with Bitstamp
We've made it so that your ZBD account automatically gets merged with your Bitstamp account if you're using the same email address for both. If you've got different emails, don't worry: Just log in with Bitstamp, set your ZBD username and transfer all your sats to it from your old account, free of charge.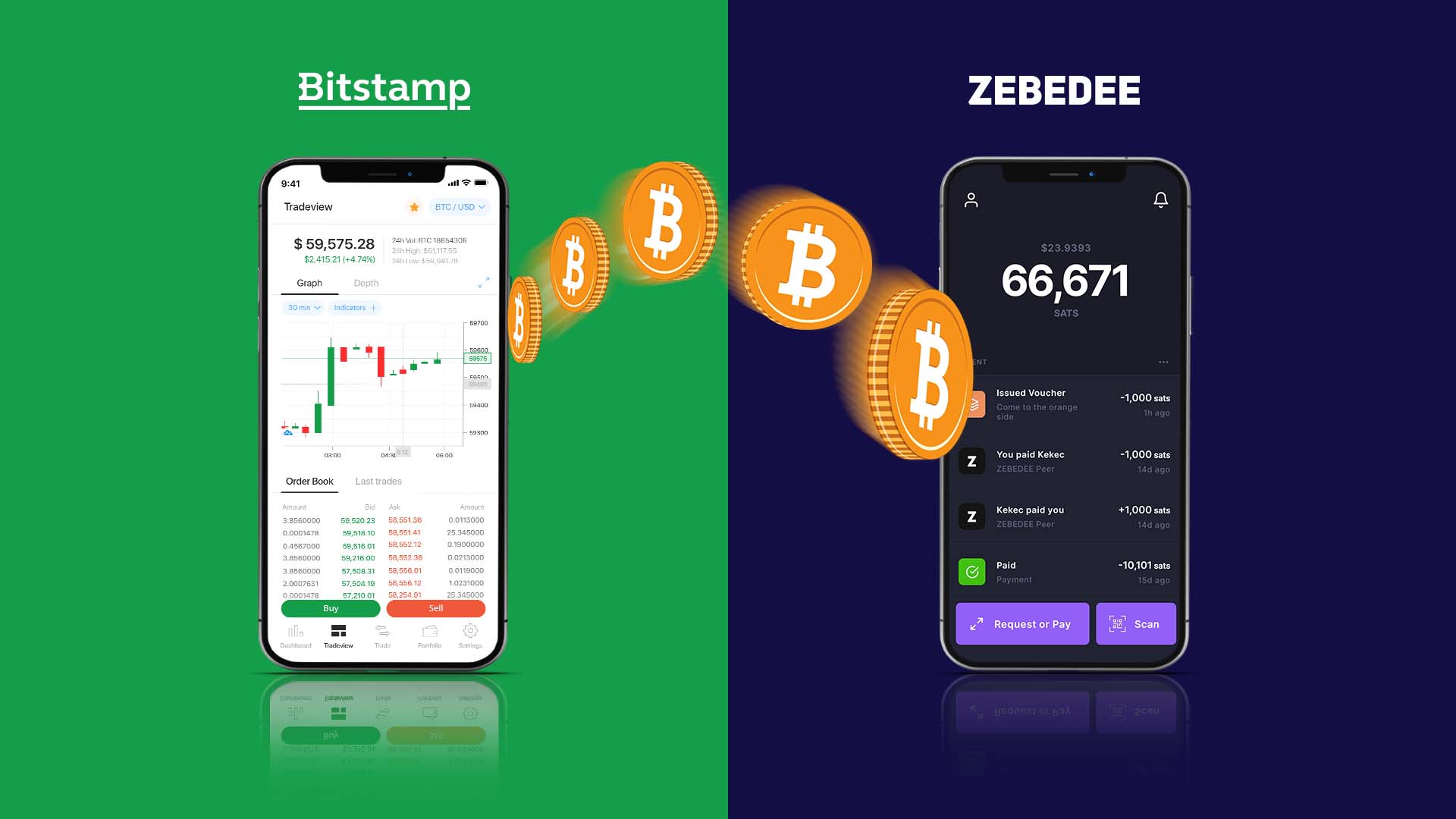 This is just the beginning
We'll be launching this integration in stages, so this is just the start. Currently, we're focusing on giving you access to a safe and reliable source of Bitcoin that you can use to top up your ZBD balance. Soon down the line, we'll be expanding this integration so you can withdraw your winnings from games to Bitstamp as well.
This integration is a cool new feature for Bitcoin gamers, but it goes beyond that. As of today, millions of Bitstamp customers around the world have instant access to our cutting-edge Lightning wallet! They can now transfer Bitcoin instantly to anyone on the Lightning Network both on mobile and desktop with our app and browser extensions 🔥
Right now, the integration is not available in the US. But we're working on getting it up and running there asap!
Bonus round: Get $5 in BTC at Bitstamp
To welcome our community to their exchange, Bitstamp is giving every new user that signs up through ZBD $5 in Bitcoin as a head-start bonus! Just create a new account with this link or through the ZBD App, start using Bitstamp and get free sats.
Give the integration a try, collect your bonus and start winning free Bitcoin in games, courtesy of Bitstamp!
This post was updated in July 2023.