One of the wonderful things about Bitcoin gaming with ZBD is that you don't always have to beat the other guy to win the prize. Unlike traditional esports where only the best get paid, ZBD Games let everyone get some sweet Bitcoin. To promote this spirit of cooperation, we're introducing ZBD Quests!
ZBD Quests give our entire community the chance to get increased rewards by working together. Every week, we will post a quest (basically a challenge) for one of ZBD games in which the entire community can participate. If you guys complete it, we will increase rewards in that game for the next week.
⚔️ What are ZBD Quests?

Weekly challenges for the entire community starting each Tuesday
Beat the task we post on @zbdapp by the end of the week
Earn boosted rewards in that game for the next week
ZBD Quests boost your rewards
Now, you get a chance to earn additional rewards in ZBD games – if you beat the Quest in that game, that is. The rewards in games won't actually change, but you'll get a second transaction from ZBD every time you withdraw from a supported game to the ZBD app.
A little confusing? Let's break it down step by step.
On Tuesday, we post a new Quest on our @zbdapp Twitter and in our Discord.
We count the stats of everyone using ZBD together to see if you completed the Quest. This is about the whole community working together.
If the Quest was successful, the rewards in that game are increased for the next week. If it fails, rewards stay the same.
After the next week is over, the rewards get reset. But that's not the end – a new quest begins each week, so you can actually enjoy boosted rewards all the time!
🎮 Monday Minigame

Monday is an off-day for Quests, But there is still action, since we're running Monday Minigames – special challenges where you can win sats just for yourself!
What kind of challenges come in Quests?
ZBD Quests can pose various challenges, depending on which game the current Quest is about. Since it's a different game each time, every game's fan gets to show their skills and contribute to the Quest's success. Here are some examples of past challenges:
Complete 50K checkpoints in Color Streak to get 8% higher rewards
Finish 100K words in Braindoku in Journey Mode for 10% higher rewards
Create 5K teams in Stattrak to earn 7% higher rewards
You can see more challenges on our @zbdapp Twitter.
Keep in mind that these are additional rewards you will receive in the ZBD app. So this is literally more free Bitcoin on top of existing free Bitcoin.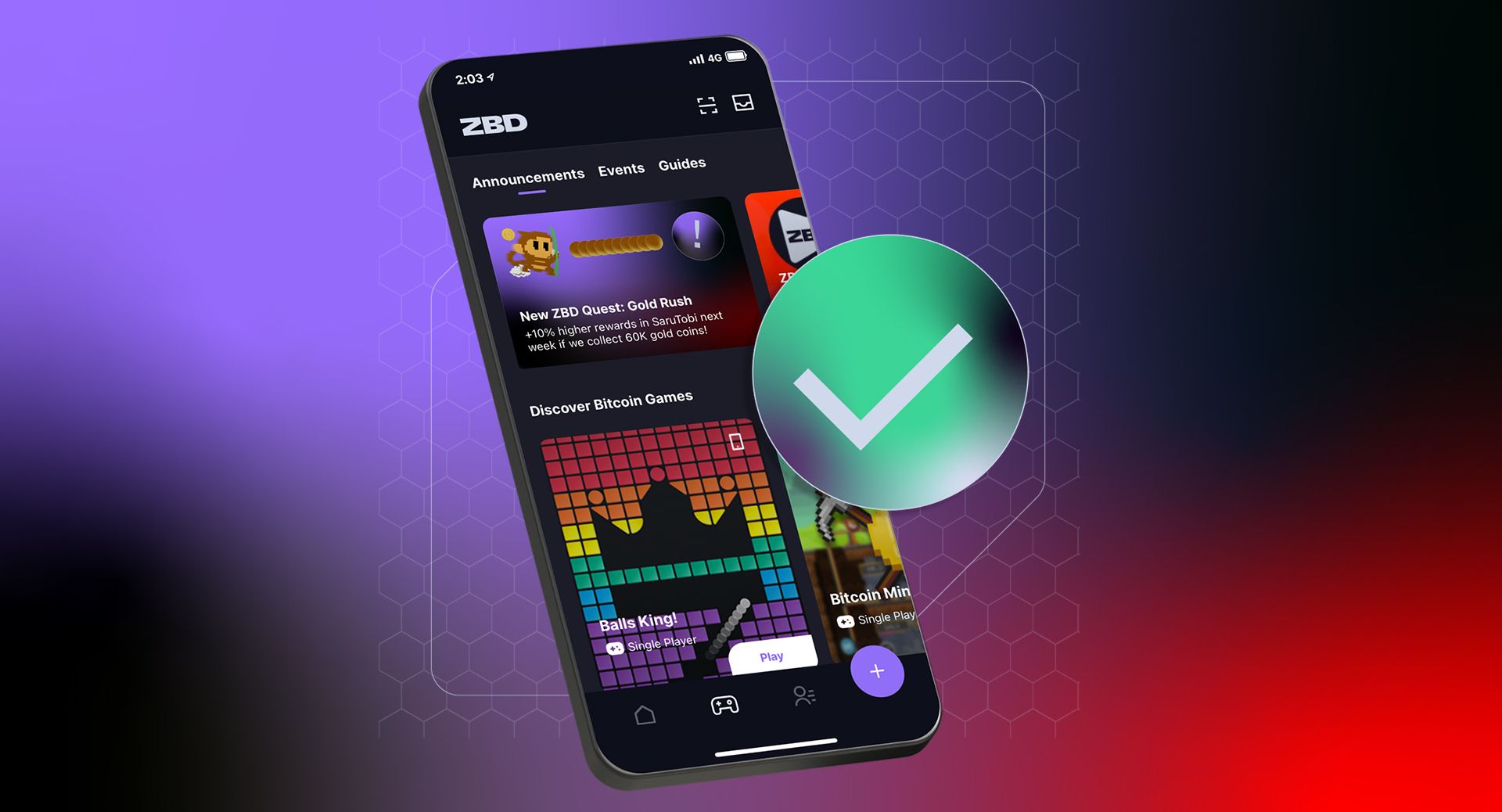 Which games will get increased rewards?
ZBD Quests can get you increased rewards in all ZBD-powered mobile games. From SaruTobi to Braindoku and everything in between – each game is eligible for bonus rewards if you beat the Quest. Here's a full list of ZBD games.
Keep in mind that you will only get extra rewards if you're using the ZBD app and withdrawing to your ZBD username. So don't forget to enter your username when you're playing ZBD games for Quests!
How do I get started with Quests?
First of all, you'll need the ZBD app. It's the only wallet that will get you extra rewards. Other than that, just keep an eye on the @zbdapp Twitter and our Discord to find out what this week's Quest is.
Then do your best to help complete the challenge of the Quest. Just play and it'll count towards the Quest automatically.
So get the ZBD app, finish some Quests, have fun and enjoy the rewards!
This post was updated in July 2023.