Mahjong is a classic tile-based tabletop game that has been beloved around the world for over a century, with many digital versions appearing across various platforms over the last couple of decades. But no version of Mahjong had so far rewarded you with real money for the time you spent playing. Until we got Coin Mahjong.
Coin Mahjong is a new game by Bear Hug Entertainment that lets you put your skills, strategy and luck to the test, and while you play, you're rewarded with some Bitcoin – for free! But don't take our word for it. Try it out and start earning rewards (currently available for Android, iOS version coming up), or read on to find out more about this refreshed classic.
🪙 Coin Mahjong – Everything you need to know
What is Coin Mahjong?
Mahjong is a classic tile-based tabletop game that's been enjoyed around the world for over a hundred years. It has achieved this popularity because it combines skill, strategy and some luck in a way that rewards good moves, but still gives the game enough variety to be exciting every time.
It all revolves around 144 different tiles based on Chinese characters and symbols, which are stacked on the board in various piles. You need to find two that match and tap them to clear them off the board, but the trick is, you can only remove tiles that have empty spaces to their left and right. When you've removed all the tiles from the board, you win!
Coin Mahjong, the newest game by Bear Hug Entertainment, takes the same concept and brings it to your mobile device, so you can play wherever and whenever. It starts easy with just a couple of tiles, but as you beat each level, the game gets harder and the tile patterns become more complex.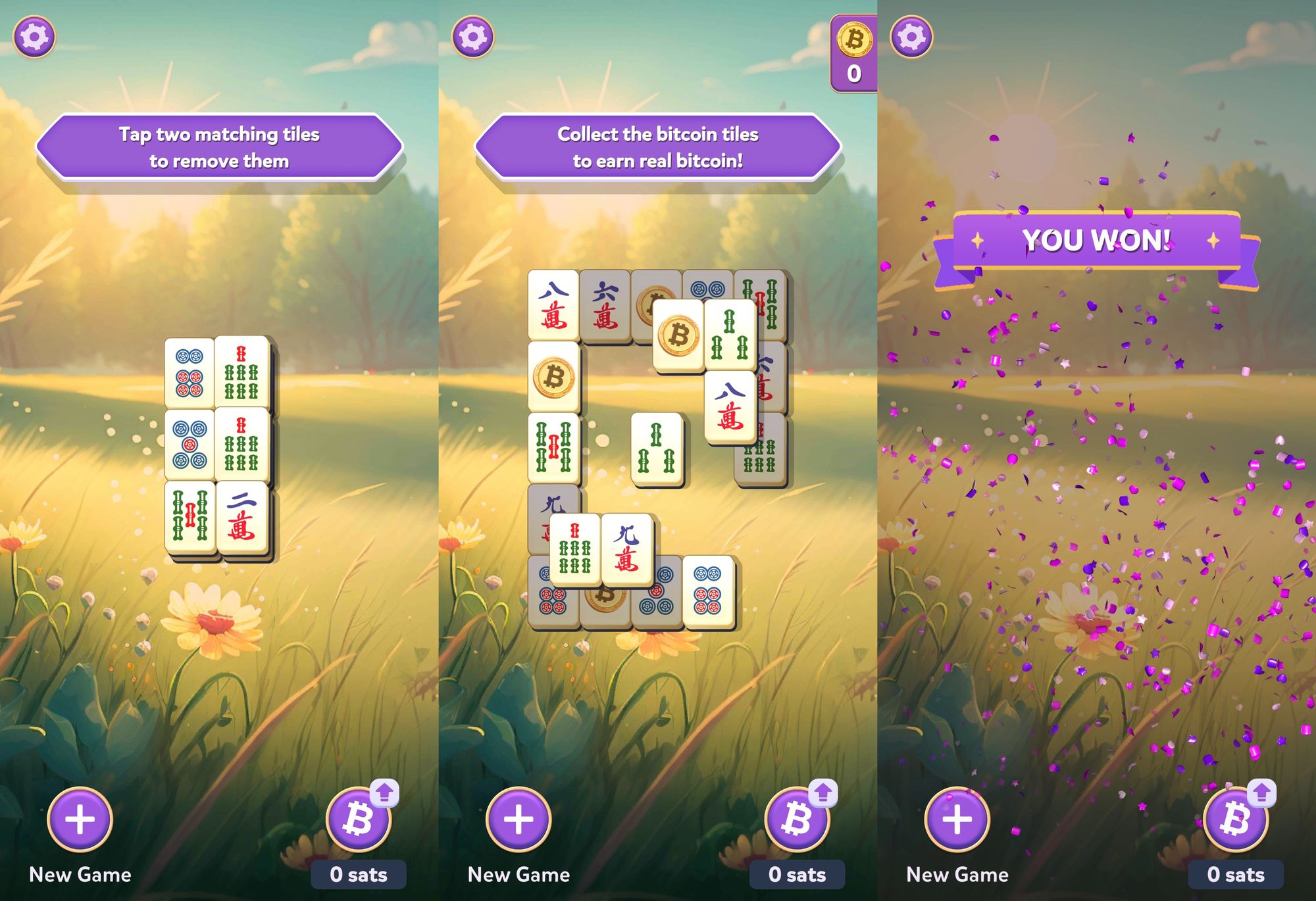 But the best part about Coin Mahjong is the rewards. As you play, you'll encounter tiles with a Bitcoin symbol. Match them, and a couple of sats will drop down to your wallet as you clear the level. You can collect that Bitcoin in your ZBD app (get it here if you haven't got it already) and use it around the world to pay for goods and services. Or simply spend it in ZBD to shop among thousands of gift card options.
How to withdraw to ZBD:
Tap the Bitcoin symbol on the bottom right
If you don't have the ZBD app, tap Download Now, otherwise tap Yes!
Enter your ZBD username and tap Withdraw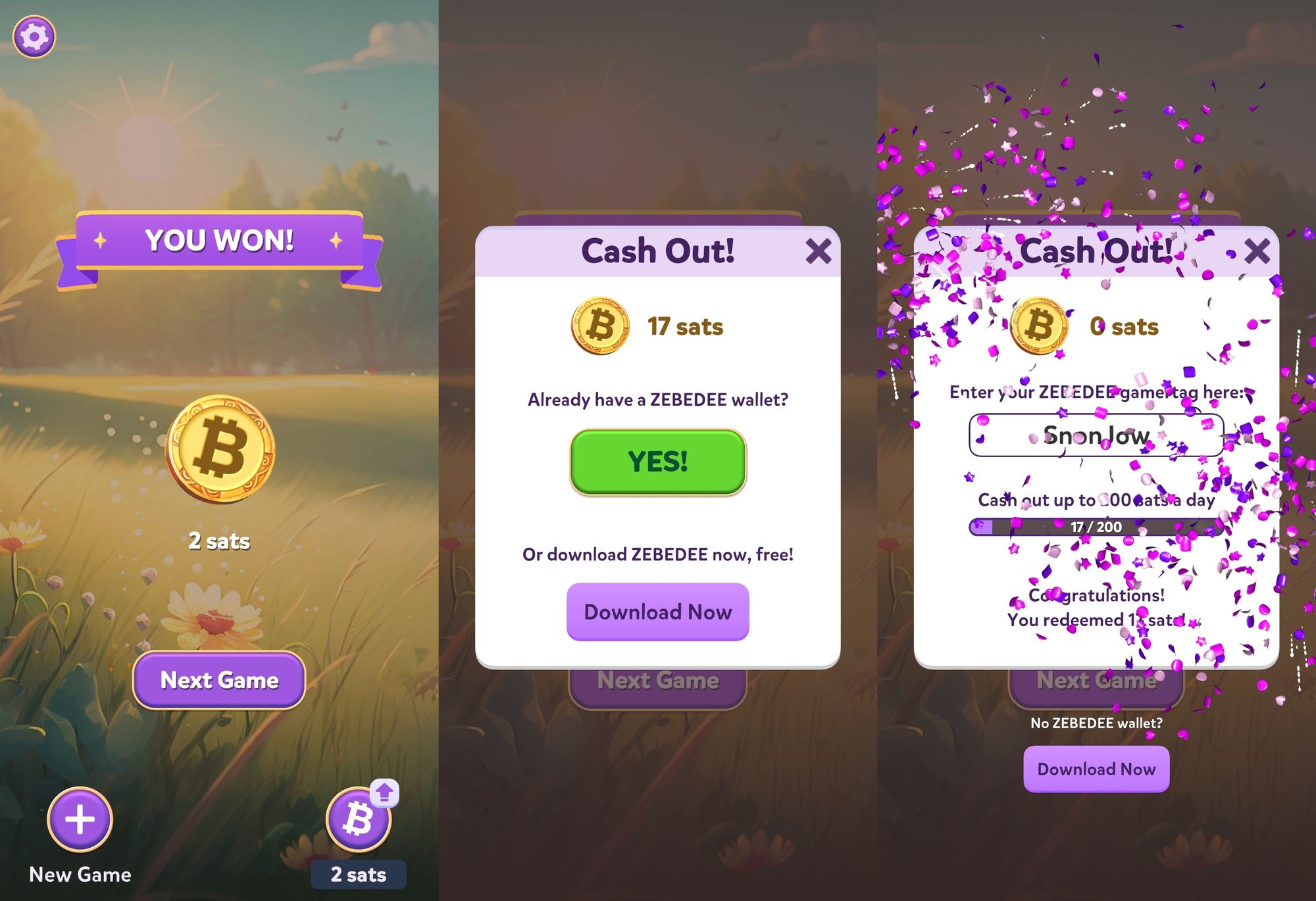 Let's play some Coin Mahjong together
If you're new to Mahjong, don't worry. The game is really intuitive and even comes with a short intro tutorial when you first launch it. Still, to help you out a little bit more and maximize your winnings, here are three tips that every first-time player should know:
The hint feature to the rescue
A little stuck? After a couple of seconds, tiles will start flashing, so you can match them easily.
Focus on the top
Prioritize removing tiles from the top layers of the layout as it gives you access to the tiles underneath.
Take a moment to think it through
Remember that Mahjong is a game of strategy, so take some time to make a good plan and don't rush your moves.
As you play, you'll notice that the game is designed to be engaging and fun. With colorful graphics and amusing sound effects, it's easy to get lost in the world of Coin Mahjong. And with the added bonus of real-time Bitcoin rewards, we're not surprised it's becoming pretty addictive!
The first of many games from our friends at Bear Hug
But Coin Mahjong is just the beginning. ZEBEDEE and Bear Hug Entertainment have partnered for the long term and we intend to fully support them as they release more games based on classic gaming concepts – with Bitcoin rewards, of course! We can't tell you which (yet), but if you're into all-time classics, boy, do you have a lot to look forward to.
Until then, why not give Coin Mahjong a go, or try out other rewarded games in ZBD and start earning free Bitcoin. All you need to start is the ZBD app.
This post was updated in July 2023.