It's been a very busy year at ZEBEDEE. Before 2021, we had the ZEBEDEE Developer Dashboard, we had the ZBD Wallet (now the ZBD app), we knew where we were headed. But we were still discovering our identity and role in the future of Bitcoin gaming.

This year, we upgraded to an entire suite of products for both game devs and gamers, got the funding to secure our future, hired most of the people on our team today and really got our legs under us as an innovative, high-growth tech company.
Some of our 2021 highlights are:
Launched ZBD Infuse, letting gamers play CS:GO for Bitcoin and hosted many, many events, both online and in-person.
Launched ZBD Bots, making sending Bitcoin in Discord and Telegram as easy as texting
Integrated Bitstamp into the ZBD Wallet as our first exchange portal
Launched our ZBD Blog and successful Ambassador program
Built a strong pipeline of developers building on ZEBEDEE – But game development cycles take a while, so you'll have to wait a bit longer for more specific announcements ;)
And now, we're excited to add another addition to this list to round out the year: We introduced a new visual identity for ZEBEDEE!
You've probably noticed our web presence across our pages and social media looks a lot different as of this week. This article is about our journey to this new identity.
Why the rebrand?
When this year started, we knew it was going to be a watershed moment for ZEBEDEE. To reflect our growth, we felt strongly that it was time for us to evolve our visual identity and the way we present our vision to the world. And so, early in 2021, we began to work on what would become our future look. This process was a long but exciting journey of self-discovery and innovation as a company, and we would love to share some of that with you!
The same, but different
We began the branding process with one important question. How best can the new iteration of our brand reflect the growth of our company? Would it be a matter of starting fresh with assets that were quite different from the previous brand? Or should we seek to build upon the existing identity?
We took a good look at who we are, how we present ourselves and what we've already accomplished. We tried a few different approaches, but whenever we moved too far away from what we already had, it just didn't feel right. We are still the same company, but we are growing, evolving, discovering our place in the industry and our product suite is increasing and diversifying rapidly. We wanted to explore a rebrand which felt like it was building upon and improving what we began with. Each decision in the process was made with that task in mind. Let's get into it!
Big, bold, ZEBEDEE
What better place to start than the logo! Initial explorations had us surveying a wide range of ideas from skinny logos, to highly detailed letters that began feeling like a circuit board. As we looked through all of our explorations as a team the question we all had in the back of our heads was, what "feels" like us. Are we scrawny? Are we hyper technical? Or are we a bold company with a bold mission and strong values?
At its core, ZEBEDEE represents bold technology, strong infrastructure, expertly crafted products, and electrifying experiences. It's important that our logo reflects these values to a certain degree. Instead of making the logo thinner, or narrow, we felt a bold and (slightly) wide approach suited us best. A few of the letters have some sharply crafted nuances (Z, B, D)...again, this fits who we are as a company. And lastly, we have retained the all-caps approach, as it feels the most sturdy and strong.
What we came up with is an exciting new logo that doesn't feel too different, and which we are very proud of. For those with an interest in the details of type design, we will break down some of the subtleties of the logo a bit for you:
The letters, Z, B, and D, are particularly unique and contain some pretty interesting design choices. If you look closely you will see what typography designers call "inktraps" in the corners of the letters, which give them an even cooler and "edgy" vibe. This also ties into our tech in a subtle way. The E's are fairly standard as too much of a good thing can be overwhelming as a whole.
Another cool thing about this logo is that we have built in a shortened "ZBD" version of it. We love using the shortened version as it works great visually, and audibly when you read it out. We intend to use the ZBD sublogo more widely in our product suite, especially when it comes to names of products – ZBD Wallet, ZBD Infuse, ZBD Bots… Looks and sounds pretty slick to us!
Out of this world
A visual identity is, of course, much more than just a logo. There are always the questions of color, art style, typography, motion, and more. But where to begin!? We started the process by collecting moodboards and examples from across the metaverse. We drew upon artifacts such as old-school gaming consoles and controllers, sweet interfaces from obscure anime scenes, and futuristic artwork and geometry.
We were looking to create an overall look and feel that felt cool and like it could be from another world. We crafted custom brand gradients to act as backgrounds for various brand assets (website, social media, business card...etc.). With the stroke of a brush, and a lot of testing, we landed on these sweet gradients. You tell us what you think they look like, but for us we feel they give off a cool other planet vibe.
A virtual world of color:
And so from these gradients we began to build out our color palette. Of course, we definitely wanted to maintain the use of the ZEBEDEE purple in some form...but as a gaming brand in 2021, we needed something more than just that!
You may notice one particularly outstanding color in this palette. Can you see it? Yeah the big bright one staring you in the eye! When it comes to color, Z-Orange is our defining differentiator. We use it subtly to stand out from the competition.
Tying it all together: Typography & art direction
Once we managed to land on colors, gradients, and a sweet logo, it was time to explore the rest of the brand's visual elements. We knew that we would want to introduce a new illustration style for ZEBEDEE, and we also needed to land on a typography style!
Our Head of Design and Branding, Matt, scoured the internet for the perfect font. Many were tried and tested, and many failed. But then we discovered Dinamo Typefaces and their work of beauty: "Whyte". It was perfect: the flat bottomed descenders, the highly legible x-height, (sorry for the type design nerding) and a full family of weights. We had found the right font. But what about the illustration style?
Well, it may come to you as a surprise but the process of developing the perfect art direction/illustration style of ZEBEDEE was no small task. We explored a TON of ideas before landing on what best resonated with who we are. From cyborgs holding CRT monitors, to floating swords and footballs dancing around portals… we went through a LOT! In the end we decided that the best way to visually represent our mission was through some really awesome hyper-real 3D illustrations.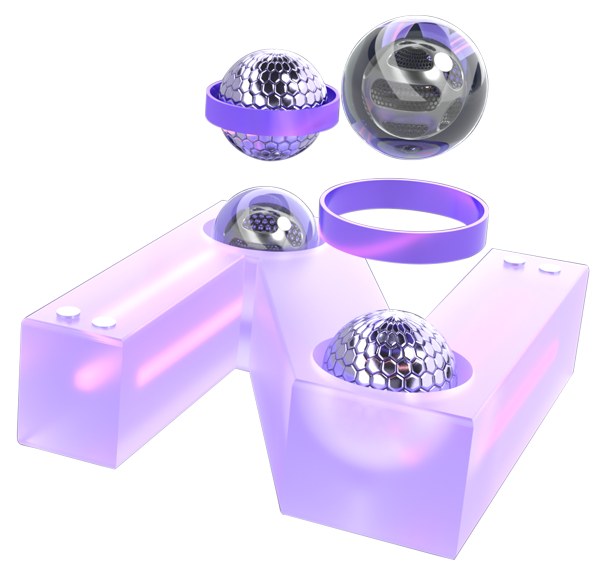 What we have built is a 3D system with a handful of elements that all have meaning. In these illustrations the letters represent our company and our infrastructure. That we facilitate transactions and activity. The rings represent a secure network, a confirmation of sorts. The spheres are these atomic figures which represent complete, finished payments and transactions.
We elected to go with a more abstract approach to our illustrations, instead of something more literal such as drawing up a bunch of flying bitcoins and gaming controllers. Our users are smart, and our products are sophisticated… we hope that this new illustration style appeals to that.

Our vision forward
When we first started ZEBEDEE, we based it on the belief that Bitcoin and gaming will profoundly transform the world and the global economy. But it took us a while to figure out the nuances of what exactly our role will be in this future. Now, with a full suite of products for both game devs and Bitcoin gamers under our belt and a strong team building much more, we believe what's coming is even bigger than anything we could imagine when we started this journey just over two years ago.
We believe that the economies of the future will be seamlessly connected across all worlds. That means all of the real world and all the many more virtual worlds that we are going to inhabit every day. Games are at the vanguard of that. They are the most advanced and immersive virtual worlds of today, and they already create massive economic value. But we aren't even scratching the surface of their potential right now.
When money can move seamlessly through any virtual world, when anything that happens in a game can be tied to a payment with practically no minimums, a lot of what we do just for fun today, we will do for fun and some cash tomorrow. Play a game for a few hours, withdraw to your ZBD Wallet, go to a bar and buy a drink with what you just earned. In-game economies and real-life economies won't exist as separate things, because why should they?
Playing a game, just like doing tasks in the real world, requires time, often skill, and creates value for someone in some way. But for the player, the in-game economy is often a self-contained unit. Once you stop playing the game, all your points and achievements are worth something in that game, but not in other games or in the real world.
With ZEBEDEE, the economies of all these worlds can be connected with instant nanopayments as small as a milisatoshi (if we need to go that low). That's about $0.0000005. Suddenly, everything in a game can carry a monetary value, and that translates to every other game, app, wallet or platform that supports the Bitcoin Lightning Network.
We call that powering real economies in virtual worlds.
And remember that example from before - buying a drink with the earnings from a game? We've done that. It feels great. The people playing on ZBD the most have bought much more - new PC gear, skins in CS:GO, maybe a game on Steam they couldn't otherwise afford. And others paid their bills or rent. This isn't some far-away future, it's something that's happening now. There's still a very long way to go, but we're moving fast and before you know it, it'll seem weird that people once thought games are just about fun.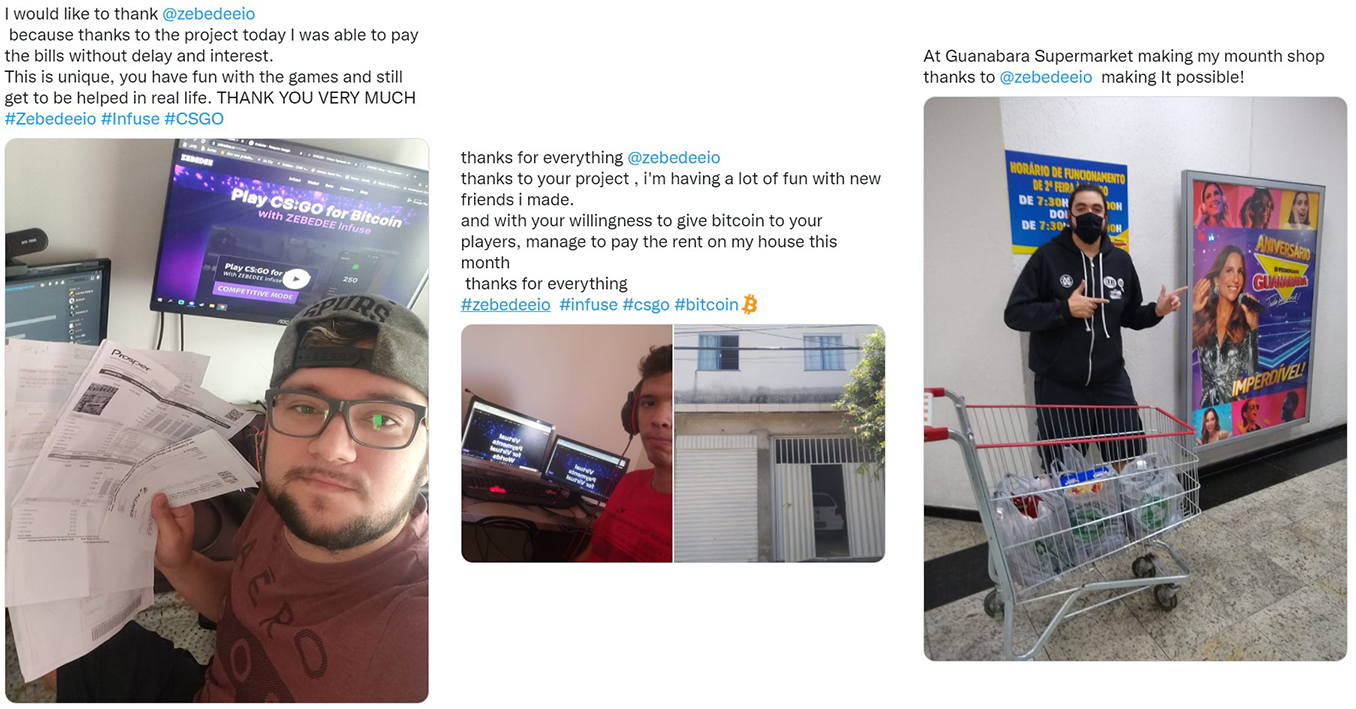 Now, we scale
With this rebrand, we're symbolically starting the next chapter of ZEBEDEE. If the journey so far has been about figuring out who we are, defining our vision and nailing our product-market fit, this next step is about standing strong on top of the foundation we've built and scaling massively.
This isn't a new beginning. It's the end of our beginning. Now, it's time for the next chapter.

Expect big things from ZEBEDEE over the months to come. From Bitcoin games based on massive IP that everyone in the world has probably heard of (not revealing exactly what just yet!) to launching a new suite of Bitcoin tools for streamers, to evolving our wallet to move deeper into the world of gaming, there's a lot up our sleeves right now.
This post was updated in July 2023.