We're super excited to be taking our first step into Africa by partnering with Bitnob! Now ZBD users from several African states can earn Bitcoin with ZBD and then spend their earnings through Bitnob using their local currency. It's simply a matter of connecting your Bitnob account to ZBD, so you can transfer money from Lightning to your local currency at the tap of a button, wherever and whenever.
The feature is already live, so feel free to give it a go. Simply sign in to ZBD, connect to Bitnob and get ready for Lightning right in your pocket!
🌍 ZEBEDEE's first African integration with Bitnob

ZEBEDEE takes its first step into Africa by partnering with Bitnob
Connect the ZBD app with Bitnob to get money to or from Lightning at the tap of a button
Earn free Bitcoin on ZBD, then easily convert to your local currency
Feature currently available in Nigeria, Kenya, Rwanda, with more countries coming up
What is Bitnob?
Before we get into the nitty-gritty of how you can use this new feature, let's first take a look at who we're working with and what that means for ZEBEDEE's presence in Africa.
Bitnob is a company that lets its users send and spend money with ease, whether it's domestically or abroad. It lets you (or your business!) ramp onto Bitcoin from your local currency and send that all over the world, or vice versa, get Bitcoin from anywhere back into regular money so you can spend it where you can't (yet) pay with Bitcoin itself.
By partnering with ZEBEDEE, we're taking things a step further. Since we've based our tech on Bitcoin's Lightning Network, where transactions are super fast and dirt cheap, and we've wrapped this whole integration in a really simple interface, moving your money globally just became a piece of cake.
The bottom line is, this integration gives you more freedom to send money globally or use it locally.
🎮 Gaming & entertainment: If you're into earning free money when playing games, listening to podcasts or doing any other rewarded activities on ZBD, you'll now be able to use your earnings to buy a drink at your local bar, whether they accept Bitcoin or not.
💼 Business: Maybe you're running a business where settling in everyday amounts quickly and easily is essential – now you can do that with customers all over the world, with no delays and at negligible fees.
📈 Better future: Or perhaps you're just eager to explore better financial possibilities to optimize your money flows or improve your situation? ZEBEDEE and Bitnob have you covered.
How does this feature work?
If you're familiar with Bitcoin and the Lightning Network, you may think what we're offering here is nothing new. After all, Lightning was available worldwide even before we started working with Bitnob. The key difference now is that we've made it ridiculously easy to access Lightning and go back and forth from the global Bitcoin Lightning Network and your local currency.
The feature we've built works similarly to open banking. You simply connect your Bitnob account to ZBD – a one-time action – and then you're free to move your money between your accounts at the tap of a button. No need to fill out forms, input addresses or any other details. Simply open ZEBEDEE, go to Cash Out and select Bitnob. Et voila!
How to connect ZBD to Bitnob
Before you can use this feature, you need to connect your ZBD app to your Bitnob account. Here's how:
Tap Cash Out in the main menu of ZBD (or go to Settings > Wallet > Linked Accounts)
Select Link a new account to add Bitnob to your Cash Out options
Start pairing and follow the steps to complete the process
How to move money from ZBD to BItnob
Once you're connected, you can easily move money whenever and wherever. Do this:
Tap Cash Out on the top side of the main menu of ZBD
Select Bitnob (if you're not connected, tap Link a new account and add Bitnob)
Choose an amount, tap send and you're done!

The money will arrive to your Bitnob account in seconds, so you can use it immediately.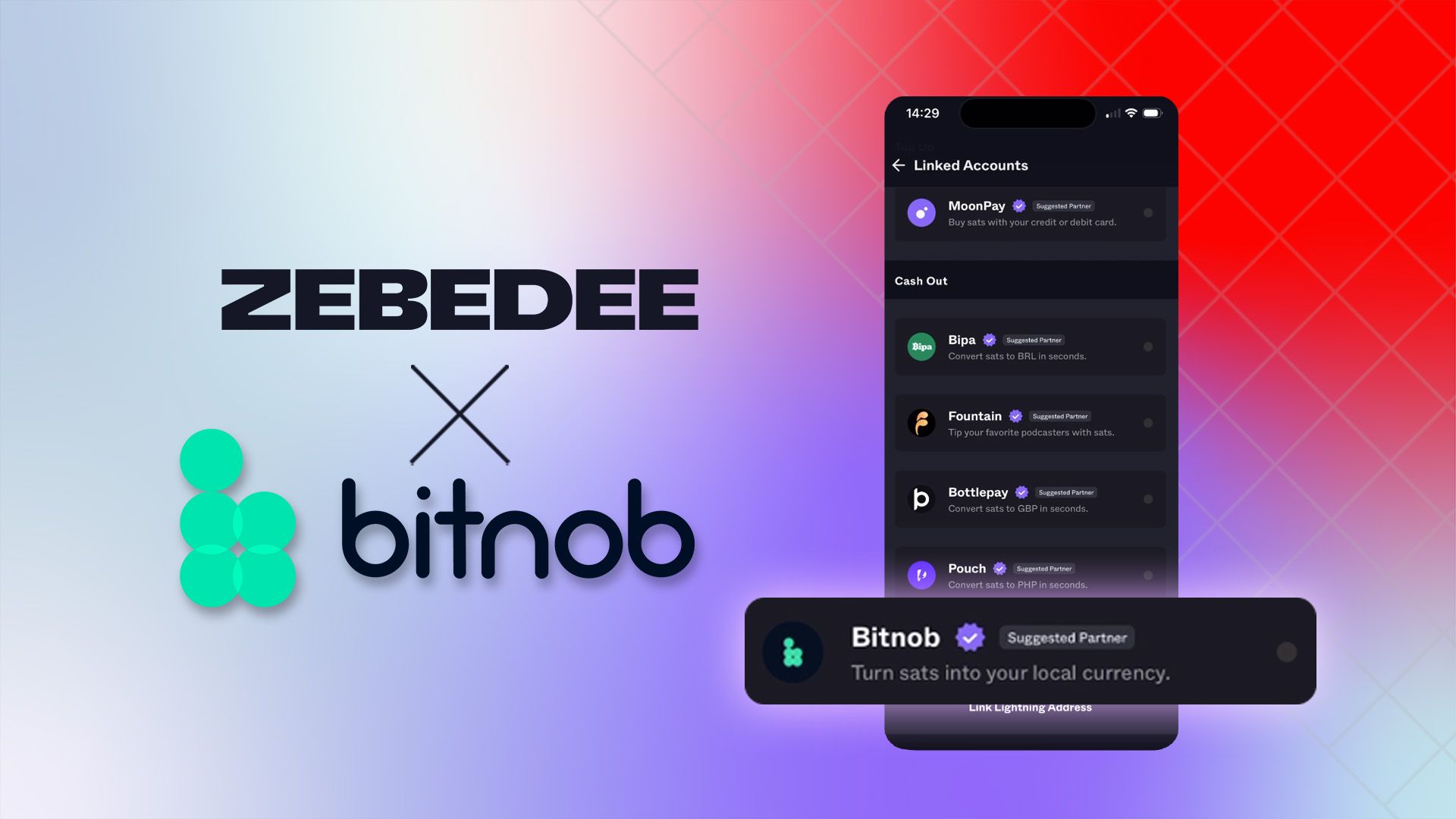 More expansion in Africa (and worldwide)
The integration with Bitnob is ZEBEDEE's first step into the vast and diverse continent of Africa – but that's just the beginning. We're planning to expand our coverage to more countries supported by Bitnob, as well as many others to eventually provide a complete network of entry and exit points to the global economy through the Lightning Network.
Moreover, Africa is just one of many regions in the world where we're establishing our presence with global borderless payments. We've recently opened similar channels in Brazil (Bipa) and the Philippines (Pouch.ph), as well as several other key regions, including EU, US and the UK, and we'll continue building Lightning bridges until we take down all financial borders.
You're welcome to join us now and start your financial freedom by earning some Bitcoin in ZBD. Play games, listen to podcasts or take part in our events on @zbdapp. All you need to start is the ZBD app.
This post was updated in July 2023.