Did you know that gaming doesn't just have to be fun for your brain, but also for your wallet? There are more and more games popping up that pay out real Bitcoin rewards. We're here to show you what you actually need to play these games and earn Bitcoin while you're at it.
tl;dr

Use your skills to earn Bitcoin in a variety of games
Withdraw your winnings to the ZBD app and spend them any way you like
The ZBD app: Your gateway to gaming for Bitcoin
Before you can play games in which you can win free Bitcoin, you need a place to store these rewards. Not any Bitcoin wallet will do. You need a special Lightning wallet that's made to accept transactions of any size and won't overwhelm you with fees. We've made a wallet just like that and integrated it into our app called the ZBD.
It's a great Bitcoin Lightning Network wallet that is perfect for collecting rewards you earn in Bitcoin games. But that's not all. We've designed our app specifically for gaming, so it comes with a lot of essential tools that will make it super easy to game, earn Bitcoin and introduce you to the wider ZBD gaming ecosystem. Click here to learn more about the ZBD app.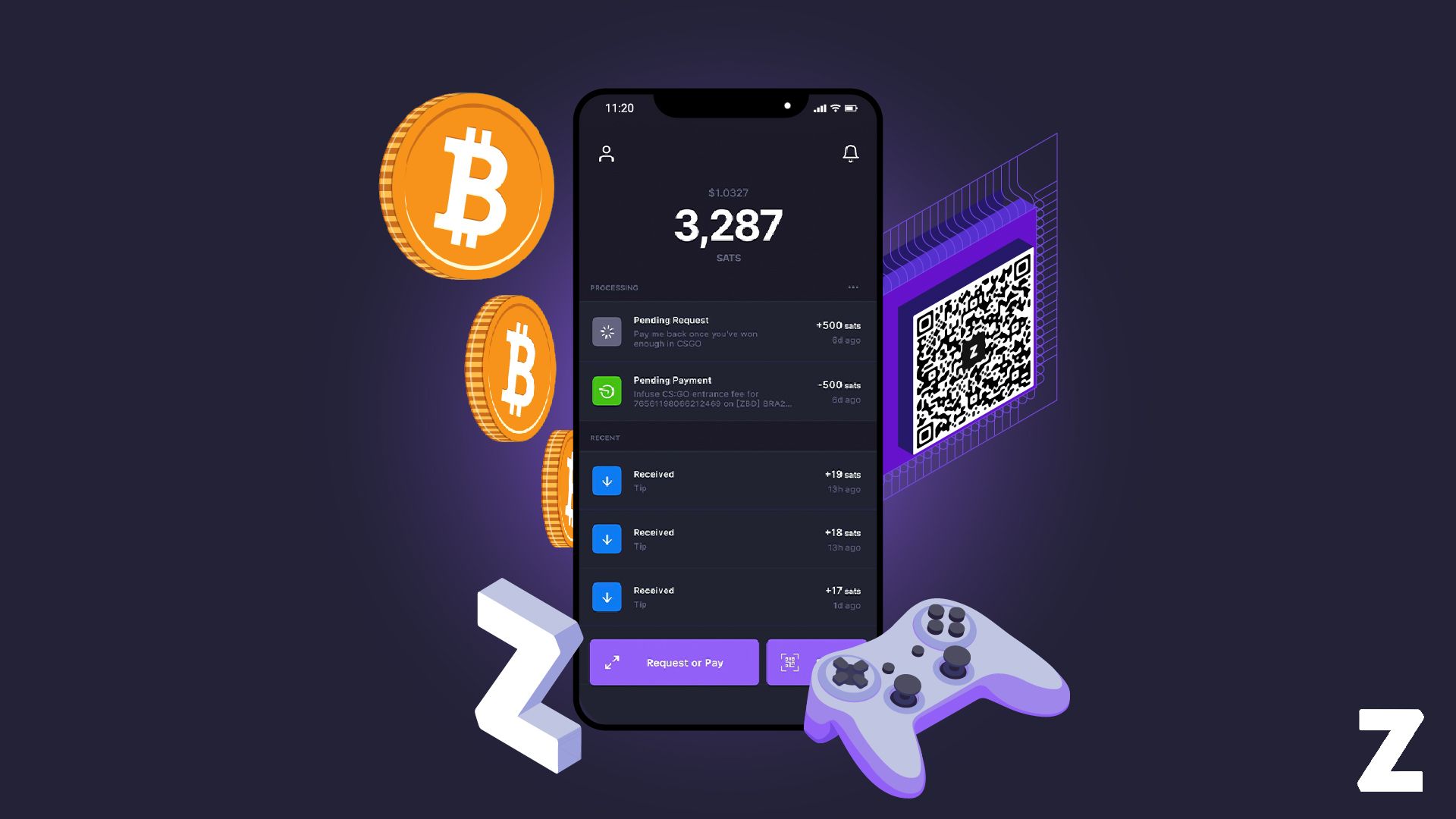 Choose a Bitcoin game that suits you
Now that you have an app, you can pick a game and start earning Bitcoin. And you can do that for free! There are a variety of games in the ZBD ecosystem, from casual mobile games to highly-competitive esports titles. Here are a couple you may like:
SaruTobi
SaruTobi is a simple mobile game that challenges you to swing a monkey on its vine by tapping the screen and swiping to launch him through the jungle. The objective is to collect as many bananas (the monkey will like those) and Bitcoin (you may be a bigger fan) while you fly through the jungle. The bananas allow you to buy power-ups like jetpacks and spring boots that will make it easy to collect more treasures.
You can fire up your phone to play SaruTobi whenever, but don't miss SaruTobi Saturdays, our weekly events that give out higher rewards of free Bitcoin for completing special challenges each Saturday.
ZBD Kart
If you're in a racing mood, try ZBD Kart (previously named Bitcoin Rally). In this fun multiplayer arcade racer, you can race against others to test who's the fastest, or use a number of power-ups and on-track hazards to outsmart your competition to the finish line. You'll be collecting Bitcoin on track as you speed along. The question is, do you want to keep them and cash out at the end, or spend them to drop a hazard that will slow your opponents down?
ZBD Kart is a ton of fun to play with your friends and family. A beta release is now available Itch, so try it now and get your fill of racing, action and Bitcoin.
Counter-Strike: Global Offensive
But serious gamers may want something more competitive. We've got just the thing for you: jump on the battlefield in Counter-Strike: Global Offensive, put your skills to the test and earn free Bitcoin as you outplay your competition.
When you play CS:GO for Bitcoin, you usually need to pay an entry fee. These fees then get tallied up in a common pool, and the players who play best get to take it home with them. If you don't have any Bitcoin yet, don't worry. There are a lot of cool companies that are impressed by what's going on in Bitcoin gaming, so they're willing to pay the entry fees for you! Yes, you heard that right. You can join sponsored servers for free, but still win Bitcoin at the end. How awesome is that?
To start playing CS:GO for Bitcoin, you'll need ZBD Infuse. That's our desktop app that modifies CS:GO with Bitcoin. Simply download it, log in with your Steam account and you're all ready to start winning!
CS:GO on ZBD Infuse is no longer supported. We've had years of fun, but not it's time to move on to other adventures.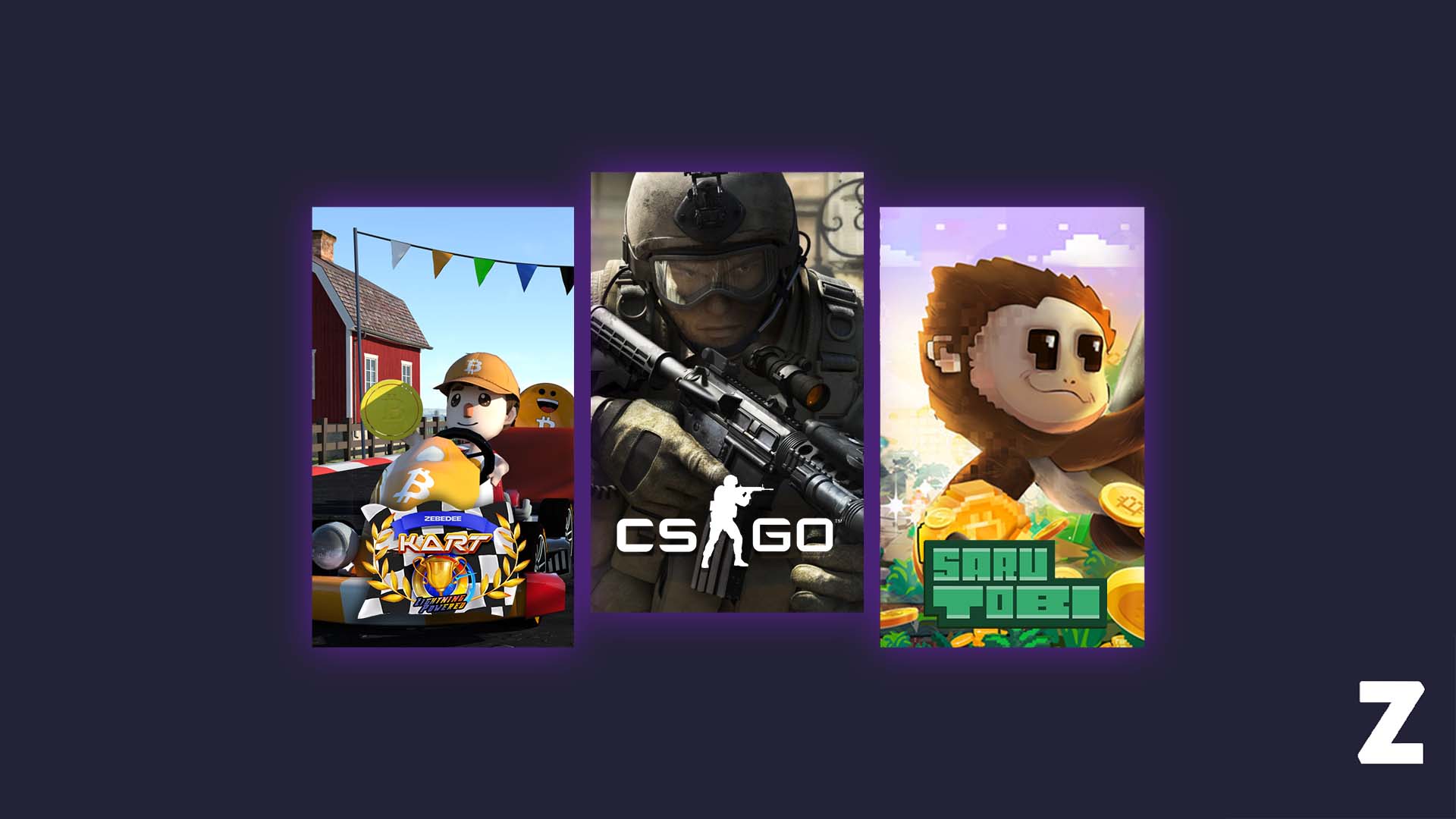 If none of these tickle your fancy, click here to explore more Bitcoin games.
Collect your Bitcoin from games
When you've crossed the finish line in ZBD Kart or ended up at the top of the leaderboard in CS:GO, you need to collect your earned Bitcoin. This is where you'll need the ZBD app.  You can generate a QR code in-game and scan that with the app. That's literally it, the money is transferred immediately! And the best thing is, since Bitcoin is real money, you don't need to convert it to anything else. You can go to any of the thousands of stores that accept Bitcoin payments and buy stuff with Bitcoin you got by playing games! Here are some ideas.
Get the ZBD app and turn gaming from a hobby to a profession.
This post was updated in July 2023.