A new game joins the ZBD Universe: Braindoku by Murka Games is a super-satisfying mobile puzzle game that rewards you with real Bitcoin for solving block puzzles. It's the perfect game to either enjoy casually or get serious and put your IQ to the test.
Start playing Braindoku now and see what it's all about or read through our article to learn why it's a game you really don't want to miss!
🧠 Braindoku 101:

A puzzle game where you assemble shapes on the board
Assemble rows, columns or squares to clear them from the game
Play various game modes like Challenge, Journey and League
Build daily streaks and earn real Bitcoin!
What is Braindoku?
Braindoku is a casual mobile game that you can play on your phone whenever you've got a couple seconds to pass. With its simple and addictive gameplay, it's sure to fire up your brain and keep you coming back for more every day.
Braindoku is based on a 9x9 Sudoku grid, but that's about where the similarities with Sudoku end. Unlike Sudoku, Braindoku isn't a numbers game – it's a block puzzle game where you assemble Tetris-like figures into rows, columns or squares to clear them from the game. You get new shapes to place down in sets of three. When you place all three, you get a new set. If you can't place any more shapes and you've still got blocks on the board, it's game over. It's that simple.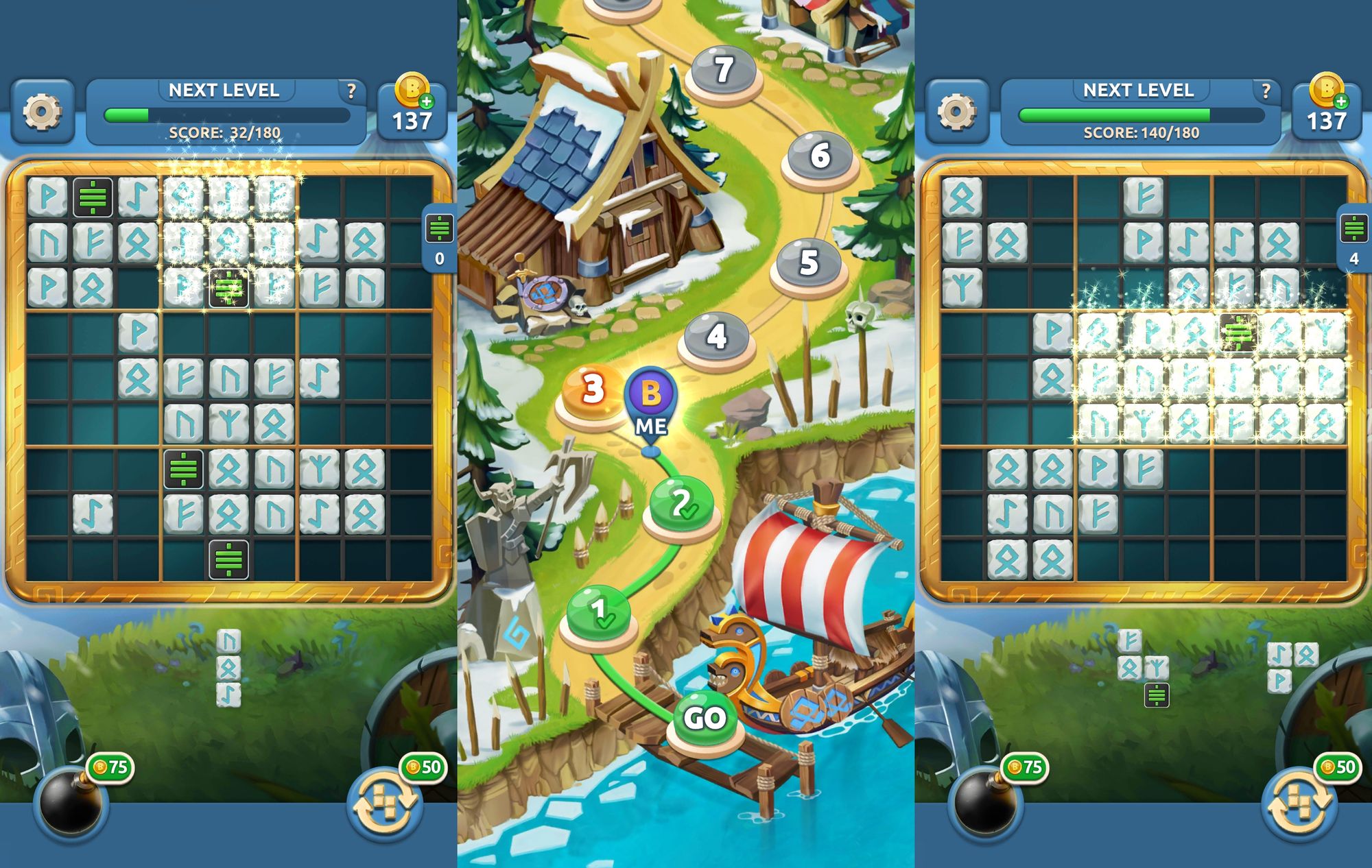 Enjoy variety in the gameplay
There are tons of details to Braindoku that make the gameplay exciting and refreshing every time you open it. For example, depending on the game mode, you may have to place the blocks around obstacles like diamonds that you collect when you clear them or frozen blocks that have to be thawed before they can be cleared.
🎮 Satoshi's pro-gamer tip:
Build streaks by clearing the field with multiple moves in a row or score combos when clearing more than one field with a single move.
You also get some useful power-ups that will come in really handy when you're in a bit of bother. Spend a couple of in-game coins to rotate a shape so you can place it into just the right place to score heavily, use a bomb to clear a whole square of blocks or strike with lightning and get rid of a long chain of blocks… If you run out of in-game coins, you can always watch an ad to earn more.
Where's the Bitcoin, you ask? Sometimes, a block will appear with a sat symbol, either on the grid or in one of your shapes. Clear that block from the grid to earn real Bitcoin which you can withdraw to your ZBD app at any time. Scroll down to the end of the article find out how.
Multiple game modes and objectives
Braindoku is also not just a one trick pony. It's got a ton of different game modes, options and even character customization! Here are the most interesting ones you shouldn't miss:
Enter Free Play to practise, hone your skills and plan strategies
Customize your profile by choosing a name and an avatar
Pass Challenges to build daily streaks and earn bonuses
Go on a Journey by facing adversity in the Viking Saga
Join the League to compare your skills with the best players in the game
💡 Did you know?
It's so annoying to lose your daily streak by missing just one day… But in Braindoku, you can build streaks backwards, so you never lose your streak when missing a day!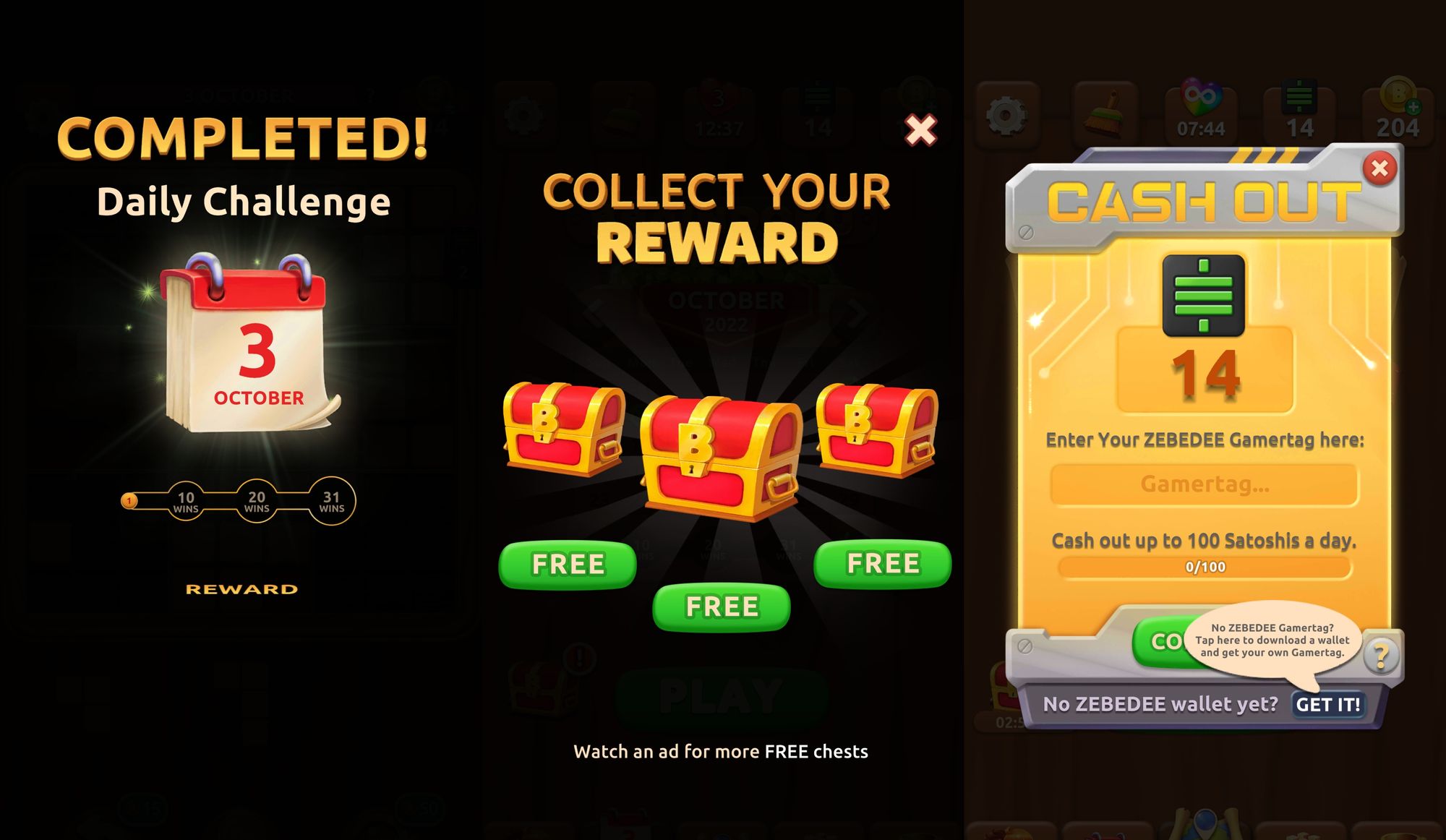 Earn sats and withdraw them anytime
When you clear some sat blocks, you'll earn sats which you can withdraw to your ZBD app whenever you want. Simply tap your sat balance on the top of the main menu in the game, enter your ZBD username (what is that?) and transfer the sats to your ZBD app. Note that you can only withdraw up to 100 sats every day.
If you don't have the ZBDapp yet, don't worry. You can download it for free on any Android or iOS device for free and start playing Braindoku and many other games where you can earn Bitcoin.
This post was updated in July 2023.