If you've got opinions and a little time to spare, the Bitlabs Sats Spree contest is an open invitation from the ZBD App to turn those thoughts into actual bitcoin—starting November 8th, right through December 31st, 2023.
Here's the Deal
Engage with the ZBD App by taking surveys or completing offers on Bitlabs, and with each action, you'll rack up 'sats'—the smallest unit of bitcoin. Think of them as digital cents to bitcoin's dollars. Top the earnings chart by the end of the contest, and a substantial bitcoin prize is yours.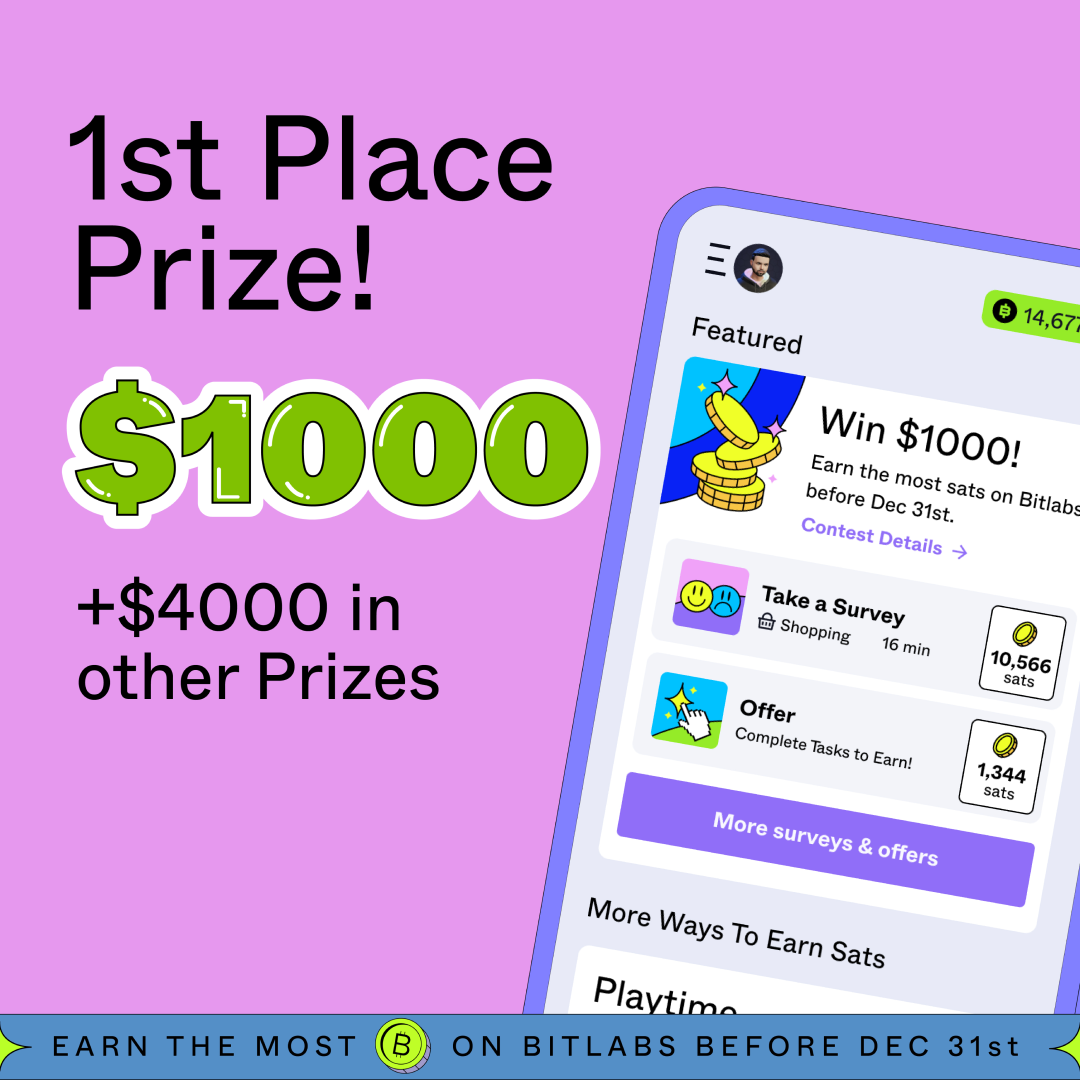 How Substantial?
Here's the prize breakdown:
1st Place: $1,000 in BTC
2nd Place: $500 in BTC
3rd Place: $350 in BTC
4th Place: $250 in BTC
5th Place: $150 in BTC
6-10 Place: $100 in BT
11-20 Place: $75 in BTC
21-41 Place: $30 in BTC
42-100 Place: $15 in BTC
The Leaderboard Rundown
Want to know how you measure up? The leaderboard is your daily update, keeping you informed of your standings in the contest.
No Fluff, Just Rewards
Simple participation is your ticket. Fill out a survey, complete an offer, and you're accumulating sats. As you engage, you're also in the running for those additional bitcoin rewards. The more active you are, the more you stand to gain. ✨
Check Terms & Conditions here.
Why This Is Worth Your Time
It's not every day that simple, basic activities get translated into bitcoin. Bitlabs is bridging that gap, allowing you to familiarize yourself with bitcoin in a user-friendly environment. It's as much about winning as it is about learning and engaging with bitcoin.
So, if the idea of earning bitcoin piques your interest, the Bitlabs contest is waiting for you. No complications, just straightforward earning potential with every survey or offer completed.
Stack those sats.