Do you like gaming? Fun? Excitement? And earning real Bitcoin rewards? We have exactly the thing for you – Bitcoin Games Day, a day-long celebration of over a decade of Bitcoin rewards in gaming! Join us this Saturday, 22 April 2023, for a whole day dedicated entirely to gaming, having fun and earning Bitcoin. Enter tournaments with millions of sats in prizes, compete in challenges or simply enjoy casual gameplay with double rewards!
Tune into our social media channels (@zbdapp) for an exciting build-up towards Saturday, or read on to find out exactly how you can participate and be the one who earns millions of sats!
🥳 Celebrate Bitcoin Games Day and earn millions of sats

Bitcoin Games Day is our way of celebrating over a decade of Bitcoin rewards in gaming
It will take place on Saturday, 22 April 2023, for the whole day
Play Hellfire Arena, a classic PvP shooter made modern, with millions of sats in rewards
Join our Fortnite tournament on Dubbz and earn from a prize pool of $750 worth of Bitcoin
Play the most popular ZBD games and score double rewards throughout the day
Celebrate Bitcoin Games Day with us
Bitcoin rewards have come a long way in recent years (in no small part thanks to ZEBEDEE, if we can say so ourselves). They're a lot of fun to earn, super-easy to collect from games, and when it comes to spending, you now have thousands upon thousands of options. We think that's pretty awesome, so, together with some friends, we decided to throw a party of epic proportions, to celebrate a new age of rewarded gaming with the first-ever Bitcoin Games Day!
But before we get into everything you need to know about Bitcoin Games Day, let's roll back the time. Over 10 years ago, Bitcoin was first given out as a prize in a StarCraft tournament. Back then, the now eye-watering 25 Bitcoin was given to the fourth place finisher, almost as an afterthought, with the podium receiving "good old" regular USD.
A lot has changed since – three things in particular. First, 25 Bitcoin is no longer a trivial amount, but that goes without saying. Second, and more importantly, what used to be a reward that was difficult to collect and even more difficult to spend is now easily accessible everywhere and spendable at the tap of a button. And last, but definitely not least, earning Bitcoin rewards in gaming has not only become commonplace, it's becoming the norm.
But enough of history, let's get to what you can do on Bitcoin Games Day and how you can earn all these huge rewards!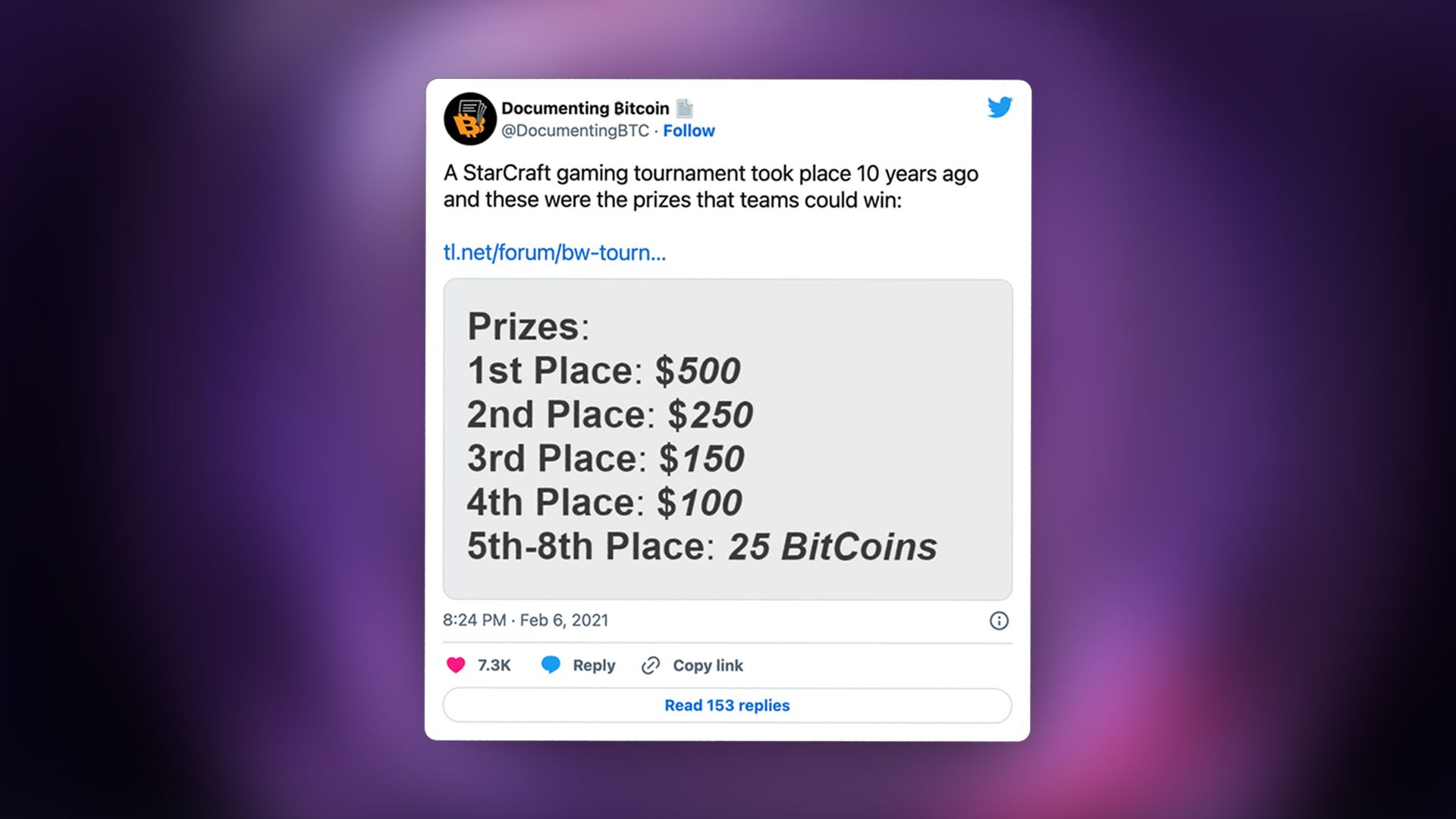 Join tournaments in Hellfire Arena
We've got a lot of friends helping us pull off this epic day-long event. One of them is Guilds, who're launching Hellfire Arena, their classic shooter made modern, and pumping it up with millions of sats. In this multiplayer PvP mobile game, you'll be able to join multiple tournaments with different game modes and on different maps, for a small entry fee (100 sats) and you use your own skills to outmatch the competition and score sweet prizes.
If you don't have enough sats to join, don't worry! If you register before or during Bitcoin Games Day, you'll get 1,000 sats for free, and you'll be able to use that to join tournaments and win even more sats. There will be multiple tournaments throughout the day, each with a prize pool of 200,000 sats.
Hellfire Arena tournament schedule
(All times in UTC–5.)
9 AM – 3 PM ET
12 PM – 6 PM ET
3 PM – 9 PM ET
6 PM – 12 AM ET
9 PM – 3 AM ET
❗ IMPORTANT – Hellfire Arena is US and iOS only

During the event, the game will be available for all players from the US who're playing on iOS devices.
If you're not from the US or are using an Android device, there's lots of other things to do. Scroll down to find out!
How to join Hellfire Arena tournaments
Register and earn 1,000 sats which you can use to join tournaments
Join any tournament by paying an entry fee of 100 sats
Use your skills to outmatch the competition and win the top prize of 200,000 sats
But you don't have to wait until Saturday to start playing. You can already join Hellfire Arena and start playing. Leading up to Bitcoin Games Day, there will be a couple of tournaments every day, so you can see exactly what the action will look like on Saturday and get ready to frag 'em all!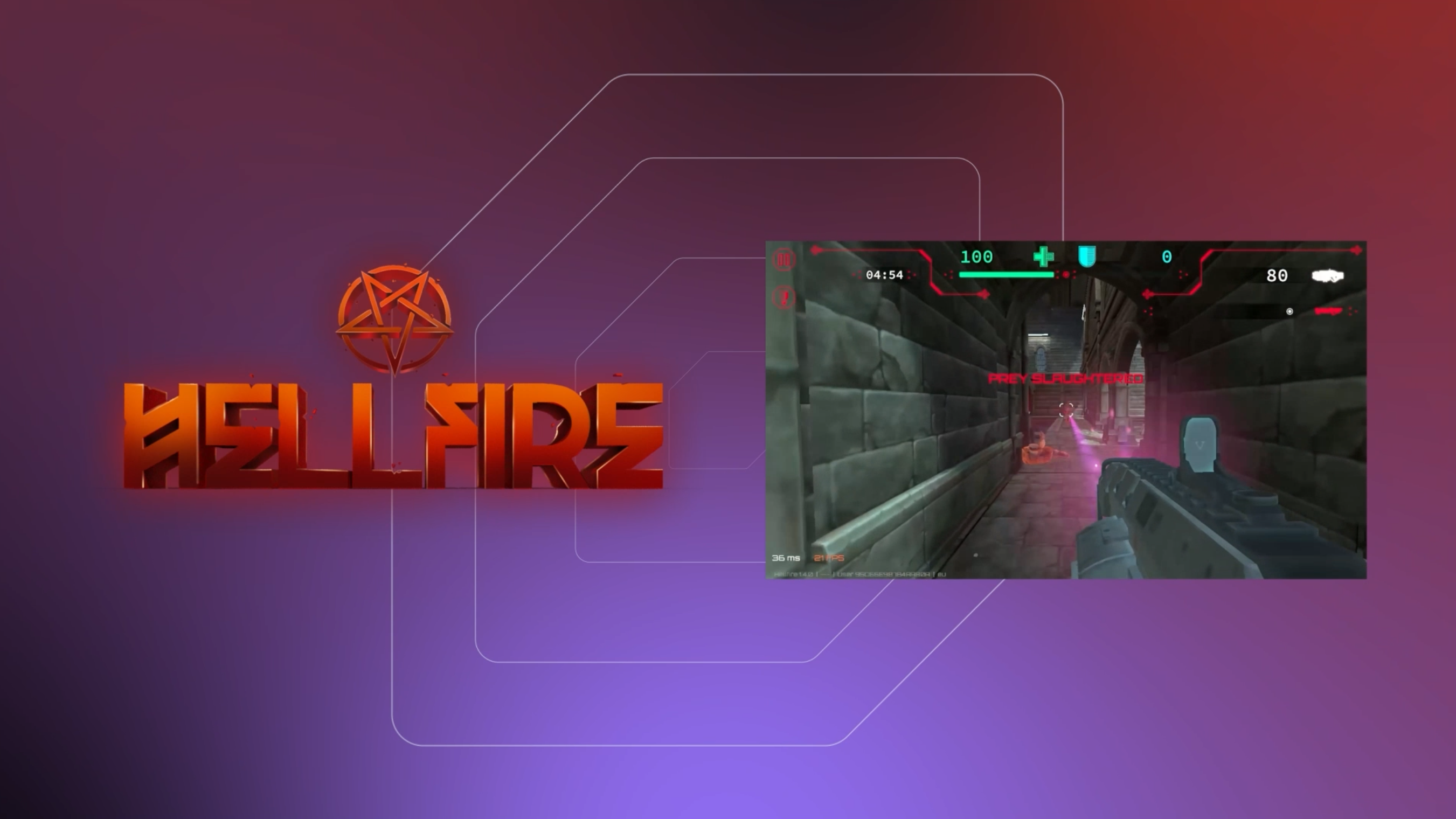 Hellfire Arena tips and tricks
To help you maximize your chances of winning, we've assembled a couple of tips and tricks in Hellfire Arena. Use this knowledge to beat your opponents and claim the rewards yourself!
When considering which enemy on the screen to shoot a fire/water/plant/death ball at, the various elements have a "rock paper scissors" relationship. Use this knowledge to do the maximum possible damage to your enemies! 🔥💧🍃💀
When you play a large number of missions in one day, you'll stop earning ally points. Instead, pick an "already been used" ally over an inactive ally to do damage to enemies and keep your progress moving forward!
💡 Each world has a different elemental tendency depending on which color it is. For example, an area of Eberdawn that's blue (the Arch Moor Cliffs) will have a water tendency, so plan accordingly for maximum effectiveness.
$750 Fortnite tournament on Dubbz
Playing games competitively has always been one of our passions at ZEBEDEE. The thrill of action and the skills needed to have an edge over your competitors can really send blood rushing through our veins. And when there are huge rewards on the line, the stakes simply get so much higher. That's why we've connected with Dubbz, to host a high-stakes FPS tournament in one of the most popular FPS titles of all time – Fortnite.
In this elite competition, the best players will be able to flex their muscles and compete for Bitcoin prizes worth $750 in total. But you have to be quick, since sign-ups are limited to 32. If you think you've got what it takes, sign up now and take home hundreds of USD worth of Bitcoin.
Keep in mind, the tournament will be hosted on US servers and will only be available to players from the North America region. There are also a couple more rules, such as that Anonymous mode isn't allowed or that everyone has to stream the match on Twitch, so the VOD is available. The whole list of rules can be found under the Rules tab on the tournament description page.
$750 Fortnite tournament details
22 April 2023 at 9 PM ET
32 player slots available
Prizes in Bitcoin
1st place: $500 worth of Bitcoin
2nd place: $250 worth of Bitcoin
Collect your rewards in the ZBD app
❗ IMPORTANT – Stream your match

Every participant will have to stream the match on Twitch, so keep that in mind when applying for the tournament.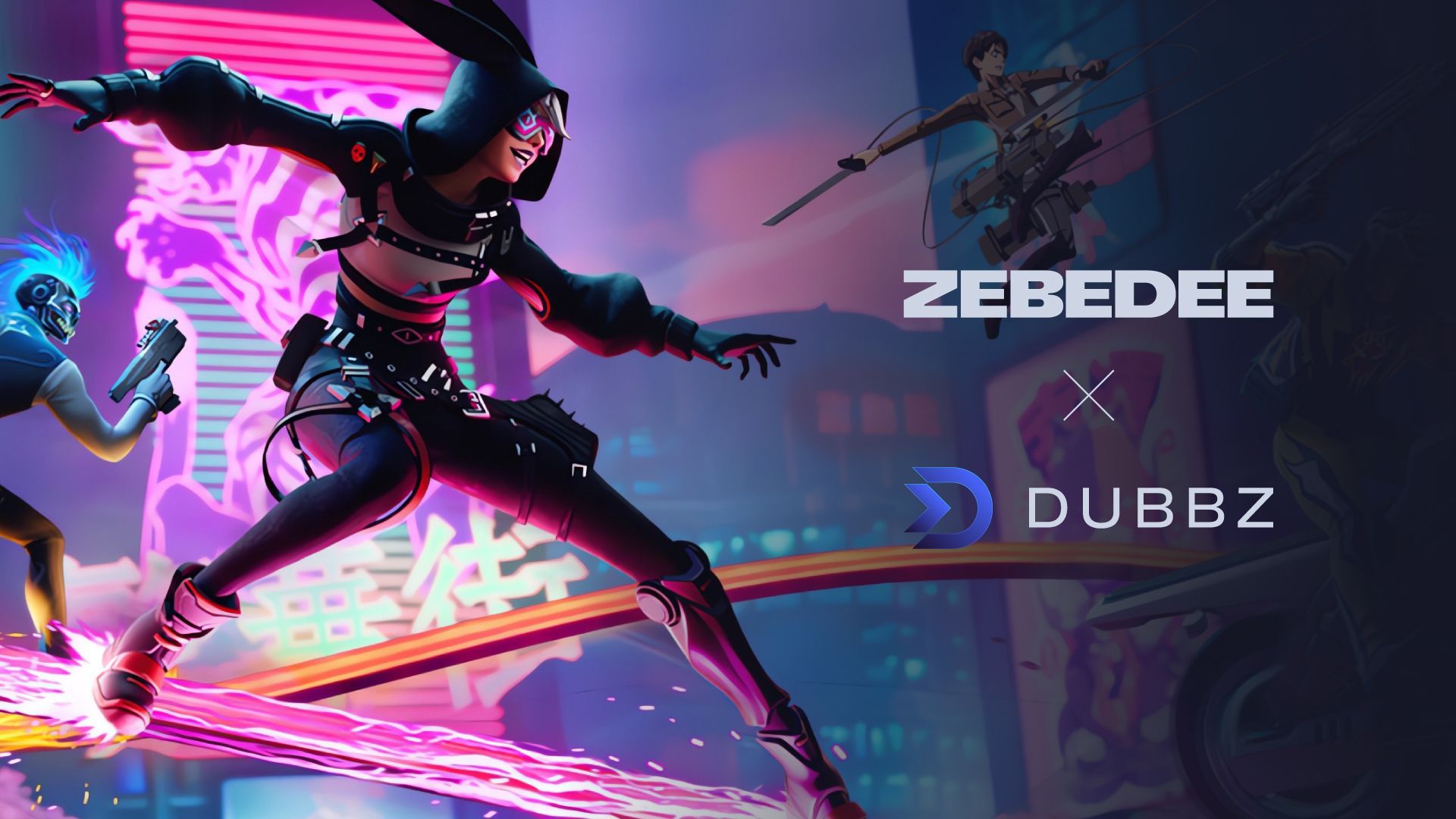 Double rewards in ZBD games
If you're looking for something more casual and relaxing, but still want to reap the benefits of Bitcoin Games Day, you'll be glad to hear that all of the most popular ZBD games will have double rewards throughout the day. Simply choose your favorite, play and stack sats, and when you withdraw them to the ZBD app, we'll match the amount by 100%!
⛏️ Mine twice as hard in Bitcoin Miner
Bitcoin Miner by Fumb is a fun mobile game that simulates a crypto mining business. The game represents a fusion of tapping to collect coins with methodical strategy as you find the most optimal way to build your mining farm.
🧠 Put your brain in overdrive in Braindoku
Braindoku by Murka Games is a super-satisfying mobile puzzle game that merges a Sudoku grid with the shape-stacking of Tetris and rewards you with real Bitcoin for solving block puzzles.
🪙 Reach match speed in Coin Mahjong
A remake of the classic tile-based game Mahjong, made by Bear Hug Entertainment. In this strategy challenge, you're tasked with finding matching tiles to clear them from the board. Match the tiles with a Bitcoin symbol on them to earn real Bitcoin and collect that in your ZBD app after you complete each level! Currently Android only.
🍌 No more monkeying around in SaruTobi
SaruTobi is a casual mobile game where the goal is to fling a little monkey through a jungle as far as possible. On the way, you collect upgrades, boosts, bananas (Tobi likes those!) and real Bitcoin. Practice your swing, get the best gear and fly to new records.
🍬 Earn sweet Bitcoin in Lightning Crush
Lightning Crush is a casual mobile game inspired by the Candy Crush Saga. But instead of candies, your goal is to match and crush crypto symbols, and instead of getting nothing for the time you spend playing, you're rewarded with real money – Bitcoin.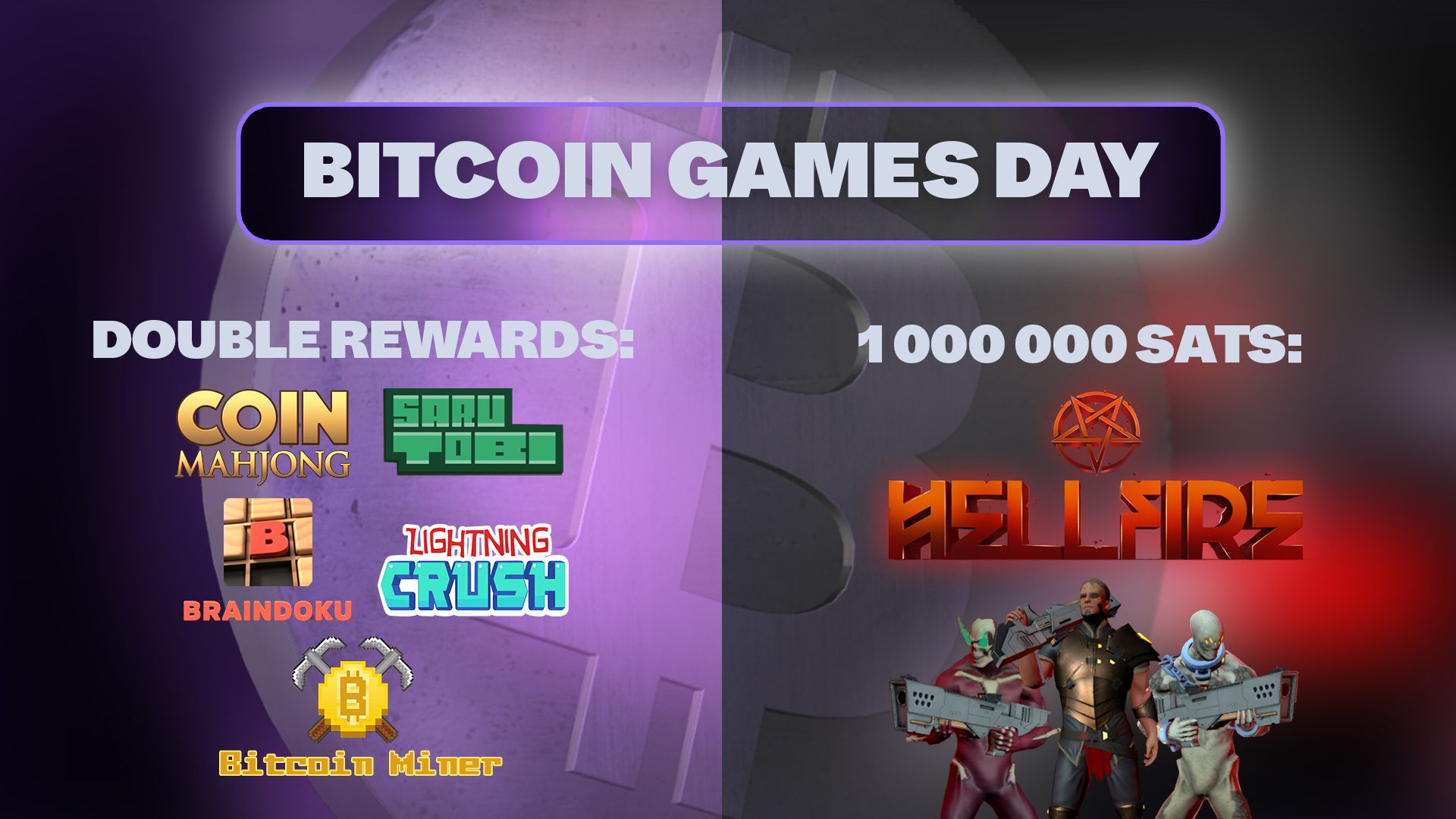 Celebrate all day long, ZBD style
This is just the first Bitcoin Games Day, but we want to start it in style! Book the day – you don't want to miss all the action, fun and huge rewards on 22 April 2023. Until then, you can join our build-up to the event on @zbdapp with various Quests and Challenges, or you can already start practicing in Hellfire Arena, Fortnite or any other ZBD games, so that, come Saturday, you'll be ready to take on the challenge and collect as much Bitcoin as possible. See you there!
This post was updated in July 2023.